Compstak

CONTACT
Michael Mandel, Co-Founder and CEO, Compstak
THE SCOOP
I have known Michael Mandel since I entered the commercial real estate tech space with my first site, The New Funnel. Probably around 2011(ish). It was obvious from the get-go that Michael was going to be successful. He was smart, came from brokerage and had a big friggin idea…bring transparency to the lease comp side of the business. In Michael's mind, everything should be open and transparent and NOT behind walls or left to one company to control everyone's data. And clearly, he has accomplished his goals and so much more.
Compstak today is crushing it, huge operation now serving most major markets in the U.S. and with an international expansion well underway. Compstak is the only site of its kind in the commercial real estate space delivering real time data on commercial lease transactions in a level of detail and accuracy I don't think ever matched before. They use a network of qualified contributors and their own data science team to deliver incredible detail such as transaction dates, size and address, space type, brokers involved, rent and free rent concessions, TI, lease term, tenant info and so much more.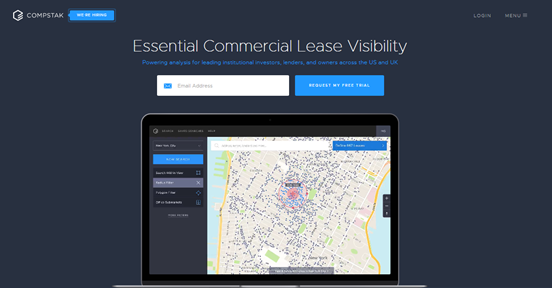 Their clients are like a "who's who" of the industry including underwriters, asset managers, landlords, brokers, private equity investors, portfolio managers, CMBS investors and many more food groups. When companies like SL Green, Tishman Speyer, Carlyle Group, Equity Office and HFF are using a site, it means they are doing something (probably a lot) right. And that's Compstak.
My other takeaway about connecting with Compstak and Michael is that they are a great company to work with. Responsive. Great listeners. They care about the CRE sector and they are always willing to collaborate. As many of my readers know, and those at our conferences, I am passionate about building a thriving commercial real estate tech ecosystem. It's what I do all day every day, trying to connect people. And I can tell you that in the CRE space, Michael and his team are the types of leaders and supporters that are making a real impact in this mission to create a thriving tech sector for the commercial real estate industry.