The Biggest Threat (And Opportunity) Facing The Commercial Real Estate Industry…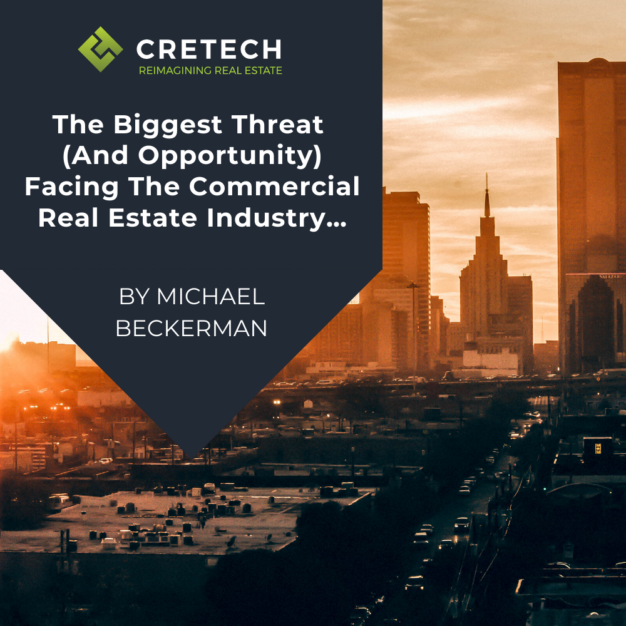 Big tech!
One of the most extraordinary outcomes we are witnessing (or shall I say being bombarded with) on a daily basis is how "work" as we know it is now being challenged during the pandemic. Not a day goes by where I am not inundated with content from companies doing surveys, studies, making suggestions and plans on how we will all get back to work and what the future holds for the real estate industry. And I have no doubt that you are facing the same content onslaught.
As I have written about recently, our "little PropTech" world is now the world's domain.
Perhaps the three most talked about, and challenged-to-adopt, industries during and post pandemic will be 1) healthcare 2) education and 3) real estate. What do they have in common? They have all changed very little in the way they operate over many generations. They have all made huge amounts of money by embracing the status quo and they all resist the call to innovate. Why take chances when everything (like making massive amounts of money over the last ten years) is just fine the way it is?
But now that "work" has replaced "PropTech" as an all encompassing, catch-all category, guess who is now seeing $ written all over the place? Big tech!
They thrive on inefficiencies in delivery and distribution (think what Amazon did to retail). They have massive resources to bring simplicity and functionality to processes that are disparate and unorganized (think Apple Music). They bring trusted brand identities known for reliability into your personal lives (Think Google Home via Nest or Alexa). And they capture, analyze and utilize data in ways most of us cannot even comprehend, or worse, are largely unaware of.
And now that "work" is being analyzed, scrutinized and theorized by seemingly every Fortune 500 company, as well as every small business in the world, there is a focus on real estate from outside the industry like never before. Check out this beautiful, intuitive approach from Salesforce about offering solutions for "work"... or how the pandemic has impacted not the square footage of the physical spaces people inhabit but their health and wellness… or how organizational structures might change.
Given that real estate is on most people's minds and that absolutely now includes big tech, let me weave a scenario for you given all of the emphasis on how we are going to "work" in the future (which, by the way, extends to how we "live" as a byproduct).
Big tech sees their opening to now enter and dominate the biggest industry on earth. They see real estate as a massive opportunity to scale the sales and usage of their products like voice. Maybe they offer one of a myriad of work-flow, access control/mailbox solutions or health/wellness products. Perhaps they bring sensors to monitor building occupancy and energy management controls. And of course they all offer the end-user a wonderful, trusted UX and Voila! Guess what happens??? They control the data! And as a result they own the customer relationship, which is the holy grail in the real estate industry. My friend and the brilliant tech guru James Whittaker has been preaching this forever!
In this scenario, landlords are giving away their control of the customer relationship as they give away all the data. And, brokers also lose since big tech is then positioned to directly connect customers with real estate—not brokers. 
Incumbents have historically not been keen to use technology to service tenants because they never had to. However, the Space as a Service (SPaaS) movement  and the pandemic will force companies to adopt "flex" space solutions that will drive more leasing volume than most anticipate. While the amount of space that will be leased in this environment is anyone's guess at this early stage, the increased demand for flex space terms and configurations is absolutely going to happen, as there will clearly be people coming back to work in stages, a migration away from density and less people in the workforce. Given that the great work from home experiment was largely a success for most, consumers are also going to question where and how they live in the future, as this sadly won't be the last pandemic of our lifetimes.
What Can We Learn From Finance & Fintech... Buy or Build
One illustrative example from the world of Financial services shines a clear light on how the industry is future proofing itself. Morgan Stanley acquired E-Trade for $13 billion not to join the day trading business, but because it was willing to pay $2,500 for each of E-Trade's 5.2 million customers. This move "significantly increased the scale and breadth of Morgan Stanley's Wealth Management franchise," perfectly positioning it as an "industry leader in Wealth Management across all channels and wealth segments," according to the company. Now that is future proofing on a massive scale!
A New York Times piece on the deal saw the clear connection as well, given that Morgan Stanley can now "tap into a new source of revenue: the smaller-volume trades of the country's so-called mass affluent, people who are wealthy enough to have some savings but not rich enough to buy into hedge funds or seek out a money manager."
Beyond mergers and acquisitions, companies also get creative when accessing and leveraging large customer bases. Goldman Sachs' customer acquisition attempt, Marcus, was launched in 2016 as an online platform offering unsecured personal loans to consumers. Although this venture has lost $1.3 billion since its launch, Marcus "helped lure tech talent to the firm and has proven that Goldman can stand up new businesses," according to executives. They also noted that Marcus' savings accounts "have gathered $50 billion in deposits, a new type of low-cost funding for the bank," reported Liz Hoffman and Peter Rudegeair from the Wall Street Journal, who also mentioned that Goldman recently acquired Clarity Money, a personal finance app boasting more than 1 million users.
Further, a partnership with Apple Card—as "the issuer of the card… responsible for underwriting, customer service, the underlying platform, and all matters related to regulatory compliance—marks another significant step in growing the firm's consumer franchise and realizing the broader vision of Marcus by Goldman Sachs to create a leading digital consumer platform, with partnerships as a core pillar of its strategy." 
Customers remain king, and splashy fintech acquisitions and new product launches show other industries how to proactively integrate their businesses with tech investment that results in MORE customer stickiness!
Signs Real Estate Tech Isn't Waiting to be Disrupted
GreyStar's partnership with Google Home and Amazon investing in SmartRent are good signs that the real estate and tech sectors understand the advantages of partnering with big tech. There are indeed a few large, forward-thinking landlords that are embracing and working closely with big tech as several have shared with me the partnership pilots they are working on with many of these giants. The deployment of STRATIS throughout the GreyStar and Google Home pilot launch is one such public example.
But we can also see examples of large real estate owners/developers leading the way by capturing data and information to better service their customers like AvalonBay and Equity Residential which are now using MeetElise. And many, many landlords are using tenant engagement/communication platforms such as Eden, Livly, HqO, Rise Buildings, Equiem, OfficeApp and others to understand their customers in ways unimaginable just a few years ago.
Getting unseated from the customer experience is the single greatest threat that tech poses to those who do not adopt it. Proactivity is table stakes to avoid giving away the keys to the fortress.
The benefits of embracing tech are not all one sided, though. Leveraging real time data on your customers empowers landlords and operators to more effectively manage and monetize their square footage. Landlords can also therefore communicate information more efficiently and proactively to their tenants as they will be now armed with all sorts of new types of essential insights. 
From important and timely building updates and operating controls to all safety/wellness protocols, when owning and understanding their own data, the power remains in the owner/landlords hands. Tech-enabled building operating management built on data driven insights makes the occupants feel more secure and safe, which is critical during this pandemic. Just look at how brilliantly RXR has responded with their own tech tools during this pandemic which I have zero doubt will brand their buildings as among the safest in New York City!
Now more than ever, owners and operators in this environment, where every employee of every company is deeply concerned about safety, wellness and communications first and foremost, must now shift their focus to being data driven with a great sense of urgency. And how best to do that is to make an investment in tech. Every aspect of their spaces, from how they operate to how they communicate must be centered around strategic technology investments that will prepare them for all that is changing in the world around us and especially in commercial real estate. The stakes are high here—losing customer access and acquiescing their data to big tech will cost the industry dearly. And they will never be able to recover!
Heed Residential
We've seen this playbook already in residential. Zillow put the customer first, and over the course of a decade won hearts and minds. Now agents and brokers are dependent on Zillow for access to buyers and sellers. It's nigh impossible to unseat Zillow from the throne—it owns the customer relationships.
There's no easy solution, though. Every major brokerage/franchise is developing its own "all-in-one" platform so this doesn't happen again. Compass acquired Contactually, and RE/MAX Chairman and Co-Founder Dave Liniger views the acquisition of booj—now a central component of RE/MAX's new system—as the "smartest investment" they've ever made. 
Will it work? They may be too late to the game, but the verdict is still out.
Sitting on Your Hands and waiting for this cycle to end is not an option 
Tread carefully when ceding control to tech players that can turn the tables on you down the road. But also keep in mind that customers now expect convenience. People won't use 30 different apps and websites to conduct their lives and nor will tenants and residents. Be the single source provider of all their needs by understanding them. Data will provide you with those insights.
You can either invest proactively alongside big tech or watch them eat your lunch. Tech is an investment the industry now has no choice but to make. Now is the time to accelerate your company's adoption of tech in the right strategic areas to protect your most valuable assets: your customer relationships. Tech is imperative to maintain future relevance, so whatever you do, do something—nature abhors a vacuum and your competition won't wait until you're ready. 
Given this environment we are now all having to come to grips with, the nature of work and how/where we live feels like it's forever changed (until the next big cycle emerges of course). But with "work" now the domain of everyone on the planet, big tech is coming in sooner and faster than most realize. It can be a great thing for the consumer and the tenant but it can be devastating to the real estate industry.
The real estate industry has a clear choice… either embrace big tech and collaborate or ignore them at your own peril.