Smart Building Technology: M&A and Investments
Price of Report is $895.

Save 10% with code SAVE10.
The CREtech

Smart Building Technology Report

is a special report on M&A and Investment activity across key categories impacting properties in the built world.
This report helps all stakeholders, including, owners, operators, and managers of real estate and venture capital - technology investors, to understand market conditions, deal activity, and exits in the Smart Building Tech category.

Our analysis reveals which companies are being funded or acquired as well as which established players are attracting growth equity or acquiring technology to augment their portfolios. It pulls together data relating to 6 key categories from the diverse smart buildings space; specifically (1) PropTech (2) Building Automation, (3) Physical Security Technology, (4) Property Energy & Sustainability, (5) Smart Building & IoT Technology & (6) Smart Home Technology.
Examples of Figures and Charts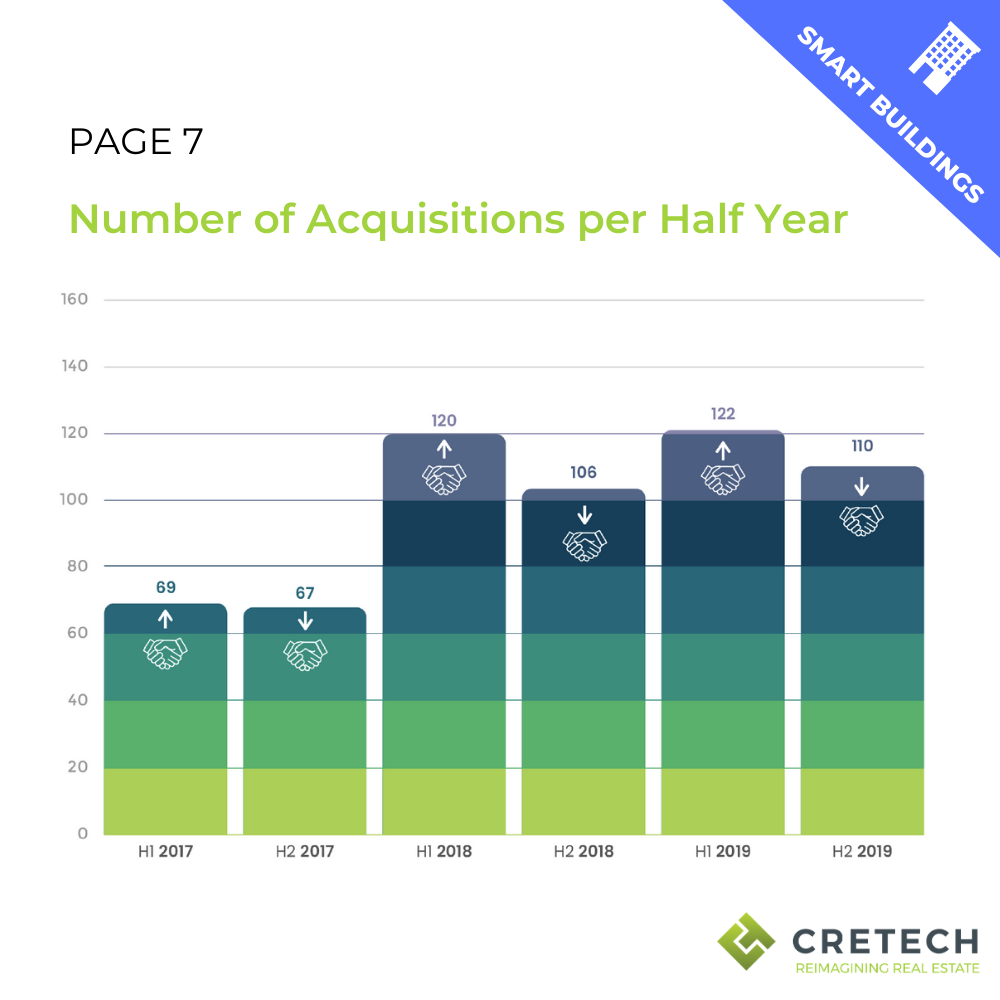 Why do you

need

this report?
The information contained within this report will be of value to all those who own, operate, manage and invest in smart building technology and companies around the world. In particular, those wishing to invest in or acquire companies will find it particularly useful.




- Record levels of M&A over the past 3 years confirm a shift in the built world with approximately 232 acquisitions in 2019 and 226 in 2018, which was a 66% increase over 136 in 2017. This heightened level of activity maintained over the last two years is a significant indicator that a tipping point has finally been reached in the acceptance and adoption of intelligent building technology.

- Investment in 2019 amounted to $5.4 billion spread over 316 funding rounds. This is around 31% lower than the record level of $7.8 billion capital investment over 361 rounds in 2018, but a 61% increase on the 2017 level of $3.3 billion spread over 301 rounds.

- This is the most complete and up-to-date report tracking VC/PE funding and M&A in the global smart buildings space, with an analysis of notable deals and most active investors and buyers during H2-2019; drawing comparisons with the last 2 years.



1. Smart Building Technology Categories

2. Number of Acquisitions, 2017 to 2019

3. Number of Acquisitions by Sector, 2017 to 2019

4. Highest Value Acquisitions, 2018 & 2019

5. Notable Acquisitions, 2017 to 2019

6. Notable Buyers, 2017-2019

7. Number of Investments by Sector, 2017 to 2019

8. Value of investments in $ Millions, 2017 to 2019

9. IPO Profiles, 2017-2019

10. Most Notable Companies to Watch

11. Future Trends



1. Preface 2. Introduction 3. M&A

3.1 Highest Value Acquisitions

3.2 Number of Acquisitions by Major Category

3.3 Notable Acquisitions

3.4 Notable Buyers

3.4.1 CBRE Global Workplace Solutions

3.4.2 Siemens Smart Infrastructure

4. Investments

4.1 Highest Value Investments

4.2 Investments by Major Category

4.3 Recent Notable Investments

4.4 Notable Investors

4.4.1 Honeywell Venture Capital

4.4.2 Proptech1 Ventures

4.4.3 SET Ventures

5. IPO Profiles

5.1 Essensys

5.2 Sunnova Energy

6. 12 Startups to Watch in 20207. Future Trends

7.1 Climate Change

7.2 Integration

7.3 Flexibility



75F | Albireo Energy | Bosch Building Technologies | Convergint Technologies | Earthworm | EasyIO | Eden | Engie New Ventures | Equiem | Fidelix | FM:Systems | GesellschaX für Regelungstechnik und Energieeinsparung | Global Technical Group | Honeywell Ventures | iLOQ | InnoEnergy | Jibestream | Johnson Controls | Keen Home | Latch | Latour Industries | LocusLabs | Metaprop | MiniBEMS | MyGate | Navitas Capital | Nordomatic | OpenEye | Priva | PropTech1 Ventures | RapidSOS | Rifiniti | SET Ventures | Smarten Spaces | SmartSpace Software | Stratos IoT | Thing Technologies | Vitaprotech | Vivint Smart Home | Wells Fargo Innovation Incubator




Among others