2016 Year End CRE // Tech Report: Development Strong Despite Decreased Funding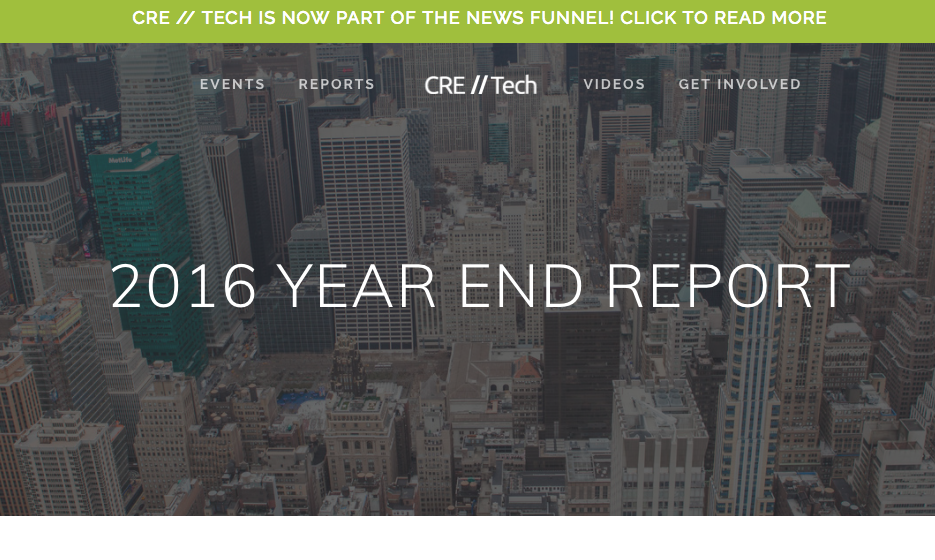 Did you know the average commercial real estate tech startup with venture backing raised $1.95M over two fundraising rounds in 2016? This isn't the only interesting statistic found in the analysis conducted by CRE // Tech on the commercial real estate industry. In its second year, the 2016 Year End Report dove deeper into the emerging CRE technology trends by expanding the analysis section and highlighting new insights on industry developments.
The 2016 Year End Report is part of CRE // Tech's mission to be a top information provider on emerging and innovative technologies disrupting the industry. The review studied tech companies founded within the last five years. The analysis highlighted key findings such as:
The average venture-backed CRE startup has 26 full-time employees.
The median CRE tech company has no outside funding.
Funding in CRE Tech has declined for the first time in five years and the majority of the funding is attributed to just a handful of startups.
Google Suite is the most widely used business application followed by HubSpot at 15%, and Intercom by 12%. GitHub is easily the most popular code repository.
Inside the report is more information about CRE tech's main revenue drivers, top start-up founding headquarters, funding lifecycles, product market fit, and backend programming data. The report includes 2016's most prolific investors, the companies they backed, and their funding round. The data profiles contain a product summary, news, and what's next on the over 50 companies studied for the report.
Overall, the 2016 Year End Report analysis found CRE is experiencing an emergence of support ecosystems, incubators, and accelerators designed to help tech founders. Technology firms are expanding on a global scale and investing in new partnerships. Learn more by downloading the free 2016 Year End CRE // Tech Report for a comprehensive look at the industry's top tech providers.
The News Funnel recently acquired CRE // Tech. Pierce Neinken founded CRE // Tech to create candid forums for CRE professionals to advance tech innovation in the industry. CRE // Tech teamed with co-editor Anthony Dominguez of AtlasX.co to conduct the research and analysis for the latest review.