#CREtech Exhibitors: Apto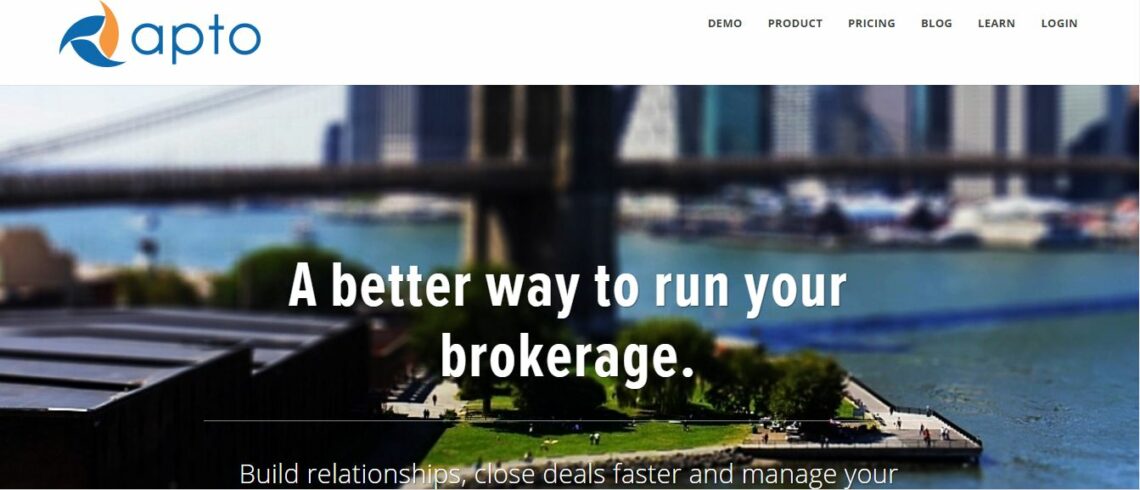 We are thrilled that Apto will be returning as an exhibitor to CRE // Tech. Created by and for commercial real estate brokers, Apto is the leading web-based software platform for managing customer relationships, properties, listings, deals and back-office. Apto serves thousands of commercial brokers and is the CRM of choice for 6 of the top 8 CRE brands. Apto's world-class CRM platform is optimized to meet the needs of CRE brokers, and can be further customized to brokerage workflows and business requirements. Apto is the only platform that allows brokers to manage the full lifecycle of a deal anywhere, from any device.
Our team at CRE // Tech recently caught up with Apto to learn more about their site, strategy and vision.
What does your site do?
Apto is a web-based CRM and deal management platform allowing commercial real estate brokers to prospect and nurture new business and manage the deal life cycle from any device at any time. Some of Apto's features include:
Contact database management
Intelligent prospect targeting
Property records with images
Automated lease expiration reminders
Dashboards showing deal pipelines
Invoicing and receivables management
Broker commission calculation and tracking
Who are your customers?
Apto serves thousands of commercial brokers and is the CRM of choice for 6 of the top 8 CRE brands. Most of our clients are in the U.S. and Canada, although we do have some business outside North America.
What are the core benefits of using your site?
Apto is the only commercial brokerage software that lets you manage the entire lifecycle of your deals on a single platform, from prospecting to execution to payment. We have also
recently launched Apto Mobile — an app that provides a streamlined experience that is tailored to the needs of the CRE broker on the go. Apto Mobile is optimized for everything you need when you're away from your desk.
How's business?
The customer response to the mobile app has been very enthusiastic. We had a number of beta users and customer advisors help us design and perfect the app, and they've been great evangelists for us. We've seen a huge number of logins so far and have been thrilled with how it's being received. We've also been pleased with the market's response to the completely reimagined user interface we released in February.
What are your future plans?
We're significantly scaling up our sales and engineering functions, so we're hiring sales reps and sales managers, as well as senior and junior developers. We're also working on several significant product updates that will be rolled out later in the year.
Come meet Apto at CRE // Tech Intersect San Francisco on June 8th and follow them on twitter @Aptotude, Facebook or instagram @life_at_apto!
About CRE // Tech
CRE // Tech is the "Center for Innovation" within the commercial real estate industry. The platform's mission is to connect brokers, owners/developers, investors and service providers with the leading start ups devoted to commercial real estate. CRE // Tech is owned and operated by The News Funnel, the leading content, connectivity and event platform devoted to the commercial real estate industry.
To learn more about our upcoming San Francisco Intersect on June 8th, to become an exhibitor or to purchase tickets, visit www.cretech.com.