#CREtech Exhibitors: Comfy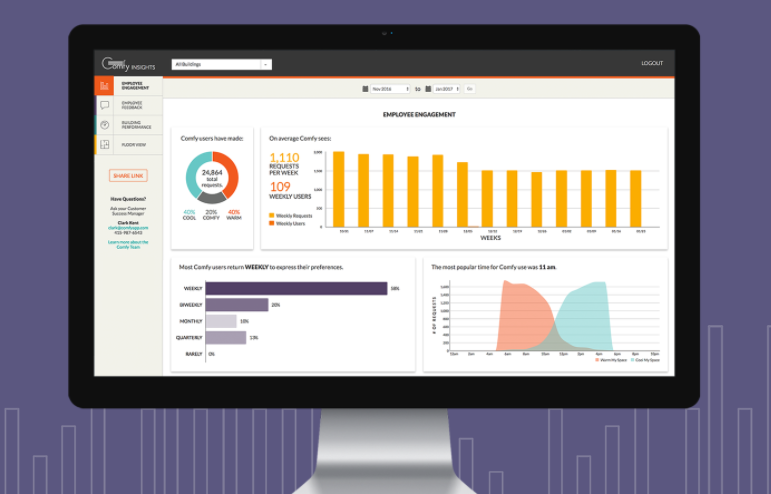 Comfy delivers on-demand comfort exactly where and when you need it. By connecting employees directly to existing building systems, Comfy allows anyone to create the environment they need to do their best work.
Our team at CRE // Tech recently caught up with Comfy to learn more about their site, strategy and vision.
What does your solution do?
Comfy is a software company dedicated to creating great relationships between people and their workplaces. Our technology enables employees to adjust the temperature and lighting in their workspaces on demand. Comfy applies a patented machine learning algorithm to learn individual preferences, and then automatically conditions workspaces based on those preferences.
Who are your customers?
The Comfy platform is used by leading Fortune 1000 corporations as well as innovative commercial real estate companies. Notable customers include Microsoft, WeWork, Intel, Cisco, Infosys, Beacon Capital Partners, Oxford Properties, The Swig Company, Charter Hall (Australia), and Johnson Controls.
What are the core benefits of using your solution?
Today's buildings and services struggle to keep up with workplace needs - today's workforce wants more choice, control, and information than ever. Comfy empowers employees to personalize their workplace environments, while driving operational efficiencies for workplace teams and generating valuable insights to inform real estate and facilities decisions. 83% of Comfy users report being more satisfied with their workplace environment. In a typical deployment, Comfy can help reduce hot/cold calls by 90% while delivering up to 20% HVAC energy savings.
How's business?
Comfy has grown rapidly since its founding in 2013. In the last 4 years, Comfy has expanded to cover 28M square feet of office space in 5 countries.
What are your future plans?
Comfy believes that better workplace experiences are created when technology can deliver value to employees as well as employers. Comfy will continue to build on this philosophy by expanding the level of control and visibility employees have across their workplace, while extending the product to create data insights to help real estate and facilities leaders effectively manage their workplaces.
Come meet Comfy at CRE // Tech Los Angeles on September 28th and New York on December 7th and follow them on twitter @comfyapp and Facebook!
About CRE // TechCRE // Tech is the "Center for Innovation" within the commercial real estate industry. The platform's mission is to connect brokers, owners/developers, investors and service providers with the leading start ups devoted to commercial real estate. CRE // Tech is owned and operated by The News Funnel, the leading content, connectivity and event platform devoted to the commercial real estate industry.To learn more about our upcoming events in Los Angeles on September 28 at CBRE Headquarters in Downtown and New York on December 7 at SL Green's 55 West 46th Street, to become an exhibitor or to purchase tickets, visit www.cretech.com.