reali revolutionizes real estate rewards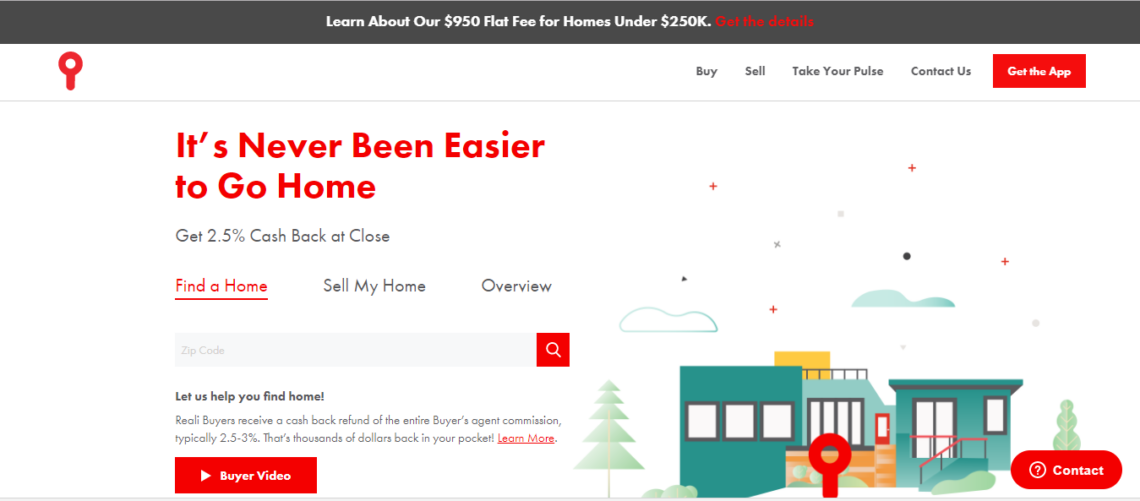 Reali is a full brokerage company covering the entire real estate transaction process, including buying, selling, and aspects of home ownership. The services are currently only available in Northern California, including San Francisco, Palo Alto, San Jose, and Sacramento.
Here, the traditional commission model has been replaced. No commissions for either buyers or sellers -- only a flat fee of $950 (for homes priced under $250,000) that both buyers and sellers share.
After that, for homes priced up to $750,000, sellers pay a flat fee of $4,950, and $9,950 for homes priced over $750,000 (in addition to the traditional 2.5% buyer's agent commission).
Buyers receive a cash-back benefit at close of escrow. In most cases, it's 2.5 %. Example: a $100,000 home gets the buyer $20,000 back.
How it works: buyers apply through the Reali app to become qualified, submitting the docs of an already pre-qualified loan. Once the docs are reviewed and validated, buyers can schedule a house tour, without necessarily needing a real estate agent to accompany them. The app can do everything from unlocking the door to offering information, features, and details as prospects tour the home.
If the buyer is interested in the house, they can submit an offer (the offer can be sent through the app as well). All bidding is also conducted through the app, including notices of counteroffers.
Buyers can use the app to view all available listings, and complete almost every step of the buying process just by using a smartphone or tablet.
Sellers save thousands of dollars with the removal of the traditional commission. The seller's home is marketed with a customized plan, rich data, and a mobile app. Buyers then have multiple tools to find out more about the property, and can make an offer and quicken the close of the sale.
Also available is hands-on assistance from Reali experts. They're licensed real-estate professionals who don't work on commission and are available even after escrow closes.
Reali was founded in 2015 by Amit Haller and Ami Avrahami, who are experienced real estate developers and high-tech entrepreneurs.
The Palo Alto-based startup recently announced a new $3 million investment from Zeev Ventures, bringing its Series A funding to a total of $9 million.
Click here to find out more about Reali.