The Ten-X Commercial Marketplace Streamlines The Transaction Process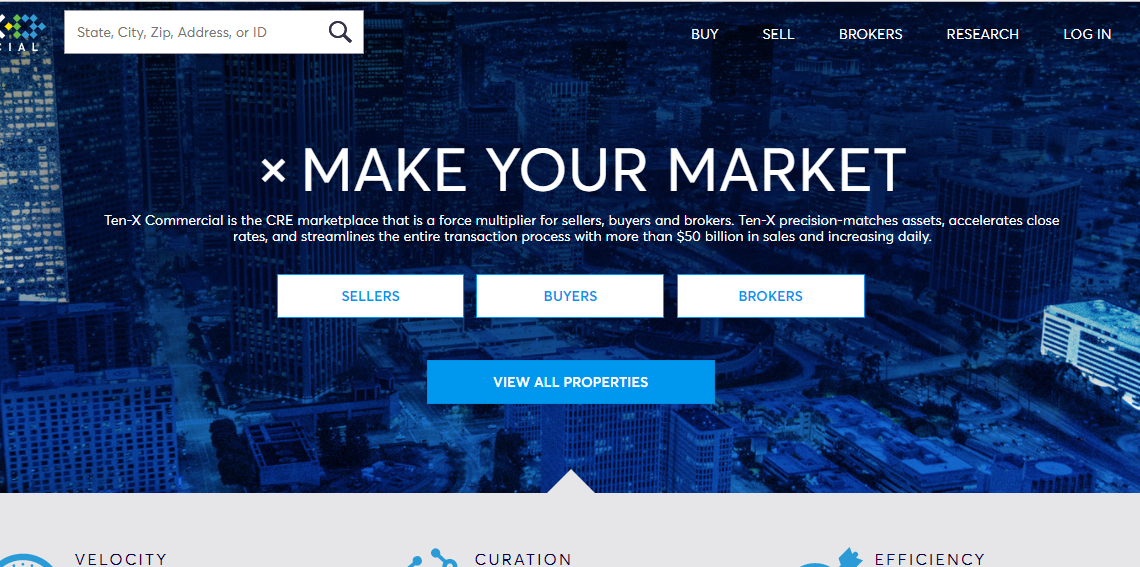 The Ten-X Commercial platform is a force multiplier for sellers, buyers and brokers. It precision-matches assets, accelerates close rates, and streamlines the transaction process.
Benefits include minimizing the time-consuming transaction process by perhaps months, as well as accelerating outcomes without compromising value. You'll be able to add intelligence to every part of the process and to access data and insights that will help you control the market, not just react to it.
Listings include information on property type, current status, net square feet, units, occupancy, starting bid and asking price. Also included is a map, and filter options like sales status, buying format, and whether financing and broker co-ops are available.
Sellers can sell their assets on a digital marketplace that precision-targets buyers, even unknown buyers globally. The website reports that the platform closes deals two times faster, with 60 percent of the buyers coming from out of state.
Buyers can use Ten-X Commercial to precision-match properties to sync with their investment strategy. The platform accelerates the transaction process from search to due diligence review to closing.
Brokers use the data-driven marketing to precision-target qualified and unknown buyers around the world. The process is streamlined from listing to due diligence, financing and closing. Using Ten-X Commercial are brokers from CBRE, JLL, Marcus & Millichap, Colliers International, Paramount Lodging Advisors and others.
Its Live Bid solution offers a fixed sales date, which removes uncertainty around transaction timing for investors who need to close quickly. Qualified buyers and a standardized process increase certainty of close, reducing risk for investors and brokers.
Managed Bid combines auction market dynamics with indicative bidding, buyer shortlisting, and a final round auction. The standardized process helps accelerate transactions and achieve certainty of close.
Ten-X Commercial also offers research reports on outlooks for commercial real estate markets: office, multifamily, retail, hotel, and industrial. Its capital markets research features a liquidity tracker and updates on volume and pricing trends. Its broker sentiment reports covers large markets like New York, Los Angeles, Miami, and San Francisco.
Ten-X Commercial is the parent to Auction.com, and has sold more than 323,000 residential and commercial properties totaling almost $53 billion. With its use of desktop and mobile technology, Ten-X Commercial allows people to safely and easily complete real estate transactions online. It's based in Irvine and Silicon Valley, California, and has offices in key markets nationwide. Investors in the company include Thomas H. Lee Partners, L.P. CapitalG (formerly Google Capital) and Stone Point Capital.
Click here to learn more about Ten-X Commercial.