BREAKING: NavigatorCRE raises $17.2M Series A to accelerate state-of-the-art data analytics and visualization adoption in Commercial Real Estate

Seattle, WA Aug 3rd, 2021 - NavigatorCRE, a leading edge commercial real estate (CRE) data analytics SaaS platform completed its Series A funding round, led by Fulcrum Equity Partners and was joined by existing investors.

The Seattle based start-up, whose founders were all prominent commercial real estate veterans, saw a huge gap in the technology that serves this industry and found that most operators from Asset Managers to Brokers have extremely limited capabilities to unlock the power of data in their day-to-day operations. "We saw there was an enormous chasm in the CRE industry for owner operators to be able to bring together portfolio, leasing, acquisitions, underwriting, debt, financials, aged receivables, and market datasets into a harmonious data visualization experience," said Taylor Odegard, CEO & Founder of NavigatorCRE. "Most companies are forced to utilize various point solutions that have no central hub, and thus, resort to attempting to build a software platform in-house, which is rarely ever a successful or adopted endeavor."
Fulcrum Equity Partners, an Atlanta-based growth equity investor, led the round for NavigatorCRE. Fulcrum has a strong track record in SaaS platform investments with 25+ investments in the SaaS, HealthTech & FinTech sectors. "We've seen a need across industries for centralized data solutions, and Navigator has become that in the CRE space," says Fulcrum Partner Frank X. Dalton. "They have revolutionized the way CRE operations approach data, paving the way for more informed, insightful decision making."
NavigatorCRE has seen much success since shifting its platform focus from solely brokerage services to focus on the enterprise asset management and occupiers in 2019, and received numerous awards for innovation in data analytics, asset management, capital markets and occupier services from TechCrunch, CREtech and RealComm. "We strive to be integral to the success of our customers," said Kevin Shtofman, COO of NavigatorCRE. "We see a rapidly growing industry trend to gather, audit, integrate, and visualize data in order to drive insights in just minutes vs months and years, (which is the industry norm). We feel so strongly about this that we call it our customers' Return on SpeedTM."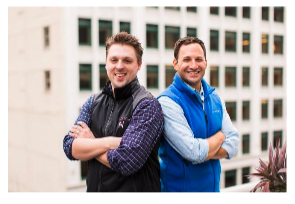 NavigatorCRE will leverage the new funds to expand across North America & Western Europe and launch its Customer Advisory Council. "The ability for our platform to scale across an organization and provide actionable insights with a noticeable return on speed is very exciting," said Russ Johson, CSO and Co-Founder. Founded in 2015 by Taylor Odegard, Russ Johnson & Brett Hartzell, NavigatorCRE has been one of Seattle's fastest growing startups with nearly 40 employees, offices in Seattle, Los Angeles & Dallas and holds a client roster including some of the nation' largest commercial real estate operators. The company intends to double its size and revenue over the next year and continue to enhance the state-of-the-art patented platform to become the CRE industry standard.
___________________________
Contact: Will Young
VP of Corporate Development, NavigatorCRE
E: will@navigatorcre.com