5 Real Estate Tech Startups That Made it Big
Around the country, a number of real estate tech startups are transforming the real estate industry. While not all such startups have experienced phenomenal success, below are five that have experienced rapid growth and changed the way the real estate industry does business.
Recognizing that one of the most significant challenges in selling under-construction properties is the fact that prospective tenants and buyers are not able to actually see the space, Manhattan-based Floored set about changing that. Using proprietary technology able to take high-res, 3D scans of exterior and interior spaces, Floored is able to provide hyper-realistic virtual tours. By deploying interactive technology, this revolutionary startup gives users the ability to see how a space would look with depth, lighting, and even with furniture moved around. Compared to traditional two-dimensional virtual tours, Floored's tours are far more realistic.
Also based in Manhattan, Honest Buildings is an automated bid management and procurement workflow platform for building owners. Honest Buildings' tools bring order to a process that is, by nature, complex and chaotic; they centralize all of the communication and workflow tasks that happen within the procurement process, and then provide critical data that is incredibly difficult to gather without a technology solution. Honest Buildings customers use the platform's pricing intelligence, organizational efficiency, and risk mitigation to make better decisions that lead to better real estate project outcomes.
Launched by Benjamin and Daniel Miller in 2012, Fundrise started out with a simple goal: giving communities the ability to shape projects while taking advantage of financial benefits in the process. The Washington, D.C.-based company quickly realized a significant flaw in most real estate crowdfunding sites; the fact that most such sites typically only work with accredited investors. Fundrise approaches things a bit differently by handling the burdensome task of registering projects with the SEC and actually taking those projects public. As a result, unaccredited investors are able to participate.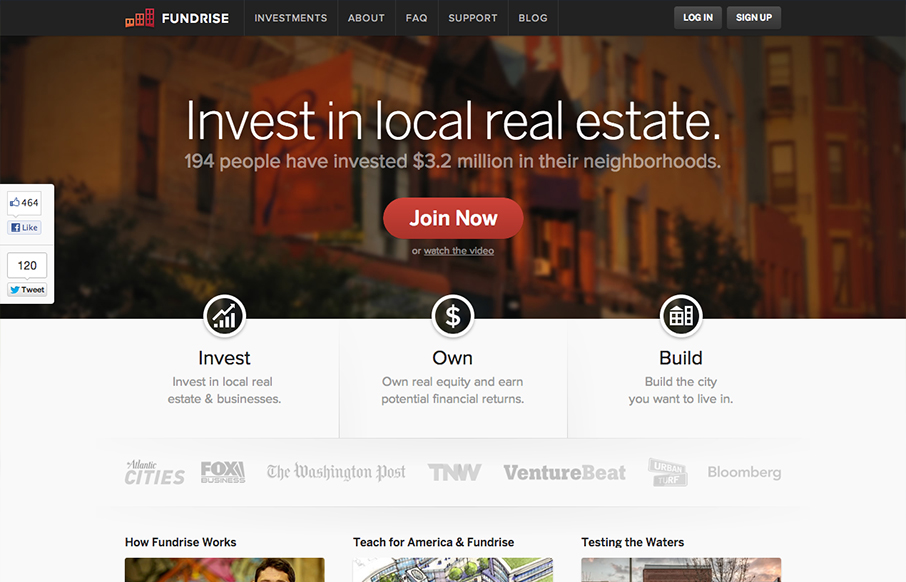 Yet another New York-based startup, Compass has attraction millions of dollars in fundraising. The firm has put the funds toward making it easier and less expensive for consumers to locate apartments in New York City. By utilizing in-house neighborhood specialists along with a listings website, the company gives users the ability to search listings online, schedule appointments to see properties, and even have their leases executive directly online.
Not just another crowdsourcing firm, CompStak takes a novel approach by offering their site free of charge to brokers. When brokers wish to gain access to a comp, they simply submit information on their own listings. By sharing and exchanging market stats, participating brokers are able to provide greater access to more data. While CompStak provides free access to agents, the firm monetizes its site by selling data to real estate investment trusts, institutional investors, private equity firms, and hedge funds.