AgentDesks Empowers Real Estate Agents to Generate Leads More Effectively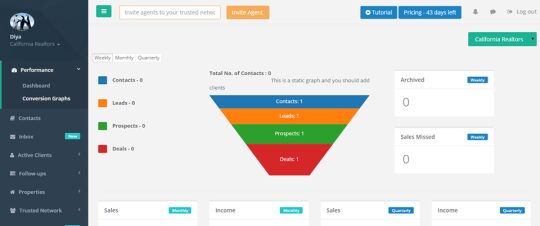 As most real estate professionals are well aware, the industry is more complex and competitive than ever before. While innovation in the commercial real estate space has made it possible for agents to reach more people, it has also placed increasing pressure on real estate professionals to do more and be more available than at any point in the past.
Now, AgentDesks is providing an innovative app to help empower real estate professionals. A mobile-first CRM, AgentDesks works by assisting real estate agents in managing their workflow, client communication, and lead generation in a more effective manner.
Rich in Features for Real Estate Professionals on the Go
Boasting a number of innovative features, AgentDesks is designed with the modern real estate professional in mind. For instance, with AgentDesks, agents never need to worry about missing a new lead thanks to the ability to import contacts from voice calls and their phonebook. Personalized communication also becomes much easier with the ability to classify contacts as sellers, buyers, vendors, or agents. Now, real estate professionals can quickly sort through contacts and never have to worry about forgetting how they should be classified.
Real estate professionals have always been on the go. Today, mobility has become even more important, with many buyers beginning their search for a property online. Real estate professionals simply cannot afford to sit back and wait for a buyer to come to them. At the same time, many markets have become increasingly competitive, and the reality is that the first buyer to take action often lands the property. In recognition of that need, AgentDesks offers real estate professionals the opportunity to recommend properties on the go by sharing links over text or email at any time.
It's also possible to track previous client interactions by reviewing texts, emails, and calls all in one convenient location. As a result, AgentDesks users never have to worry about wasting time searching for the information they need.
As the old cliché goes, you can never be too prepared. This is certainly true when it comes to the real estate industry. Gone are the days when agents had to jot down notes on paper and worry about losing them or not having the information they need when they need it. With AgentDesks, real estate professionals can always ensure they are prepared by creating tasks and notes. Agents can even integrate reminders with their calendars to make certain they never miss a call or a meeting.
Background behind AgentDesks
The team behind AgentDesks has extensive experience in the real estate industry and is comprised of graduates from Harvard, Carnegie Mellon, and the University of Maryland. AgentDesks has been able to fund its development through a strong group of investors, including Sierra Ventures, AngelPad, Innospring, Cota Capital, and Kima Ventures. AgentDesks is based in San Francisco and Bangalore. Currently, AgentDesks has more than 8,000 agents signed up through its global network. The app is available on both Android and iPhone.