And the Winner Is…Announcing #REMAS Recipients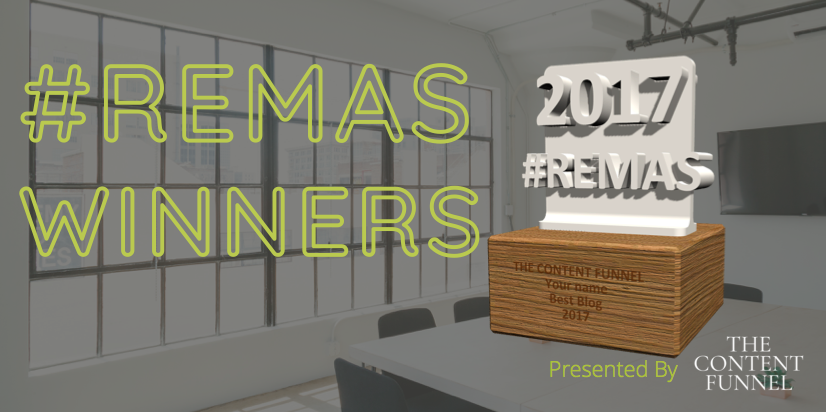 The votes are tallied and results are in! Our distinguished judges panel examined the REMAS submissions to identify the very best in real estate content marketing. Real estate professionals are executing excellent work that is pushing the field forward. Congratulations to all the winners and honorable mentions.
Best Overall Real Estate Company Content Marketing ProgramWinner: Regency Centers
Regency Centers owns and operates local, grocery-anchored retail centers across major U.S. markets. Their content marketing goal centered on building brand awareness through sharing interesting industry news while promoting the properties and people of Regency Centers using an "edutainment" approach. Regency Centers achieved this mix of education and entertainment through their blog and a creative social strategy. "I like that this was a thought-through long-term strategy versus a campaign or quick fix," said Judge Lisa Wieting in her analysis of the program. See what "edutainment" is all about by visiting the Regency Centers blog, or follow on Twitter and LinkedIn.
Honorable Mention: SVN International Corporation
SVN is a global commercial real estate brand that strives to create value for its clients while supplying open access to industry knowledge. They are unique in offering a live weekly property broadcast open to all industry professionals. The judges described SVN's content marketing approach as "smart and innovative." Learn why at SVN, check out a sample Slideshare, or follow on Facebook.
Honorable Mention: Triplemint
Triplemint acts as a resource for new New York city residents with an emphasis on recent collegiate graduates. After interviewing recent graduates, they built helpful interactive content like neighborhood quizzes, interactive maps, and a rent calculator. Triplemint is a relatively new service, but the judges recognized the brand's potential thanks to its solid content.
Best New Real Estate Product Launch Using Content MarketingWinner (tie): Open Box
Real estate-focused Open Box is an innovative global software development consultant firm that identifies enterprise solutions and customizes software. For their new Automation Engine product, they aimed to have real estate leadership rethink the tasks allocated to human beings.
Their campaign started with a teaser around "Who is Rob Sparke?", leading to a reveal and live demonstration in two locations. REMAS judge Scott Ryan appreciated Open Box's approach. "I really liked the story that goes behind "Rob" to help dimensionalize the experience and the value add. I can definitely see this story as an industry outsider and something that I would want to engage with more closely." Start the Rob Sparke journey here.
Winner (tie): WiredScore
WiredScore offers properties connectivity certification ensuring commercial developments meet the technology needs of tenants. For their product launch, they sought to establish WiredScore as an industry leader in MEP and Telecoms engineering design using a multi-channel marketing strategy. Wieting said, "I was super impressed with the UX, design, and foresight to leverage the campaign to also build followers and the email list. Such a smart lead generation program." Check out the blog detailing WiredScore guidelines that was a part of their launch strategy.
Best Real Estate Company Social MediaWinner: Brixmor Property Group
Brixmor is a national open-air retail space provider with an ample portfolio. Their social media strategy establishes Brixmor as a thought leader amongst shopping center providers. Each social platform targets a specific audience. "[Brixmor has] nice cross-platform integration and segmentation of the story along vehicles that will maximize efficacy," noted Ryan. Brixmor's Twitter and LinkedIn accounts target CRE brokers and retail representatives, while Facebook prospects local entrepreneurs and small shop owners.
Honorable Mention: Toll Brothers
Toll Brothers builds luxurious homes in prime locations nationwide. Their nine corporate social media accounts, paired with regional accounts, emphasizes the quality and value offered by the Toll Brothers brand. Content begins with their Toll Talks blog and continues to showcase an array of exquisite homes appealing to future and current homeowners on media outlets like Instagram and Pinterest. For more examples, connect on Twitter and Facebook.
Best Real Estate Personal Social MediaWinner: Bucky Beeman
Minnesota Real Estate agent Bucky Beeman specializes in commercial sales and leasing. He uses his social media to learn from others while opening opportunities from forward-thinking real estate agents and clients. Bucky is active on Snapchat @buckybeeman. Take a peek at his sample Snaps.
Best Real Estate PR CampaignWinner: Pace Advertising
Pace Advertising services K. Hovanian Homes in the Northeast and Ohio divisions. Their homeowner testimonials created a compelling public relation campaign with content crafted into engaging stories. Wieting called the approach smart. "It's not often that you can directly tie results back to a PR story outside of digital results (clicks, shares, etc.,) but they have actually seen these efforts have a positive effect on their sales," said Wieting. Read a sample press release exemplifying Pace's strategy.
Honorable Mention: Siemens Real Estate
Siemens Real Estate is part of the global Siemens brand. Its Americas division leadership worked closely with Momentum Communications Group to craft and pitch stories beyond standard company real estate news. The results were over 5 million total media impressions and extended media reach. See a sample of the pitch on Fast Company.
Best Real Estate Newsletter or Email DesignWinner: Cardinal Real Estate Partners, LLC (d.b.a. "Cardinal Partners")
Charlotte, North Carolina-based Cardinal Partners assists clients through each step of their commercial real estate transactions. Their weekly e-newsletter delivers insightful, high-quality content to their clients. Learn more about Cardinal on their blog or view a sample newsletter.
Best Real Estate Company BlogWinner: Regency Centers
According to Wieting, "Regency Centers had the only strategy I saw that went beyond just 'industry news, inside, data, etc.' and identified a voice/content focus. I like the consistency of style, both visually and copy." Regency Center's blog is the centerpiece of its overall content strategy. The content mixes interesting industry news while promoting the properties and people of the company. By using best practices, Regency Centers saw significant year-over-year increase in blog visitation. Visit the Regency Centers blog and sign up for their weekly opt-in mailing list.
Honorable Mention: Apto
CRE software provider Apto publishes helpful industry information to help readers perform better at their jobs and grow business. The effort they put into crafting timely resources for CRE professionals shows, as the judges noted their edgy approach to CRE news. Read the Apto Blog.
Honorable Mention: VTS
VTS is a leading provider of asset and leasing management software. Through their blog, the brand empowers CRE professionals while building VTS' brand credibility. The interesting and relevant content includes guest contributors, a daily distribution list, and an integrated social media strategy to promote their posts. As a result, their industry leading blog generates around 30,000 views a month. Check out the VTS blog.
Honorable Mention: Lee & Associates Commercial Real Estate Services
Real estate brokerage Lee & Associates blog publishes original content that promotes their CRE brand. While a newer addition to the blog world, judges recognized their blog design and the value their platform provides for the Denver area. The blog content has driven continual audience growth. Visit the Lee & Associates blog.
Best Real Estate FacebookWinner: Brixmor Property Group
Shopping center owner and manager Brixmor launched their corporate page to focus on small shop owners. By publishing educational third-party articles with Brixmor-focused content occasionally intermixed, they built brand awareness, generated leasing leads, and combated false news. In the first twelve months, their strategy exceeded their gained followers goal.
As judge Ryan noted, "The use of the platform and the results appear here to support the strategy. Nice way to bring it to life with a strong presence and innovative/thoughtful approach."
Honorable Mention: Regency Centers
Another retail center management addition to this category, Regency Centers used Facebook to generate buzz around its new mixed-use Mellody Farm development. The launch began with paid campaigns before transitioning to organic growth. The result was a highly engaged community right from the start. See the Mellody Farm Facebook page.
Best Real Estate Personal BlogWinner: Jon Schultz
Onyx Equities co-founder Jonathan Schultz is a fan of CRE Tech. Through his blog, he aims to help industry professionals stay abreast and understand new tech developments. His passion for real estate and tech came through to the judges. Read Jon Schultz' blog.
Honorable Mention: Jeremy Neuer
NeuerSpace publishes content on corporate real estate with personality. The Senior Vice President of CBRE in East Brunswick, Jeremy Neuer provides advice for young brokers and covers CRE Tech. The helpful advice sprinkled with pop culture results in a distinct personal brand that stands out in a crowded blogging sphere. Visit NeuerSpace blog.
Best Real Estate Graphic DesignWinner: theBrokerList and Buildout
A collaboration between real estate community theBrokerList and real estate marketing company Buildout produced the winning graphic design entry. The DNA of #CRE snapshot created an exciting user experience that visually engaged the audience in data. Rosenbluth noted the interactive infographic was, "visually interesting, [and] strongly branded throughout," playing off of DNA imagery. The resulting campaign and report saw over 3,000 views. View the DNA of #CRE graphic here.
Honorable Mention: Phillips Edison & Company
Phillips Edison & Company is a privately-held owner/operator of grocery-anchored retail centers. Their latest ad campaign mixed smart wordplay and beautiful imagery to position Phillips Edison & Company as a trusted buyer and superior retail landlord. Their goal was to make their shopping center ads stand out amongst the pack, and the judges felt they visually they succeeded. See a sample Instagram campaign ad.
Honorable Mention: Newmark Grubb Knight Frank
A commercial real estate firm aiming to design customized solutions for clients, Newmark Grubb Knight Frank created a campaign for a Manhattan property that showcased the unique retail space. Using infographic icons to highlight the area's demographics and images noting key information about the surrounding area, the design led to the space quickly leasing out. See the design here.
Best Real Estate InstagramWinner: Sotheby's International Realty Affiliates LLC
Residential real estate brand Sotheby's International Realty Affiliates represents the nation's finest properties. For their Instagram feed, Sotheby's posts stunning high-resolution photos of its represented properties. Their consistency and staying true to the brand paid off with a strong following. "While a similar strategy to other real estate companies, they have the quality of imagery and WOW real estate to make their page stand out," noted Wieting. Go to Sotheby's Realty Instagram to view the winning photos.
Honorable Mention: Triplemint
Triplemint set out to differentiate its Instagram account by taking a human approach. Their account sought to highlight neighborhoods and agents in the Triplemint team. The judges referred to their page as engaging and a great strategy for New York City. View the Triplemint Instagram.