Apto: How To Broker in the Digital Age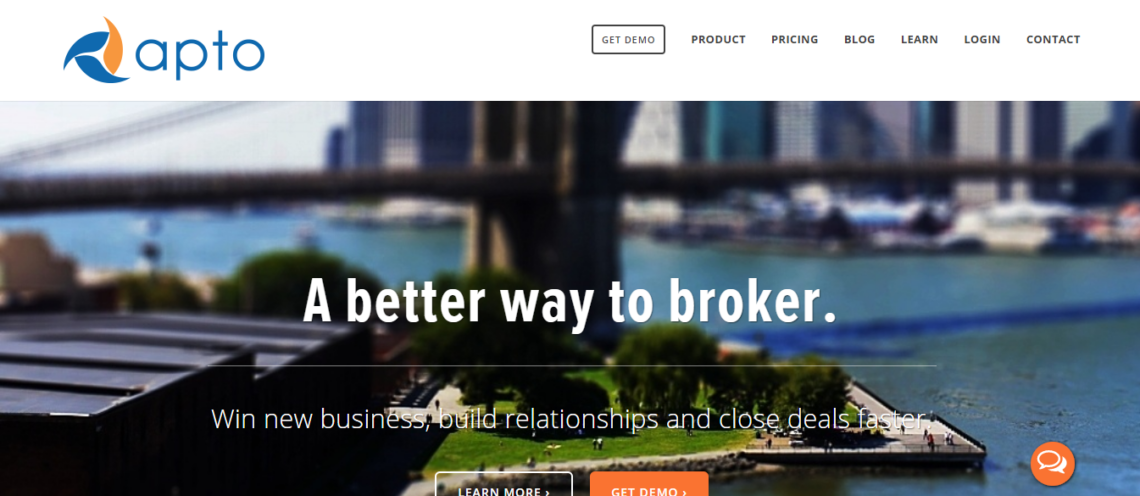 The Apto platform serves nearly 10,000 commercial brokers with its web-based software, helping to manage relationships, properties, listings, deals and commissions. Created specifically with brokers in mind, it helps manage the full lifecycle of a deal from anyplace and on any device.
Features include building and maintaining an accurate, comprehensive contact database, browsing availabilities against your clients' needs in order to find the perfect match, an ability to automate frequent activities (such as lease expirations and follow-up tasks), a watch list for renewals, and a built-in stacking plan.
Brokers will know exactly where their deals stand at each stage of the pipeline, with a customizable dashboard that allows the most useful information to appear front and center. A built-in project management tool keeps you on top of tasks and milestones throughout the project. You can also use the platform to collaborate with other brokers (and nurture relationships) on deals.
The platform creates strategic call lists based on set criteria, account insights, and personal context, allowing brokers to build meaningful connections and have easy access to their highest-value leads.
Its newest features includes visual, interactive tools that help analyze your market. This includes priority lists that let you create pre-built tasks and call lists (or you can create your own, from scratch). Prepare for each call with a portfolio list, map, engagement history and open tasks, all on one screen. You can also speed up your cold calling with a click-to-dial functionality, along with easy call logging and follow up.
The platform also partners with other tech companies, like Buildout (commercial real estate marketing), Prospect Now (predictive real estate marketing), Leavitt Digital (promoting real estate listings in real time), and Office Space (office space search).
Apto was founded in 2012 by CEO Tanner McGraw, a commercial real estate veteran with a decade of brokerage experience. He started Apto after experiencing frustration with the lack of technology specifically designed for real estate, available to manage customer relationships simply and profitably.
"The commercial real estate world is so disconnected," McGraw told Real Estate Tech News. "We've begun interacting with other technologies as many of our counterparts have. You'll see an industry where the frustration of moving data around is gone. Combining that data into valuable insights will become more commonplace and the broker will be able to add value in truly unique ways that haven't been possible before."
Inc. magazine listed Apto as #30 on its 500 rankings.
Click here to find out more about Apto.