Co-living Spaces: A Solution for Tech Housing?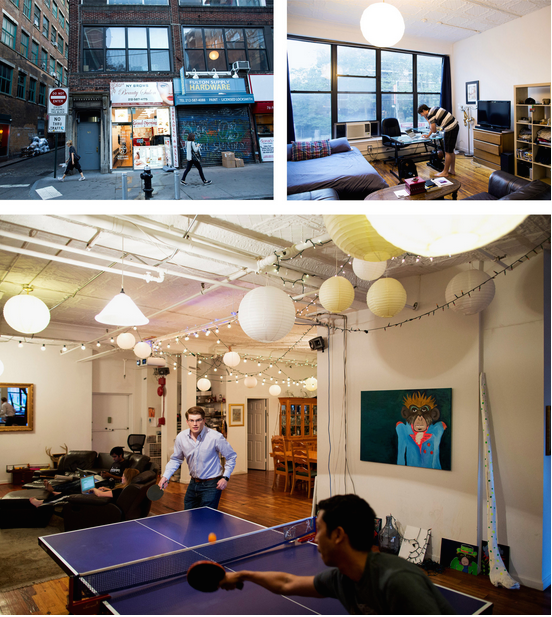 By Howard Kozloff and Emma Loos
Co-working spaces are the offices of the future. Co-living spaces may be soon to follow.
Over the course of a few years, co-working spaces quickly caught on and popped up in cities across the country. Instead of sitting alone at a coffee shop working on a startup or freelance work, people could rent an actual desk in an office environment and socialize with people in similar positions. Now with the emergence of co-living spaces, residents can rent a one-bedroom unit, or a bedroom in a multi-bedroom unit, that offers shared amenities, a community-vibe, and entertaining social events.
While co-working spaces offer a more progressive and relaxed office setting, co-living spaces have created a community within a building. Although the thought harkens back to freshman year of college—small, furnished dorm-style rooms with communal spaces—these micro-units have been upgraded to meet the lifestyles of their Millennial clientele.
Examples of Co-Living environments in New York (Brian Harkin, New York Times)
Commonspace, a co-living space in Syracuse, NY sits atop a co-work space. Troy Evans and John Talarico are developing 21 furnished micro-units equipped with a kitchenette, bathroom, bedroom and living space fit into 300 square feet. Additionally, the common areas include a chef's kitchen, a game room, a TV room, wifi access, a rooftop deck, bike-sharing and storage; not to mention the social events hosted through a third-party "social engineer."
Co-living spaces are not a new idea, and in many ways heavily resemble student-oriented apartments built over the past decade. There is Pure House in Brooklyn and short-term living for entrepreneurs at Krash with locations in NYC, D.C. and Boston. Even WeWork is expanding into the residential sector and creating WeLive spaces. The concept, amenities, and community associated with the co-living spaces are in high demand (and have waiting lists).
A Hacker Home in Mountainview, CA (Jim Wilson, New York Times)
These living situations can provide strategic solutions to areas with extremely high density facing housing shortages, such as San Francisco. SF has their own unofficial version of co-living spaces, called "hacker homes," where techies are crammed into bunkbeds in a Victorian renting at $1,800 per person. These set ups sadly do resemble the unappealing aspects of freshmen dorms—and with a high price tag.
As we all know, tech companies played a heavy hand in attracting talent to the Bay Area. This resulted in increased demand for housing, which, in turn, contributed to skyrocketing prices and an ongoing housing shortage. Implemented correctly, the development or renovation of "official" co-living single units (no more bunk beds) could be a solution to the housing constraints in the 7x7mile SF bubble.
Now the question is should tech companies—whether for social responsibility or for employee recruitment and retention, or both—help finance co-living alternatives for their army of young techies? The tech giants are already halfway there: the working environments at Facebook, Google, et al already mirror the essence of co-living residences. Just add beds and a door, and you're set.
About the Authors
Guest Post by Howard Kozloff, Managing Partner, and Emma Loos, Associate, of Agora Partners – a Los Angeles-based development, investment, and advisory firm. Follow our industry insights on Twitter @AgoraPartners.