combine the power of data and crowdfunding with evest private label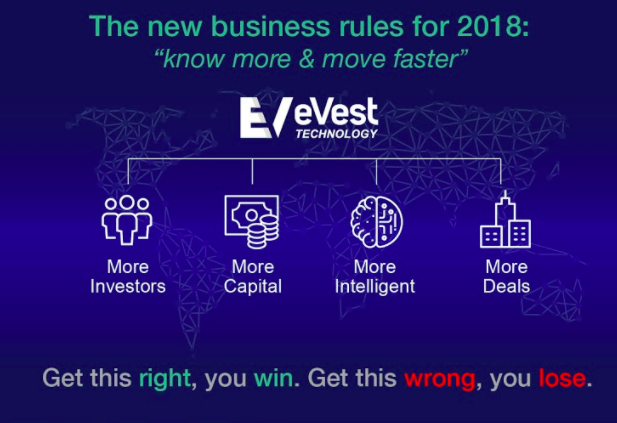 For decades, real estate professionals treated acquisitions and disposition decision-making as an art form. Armed with outdated data, these professionals made their best guess on prospects before spending months securing funding. Real estate investing is a science, not an art. Today's technology speaks to the benefits of data-backed decision-making. EVest Technology is a service provider excelling at combining the benefits of predictive analytics in acquisitions and funding. Their new Private Label product delivers cutting-edge predictive analytics with a powerful crowdfunding platform.
How eVest Works
According to MIT Technology Review, we analyze less than one percent of all the data we capture. With the millions–if not billions– of data points captured every day, that's countless missed opportunities. EVest helps real estate professionals seize these opportunities with its predictive analytics and automated digital crowdfunding platform. Its programs reach high into big data to aggregate and subsequently correlate at least 100 different data points to generate a probability.
EVest Technology takes this information and creates a workflow that makes sense. Real estate professionals start with a powerful portal that covers offerings and data, dig deeper into deal specifics, and finally, start the funding phase. Working together, the eVest process expedites decision-making and closes deals in a timely manner.
eVest Private Label Gives You the Edge
Private Label is the latest release from eVest. Real estate professionals use the CMS program to customize templates with your logo, branding, contact information, and images. With Private Label, clients become an empowered capital-raising machine. Users will benefit from:
Root Domain RoutingData AnalyticsPersonalized MarketingBulk Deal UploadEmail Distribution
Unlike similar competitor offerings, Private Label clients will benefit from eVest's strategy sessions, where users learn to use the platform to optimize capital stacks, deal metrics, and financial engineering techniques. These sessions include marketing plans, helping users increase prospect reach and raise more capital faster. Equally important, clients benefit from eVest being in the crowdfunding industry for several years through its parent company, RealtyeVest. The platform has an established pool of professionals seeking investment opportunities.
The eVest Technology Advantage
Timing is everything in the real estate investment and development world. A typical Fortune 1000 company can realize over $65 million in additional net income by increasing data access by just 10 percent. Imagine how increasing data accessibility could translate for real estate professionals.
EVest's fully integrated platforms deliver refined functionality by combining investor management and capital fundraising. This powerful automation allows you to market to thousands of potential real estate professionals with reduced effort.
The predictive analytics platform comes with modeling to forecast probabilities, financial modeling for the top four asset classes, investor dashboards for easy data reading, and a digital deal room. These processes are fully automated to save time while ensuring due diligence.
By itself, eVest Technology's use of artificial intelligence to predict success in real estate development or acquisition is cutting-edge. When paired with its crowdsourcing platform, clients seamlessly and near-instantaneously move from front-end due diligence to capital raising. The Private Label service adds the powerful data analytics with customized marketing and personalized strategy sessions. This streamlined workflow for real estate professionals is hard to beat.