Compstak — Give A Comp, Get A Comp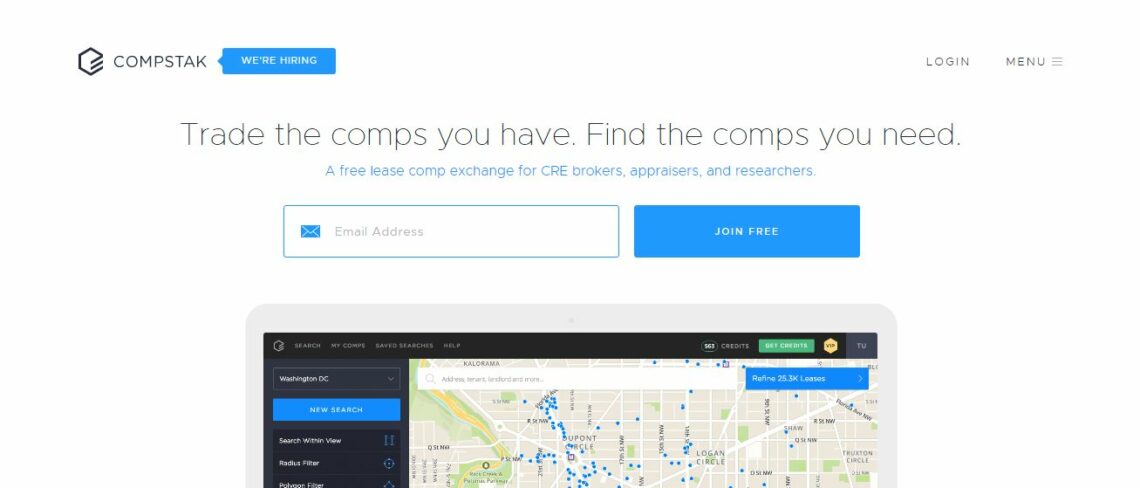 Here, you can get as good as you give. With Compstak's platform, you give comps and earn points so that you can get, in return, the comps you need. And that means instantly.
It's like trading baseball cards -- "got 'em...need 'em…" -- but the trades help you build your empire.
Compstak is a crowdsourced model; it invites you into a large network of professionals who are wanting just what you want: analyst-reviewed comps. Once you get your hands on yours, you can filter them, build custom reports, analyze properties, and export to Excel.
When comp searching in the typical, ordinary way, you often may often start your search with your own database, or reach out to colleagues. Ultimately, though, it's like herding cats: the information is often hard to gather, difficult to compile in a way that makes sense, or just plain unavailable.
The CompStak Exchange allows you to get beyond that. It's a private network of verified commercial real estate brokers, appraisers , and researchers who trade comps daily, for free.
The comps are always anonymous, and involve no data entry (comps are accepted in any format). There are no fees or contracts, and users are never revealed.
The Compstak Exchange helps you negotiate from a position of strength. It gives you access to starting rents, landlord concessions, tenant names, and sales histories for competing properties. It also provides project income, estimates fair-market value, and monitors trends across properties, submarkets, and landlords.
The analyst-reviewed comps include key deal details, such as sales price, cap rate, NOI, and more.
According to the Compstak website, 1.5 million comps have been received so far, regarding 275,000 properties. This includes 8.7 billion square feet of leasable space, and 4.6 billion sales square feet.
In addition to the CompStak Exchange, CompStak's Enterprise allows non-brokers to benefit from the database. This platform delivers data to lenders, asset managers, private equity investors, portfolio managers, CMBS investors, and other commercial real estate professionals.
The Enterprise offering creates an overview of commercial properties detailed with individual lease and sales comps, property information, and proprietary analytics. It integrates large volumes of verified lease comps into models to benchmark properties against their competitive sets, determine holding periods, model future rents and concessions, and access market trends.
Enterprise helps you spot acquisition opportunities, determine underlying asset value, and manage each aspect of due diligence, from financing to disposition, with reliable transaction insight.
CompStak was founded in 2011 by Grubb & Ellis vet Michael Mandel and partner Vadim Belobrovka. In 2015, The Real Deal reported that the company raised $14.4 million in venture funding.
In July, Real Estate Tech News reported that CompStak has joined forces with another big player, Xceligent, which is expanding into the top 65 real estate markets nationwide. The partnership results in "unprecedented real-time visibility into real estate markets," with more efficient and transparent market insights. Now, Xceligent CDX or Pro users are able to access data on the CompStak Exchange. That means a user researching property on Xceligent's database will be able to simply click to visit CompStak for current leasing comparables.
Click here for more information on CompStak.
DON'T MISS OUR UPCOMING CRE // TECH EVENT IN NEW YORK ON DECEMBER 7TH! TICKETS ARE ON SALE NOW!