Create a Website for Every Home with Koaware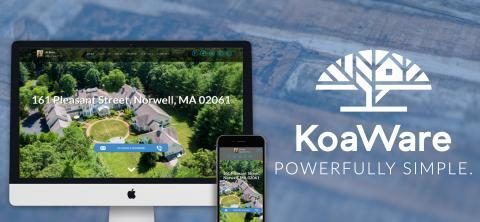 Create sleek, easy-to-edit property websites for your next marketing campaign using Koaware. The service offers a free demonstration where users can upload property photos and see how simple it is to create a modern and mobile-built website in minutes. Koaware is designed for residential and commercial real estate agents to:
Build customizable and brandable property websites
Generate new leads through call to action and multiple channel advertising
Create mobile and MLS-friendly experiences
Building Websites on Koaware
The key selling feature of Koaware is its user interface, which is designed to be friendly enough for even the least computer-savvy to create a website. See how your content will display as you revise. Any fields left blank automatically don't display on the finished product. Customize everything from the color scheme to page layout. The easy drag and drop interface makes uploading photos, video tours, and floor plans a snap. The Koaware website is compatible with Matterport 3D imaging. From upload to publish, the whole process of setting up a property website takes just minutes.
Lead generation
Koaware enhances lead generation with a call-to-action button that scrolls through the single-page design. Across the header are locked social sharing and contact buttons. Each website offers branded and non-branded MLS-compatible links for use on social, email, and direct marketing. Use the online links to direct social traffic direct to the property website.
Koaware's Cost
Koaware offers individual and subscription pricing plans based on a credit system. Subscription tiers start at $49/month and go up to $99/month. All tiers allow users to custom brand the website footer and offer a percentage off of Koaware products. Other benefits allow users to shop and buy domains right in Koaware. Interested brokerages, agents, and real estate photographers can test the Koaware service before purchasing by visiting their website and uploading photos.
View Koaware's demo here or visit a sample property website.