CrediFi Drills Down To Specific Loan Needs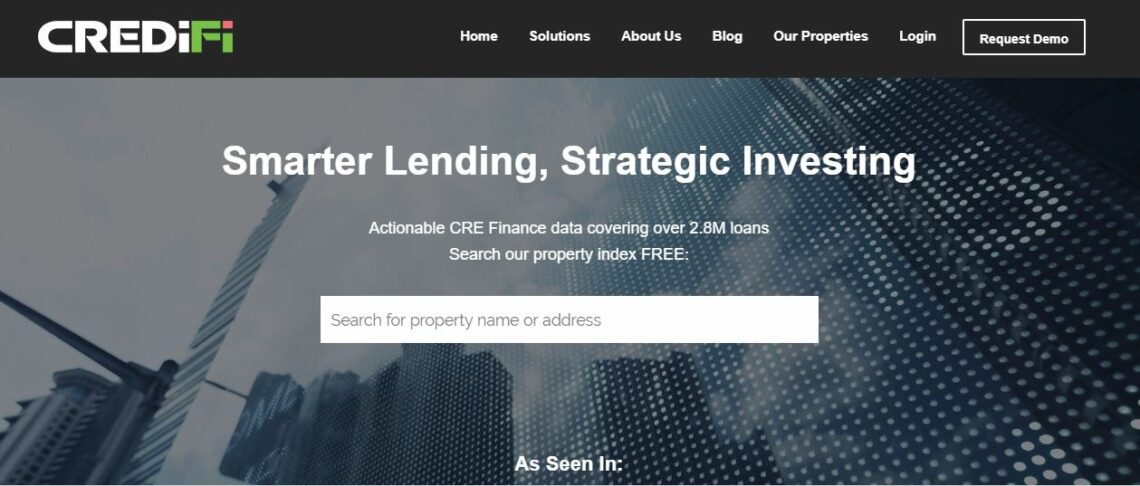 CrediFi founder Ely Razin pitched his company as the "Bloomberg of commercial real estate." That's means a go-to destination for information and a one-stop-shop for commercial real estate loan data. This includes market intelligence, displayed on an easy-to-use interface built for strategic application to investment decisions.
CrediFi is the big-data platform that offers a number of specific pathways to knowledge.
The CrediFi platform provides complete financial and loan data by property (this includes non-securitized loan details), as well as asset owner and parent owner information, risk and volatility scoring, market-level analysis, and data cross-referencing.
CrediFi head of transactions Frank Muhlon recently told National Real Estate Investor, "We are especially focused on those small and middle market borrowers that have been underserved in the marketplace. These may be groups or individuals that may not refinance their properties very often and don't have active broker and lender networks, and we can bring them off the sideline."
Today, Credifi covers 2.8 million loans and 5 million properties, with a total value of $13 trillion and spreading over 46 billion square feet.
Its CrediFX ™ solution matches those seeking loans of $1 million to $20 million through a lender network. The appropriate lenders then compete for the business. For borrowers, it's easy because it's managed in the cloud; lenders can more easily find better deals. Brokers can find new clients and financing options. For everybody, it leverages greater process efficiency and provides market transparency.
Make sure you have the distinction right: CrediFX is not a direct lender or crowdfunding site; it's a matchmaker, hooking up borrowers and brokers with lenders through algorithms.
CrediFi solutions also include CredifFi for Salesforce ™ , which integrates with Salesforce software to avoid searching, formatting and uploading. It refreshes all of the opps you track in Salesforce, alerting you to any changes as they happen.
CrediFi Feed ™ delivers loan, property and market-level data right into your application program interface (API).
CrediFI Diligence ™ delivers in-depth information on loans and properties, with scoring and analytics tools, refreshed regularly -- all serving your due diligence.
CrediFi Loan Leads ™ helps you find new deals based on your criteria. It can help you create and customize a loan list based on loan amount, seasoning, location, risk tolerance and property type.
Overall, CrediFi provides national coverage for institutional-grade property and loan data. It plays in key markets like New York, Boston, Chicago, and Seattle.
The name of the game: transparency. CrediFi founder Ely Razin told Inc. magazine, "Commercial real estate players are starving for the right data to make smarter investments faster while limiting their risk exposure. Today, the market is opaque with limited access to select data, and CRE professionals need more. It's not just knowing what your asset is doing--it's what your competitor, your neighborhood, your market are up to as well. In this market, knowledge is a game changer. CrediFi's platform is here to fill that void."
Click here to find out more about CrediFi and all of its solutions.
DON'T MISS OUR UPCOMING CRE // TECH EVENT IN NEW YORK ON DECEMBER 7TH! TICKETS ARE ON SALE NOW!