#CREtech Exhibitors: CompStak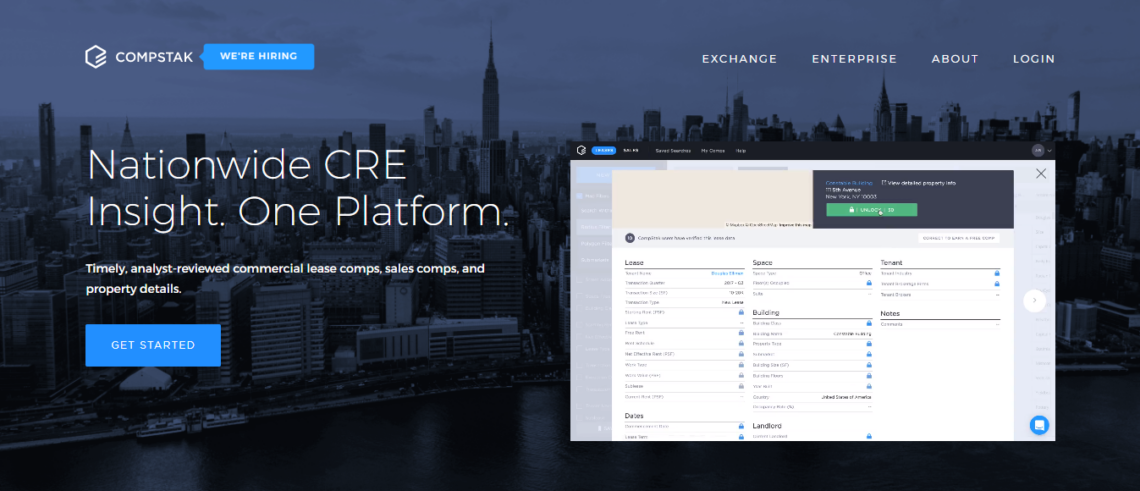 Find timely, analyst-reviewed commercial lease comps, sales comps, and property details on CompStak's platforms. We gather and quality check CRE data from the professionals making deals so you can focus on meaningful networking, accurate analyses, and closing business.
Our team at CRE // Tech recently caught up with CompStak to learn more about their site, strategy and vision.
What does your site do?
CompStak Exchange and CompStak Enterprise are nationwide platforms that deliver analyst-reviewed lease and sales comps for office, retail, and industrial properties. Our search and analytical tools enable you to access tenant, property, and market details you can't find any place else. Comps on our platforms include real starting rents, landlord concessions, expiration dates, sale price, buyer, cap rate, NOI, and more.
Who are your customers?
CompStak Exchange is a free comp trading platform built for CRE professionals at brokerages and appraisal firms. We have tens of thousands of members from every major brokerage shop across the country contributing to and downloading from our database daily.
CompStak Enterprise is a subscription based analytical platform designed for qualified lenders, landlords, and investors operating in the CRE space. A growing list of top tier banks, private equity funds, owner/operators, REITS, and advisors rely on CompStak Enterprise, including: Moody's Analytics, Tishman Speyer, Wells Fargo, Vornado, Boston Properties, and Equity Office Properties.
What are the core benefits of using your site?
Our unique crowd sourcing model enables us to source and deliver commercial real estate details and insight that are unavailable any place else, including real starting rents, landlord concessions, expiration dates, sale price, buyer/seller, cap rate, and NOI. We collect the actual signed terms of leases and sales, not the figures included in easy-to-find listings.
Our team of analysts puts every record through an extensive review process to maximize accuracy and completeness before adding it to our platforms. This is what allows our members and clients to confidently rely on our data to support data-driven decisions regarding investments, asset performance, competitive positioning, negotiations, and valuations.
How's business?
This past year has been a whirlwind for CompStak. In 2017, CompStak expanded from 35 to 70 markets, making us a truly national platform. Our tens of thousands of members hail from every major national and regional player in commercial real estate.
We recently introduced our brand new sales comp database, which is enabling us to bring the same level of transparency and reliability to sales markets as we have to leasing markets.
We have also announced new partnerships with major companies, such as Moody's Analytics, with more on the horizon.
What are your future plans?
We plan to continue to deepen our coverage in our newer markets across the country. This is true for both lease and sales comp data. We are also in talks with several high profile companies for additional strategic partnerships that will open up new opportunities for us. Additionally, we have new analytical tools in development. In the coming months our platforms will gain functionality that will deliver ever-greater transparency to the market
As we look to the future, we see continued opportunity to deliver ever increasing transparency and insight to the CRE community.
Follow CompStak on twitter @CompStak, Facebook and LinkedIn!
About CRE // Tech
CRE // Tech is the "Center for Innovation" within the commercial real estate industry. The platform's mission is to connect brokers, owners/developers, investors and service providers with the leading start ups devoted to commercial real estate. CRE // Tech is owned and operated by The News Funnel, the leading content, connectivity and event platform devoted to the commercial real estate industry.
To learn more about CRE // Tech, upcoming events and 2018 sponsorship opportunities visit www.cretech.com.