#CREtech Exhibitors: Dealius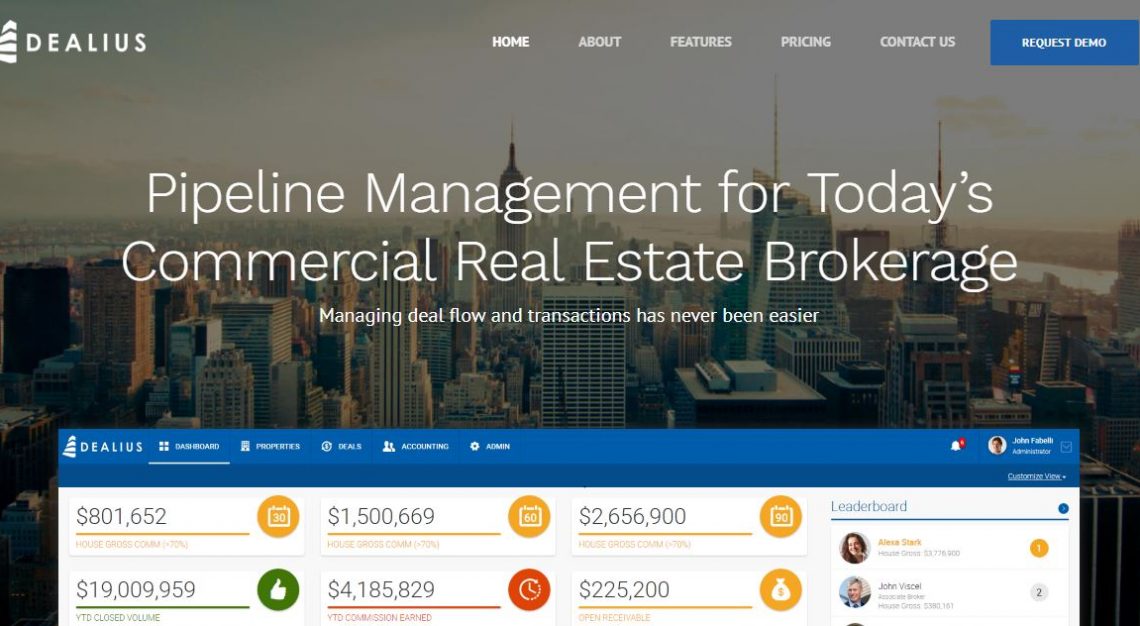 Dealius is making its debut appearance at CRE // Tech New York on December 7th. Dealius was designed to automate the transaction process and broker management within commercial real estate brokerage companies. In today's evolving real estate industry, technology is becoming more essential in the day-to-day business.
Our team at CRE // Tech recently caught up with Dealius to learn more about their site, strategy and vision.
What does your site do?
Our web-based application provides a fully-integrated transaction and pipeline management solution designed specifically for the needs of commercial real estate brokerage companies.
Who are your customers?
Our customers are CRE Brokerage Firms looking for a modern, cloud-based enterprise solution to run their growing business.
What are the core benefits of using your site?
Our application provides a solution for both CRE Brokers and Managers/Owners. For the broker, our solution provides a real-time view of their active deals, lease renewals, cash flow, and automates the entire transaction process. For Owner/Managers, the solution provides a snapshot of the overall performance of brokers and the company including, active deals, projected transactions, receivables, invoicing, managing commission splits and schedules, lease renewals, listings and historical deal data.
How's business?
We launched the product earlier this year and have signed on several firms. Dealius continues to experience growing demand and we now have a healthy pipeline of prospective clients.
What are your future plans?
We are a software company focused on innovating in the CRE space. Dealius was developed from the ground up with direct involvement of brokers, administrators, and managers. We continue to use this approach in evolving the product and have an exciting roadmap of features planned over the next six months.
Come meet Dealius at CRE // Tech New York on December 7th!
About CRE // TechCRE // Tech is the "Center for Innovation" within the commercial real estate industry. The platform's mission is to connect brokers, owners/developers, investors and service providers with the leading start ups devoted to commercial real estate. CRE // Tech is owned and operated by The News Funnel, the leading content, connectivity and event platform devoted to the commercial real estate industry.
To learn more about our upcoming event in New York on December 7 at SL Green's 55 West 46th Street, to become an exhibitor or to purchase tickets, visit www.cretech.com.