#CREtech Exhibitors: GeoCV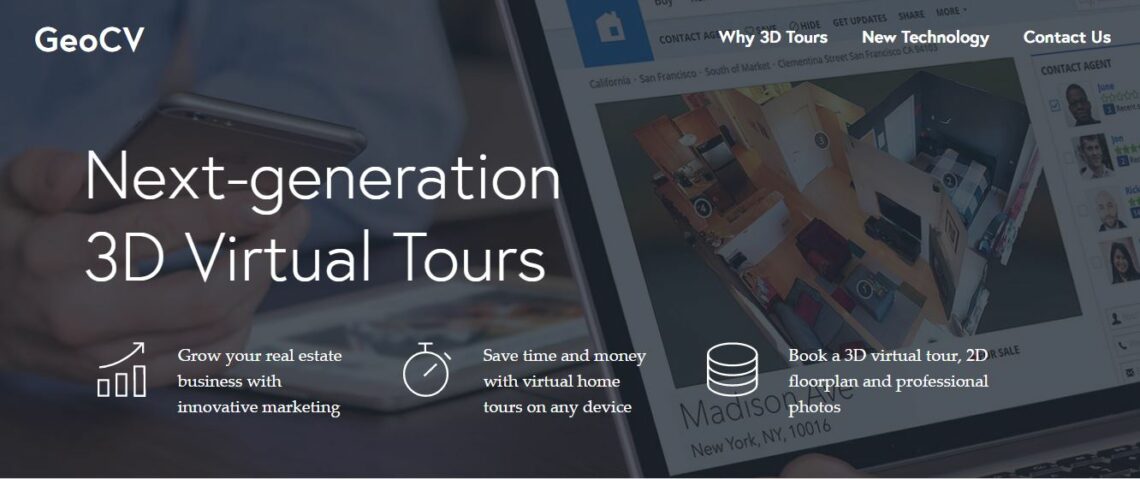 GeoCV enables everyone the ability to capture and share reality in volumetric 3D, using your phone. Their 3D viewer for web, mobile, and virtual reality showcases photorealistic visualizations with smooth navigation. Founded by 3D computer vision experts with 12 years of experience in the field, GeoCV has developed an advanced automated solution for producing the full marketing suite of 3D virtual tours, photography and floor plans at the highest quality, all at an affordable price.
Our team at CRE // Tech recently caught up with GeoCV to learn more about their site, strategy and vision.
What does your site do?
GeoCV scans interior spaces using a 3D camera enabled smartphones and proprietary software. The space can be viewed in 3D from any angle in virtual reality (VR) or in a web browser. In contrast to other 3D virtual tours solutions we leverage $500 next-generation mobile devices with 3D cameras instead of $5,000 proprietary cameras, which makes our solution more scalable and affordable to accommodate the mass market.
Who are your customers?
Agents, Brokerages, Owners, Investors, and Developers
What are the core benefits of using your site?
We help agents and brokerages differentiate themselves to win more listings, get more referrals and attract more qualified leads so they can sell faster, spending less time on unpromising in-person showings.
How's business?
Though the full range of consumer applications for 3D capture and VR remains to be discovered, real estate professionals have already valued the revolutionary uses. We currently offer a service to New York realtors at disruptive pricing with our national subscription service launching in Q4 2017. For $149 you get a whole package of real estate marketing visuals: a 3D tour, professional photos and a floor plan.
What are your future plans?
Our goal is to become the world's No. 1 solutions provider for 3D capturing. Real estate is a beachhead market, where agents can include a 3D virtual tour in their listing. Other brick and mortar industries such as construction, interior design, insurance and property management will follow. User-generated content creation tools are the longer-term future when everyone has a 3D camera in their pocket and can easily view in AR and VR.
Come meet GeoCV at CRE // Tech New York on December 7th and follow them on twitter @GeoCV3D and Facebook!
About CRE // TechCRE // Tech is the "Center for Innovation" within the commercial real estate industry. The platform's mission is to connect brokers, owners/developers, investors and service providers with the leading start ups devoted to commercial real estate. CRE // Tech is owned and operated by The News Funnel, the leading content, connectivity and event platform devoted to the commercial real estate industry.To learn more about our upcoming events in Los Angeles on September 28 at CBRE Headquarters in Downtown and New York on December 7 at SL Green's 55 West 46th Street, to become an exhibitor or to purchase tickets, visit www.cretech.com.