#CREtech Exhibitors: NavigatorCRE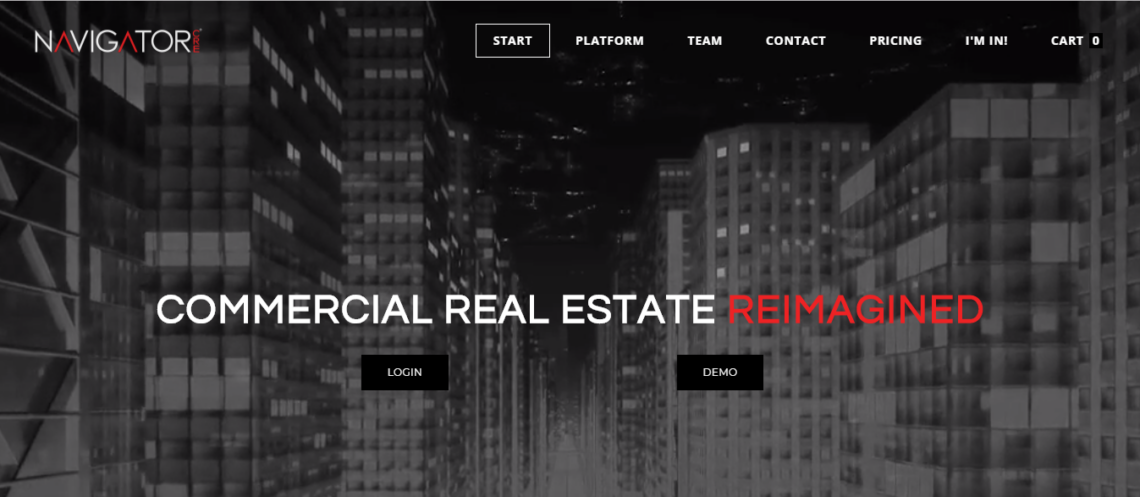 Our team at CRE // Tech recently caught up with NavigatorCRE to learn more about their site, strategy and vision.
What does your site do?
NavigatorCRE is a cloud based software that aligns real estate and property data, programs and operations on a single platform. Companies and teams can then seamlessly collaborate around their data, create valuable insights, present in-depth interactive market overviews and ultimately streamline the leasing, sales and development processes in commercial real estate. By focusing on interoperability and aligning Navigator streamlines many of the strategic and operational aspects of the CRE business to allow users save time and do more business. The platform creates a private and secure responsive environment for companies and teams to centralize business intelligence for instant visual results. The client's data is never sold or shared with anyone outside of the client's team. This enables them to expand the functionality, efficiency and impact of their team and processes.
Who are your customers?
Our customers span a wide range from commercial real estate brokerage, asset managers, property managers, developers and commercial landlords and tenants. They tend to be forward thinking groups that are leveraging technology to establish leadership positions in their market segments. NavigatorCRE is designed for a broad base of CRE users since it digests and animates any type of data in formats that are customized to be relevant for owners, brokers or occupants of any product type, anywhere in the world.
What are the core benefits of using your site?
Users of NavigatorCRE benefit from a boost in productivity by having one cloud solution to manage all their data. Not only can they make better business decisions with accurate private data but the speed of decision making increases dramatically. Streamlining communication between companies and teams via mobile, desktop and tablet interfaces. Navigator becomes their one stop shop for commercial real estate operations and strategic processes. Navigator instantly executes on day to day processes like: digital market overviews, value analytics for sales comps and lease comps, instant business intelligence analytics for management, acquisition and disposition. Instant visual access to property and portfolio documentation, in a responsive mobile platform.
How's business?
Wonderful, we are growing fast and have been recognized by several publications like TechCrunch, CRE Tech and The Registry Puget Sound as pioneering innovators in this field. We are emerging into enterprise level work with several new customers. We are continuously expanding integrations with programs that help our clients make their CRE processes more efficient. Our clients find this a significant replacement for isolated spreadsheets and the production of static presentation documents.
What are your future plans?
We want to continue to enhance the commercial real estate industry with leading edge technology and align with other high tech firms to create streamlined commercial real estate solutions. Growth within national and international real estate markets and on-boarding enterprise customers. NavigatorCRE is a company dedicated to the business purposes of professionals in the commercial real estate sector. We hope to grow with them as an integral part of their success and to continue to evolve with them, in a highly competitive industry. Our motivation is to continue to offer optimized technology to our users. Evaluating and integrating technology features for real estate processes is an instinctual skill for us. Collaborating with other CRE professionals to utilize NavigatorCRE for successful projects is part of our CRE-DNA.
Follow NavigatorCRE on twitter @NavigatorCRE, Facebook and LinkedIn!
About CRE // Tech
CRE // Tech is the "Center for Innovation" within the commercial real estate industry. The platform's mission is to connect brokers, owners/developers, investors and service providers with the leading start ups devoted to commercial real estate. CRE // Tech is owned and operated by The News Funnel, the leading content, connectivity and event platform devoted to the commercial real estate industry.
To learn more about CRE // Tech, upcoming events and 2018 sponsorship opportunities visit www.cretech.com.