#CREtech Exhibitors: Raisal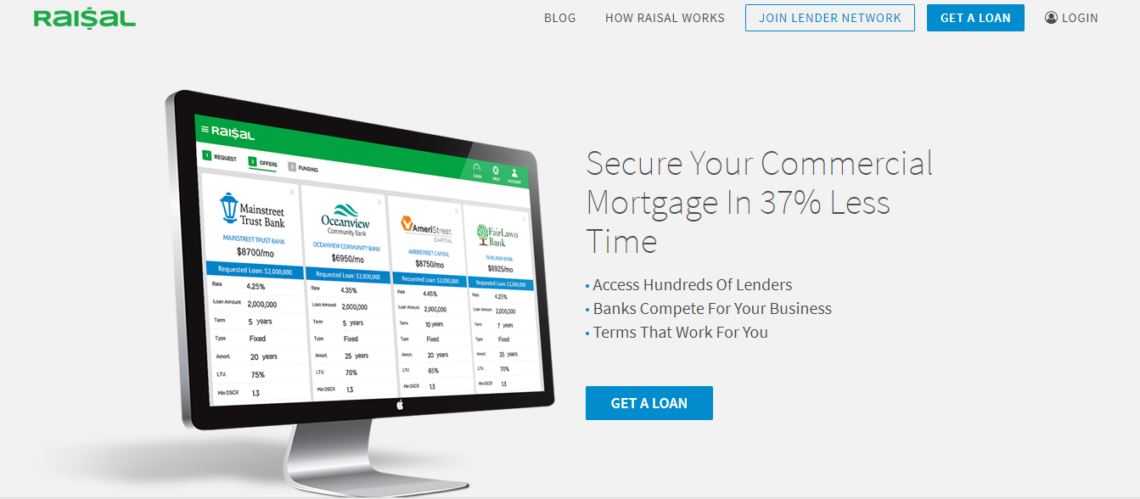 Raisal is making its debut appearance at CRE // Tech New York on December 7th. With Raisal you can access hundreds of lenders, banks compete for your business and you can secure terms that work for you.
Our team at CRE // Tech recently caught up with Raisal to learn more about their site, strategy and vision.
What does your site do?
Raisal connects commercial real estate borrowers to our network of banks, credit unions and other institutional lenders to secure their loan 37% faster than the traditional process. No more going bank to bank – you can now get a commercial mortgage from home.
Who are your customers?
We serve commercial real estate investors looking to expand their portfolio and small business owners that want to grow their company.
What are the core benefits of using your site?
Speed: You will shave 37% off the traditional process, which could take weeks.
Network: Our lender network is made up of banks, credit unions and private institutional lenders across the country.
Solutions: We will analyze your request and present you with solutions so you can decide the best option for you.
How's business?
Despite a focus on our home turf of South Florida, we are working with borrowers across 23 different states and Puerto Rico thanks to word of mouth in the industry.
In June, we were selected as a finalist in eMerge Americas' Startup Competition from over 125 companies across the US and Latin America. Not bad for our first show officially promoting Raisal.
All in all, the feedback has been amazing. I couldn't be more excited for what the future holds!
What are your future plans?
Our team is finalizing the release of a new version of our lending platform in the next month. We also have more solution-based products that we will offer lenders and other CRE stakeholders in the near future. If you're reading this, I'd love to hear your feedback. Please get in touch!
Come meet Raisal at CRE // Tech New York on December 7th and follow them on twitter @raisalco!
About CRE // TechCRE // Tech is the "Center for Innovation" within the commercial real estate industry. The platform's mission is to connect brokers, owners/developers, investors and service providers with the leading start ups devoted to commercial real estate. CRE // Tech is owned and operated by The News Funnel, the leading content, connectivity and event platform devoted to the commercial real estate industry.
To learn more about our upcoming event in New York on December 7 at SL Green's 55 West 46th Street, to become an exhibitor or to purchase tickets, visit www.cretech.com.