#CREtech Exhibitors: RealConnex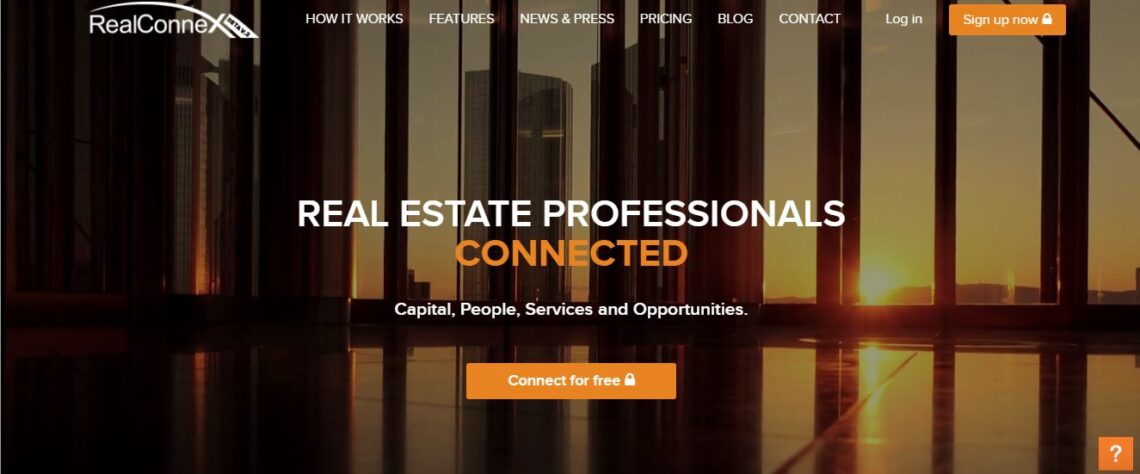 Founded in 2013 by Roy Abrams, a 25-year veteran of the real estate and technology industries, Roy set out to create the leading platform where commercial real estate professionals could network, prospect and connect to expedite transactions. RealConnex currently has a community of 72,000 developers, sponsors, capital sources, service providers and owners and expects to reach the 100,000 member mark in late 2017. RealConnex is on track to facilitate a billion dollars in transacted deals within the same time frame.
Our team at CRE // Tech recently caught up with RealConnex to learn more about their site, strategy and vision.
What does your site do?
We connect professionals to opportunities - Capital, Investments, Services and each other, in a fraction of the time, at a fraction of the cost and in ways never possible before. RealConnex is a fully compliant and Intelligent technology that translates all the sensitivities, confidentialities and methods of professional real estate into a more effective on-line solution. If Loopnet is a marketplace for buyers and sellers, we are a marketplace to assemble the capital, services and skills for the opportunity. Our goal for our members - More business. Much faster.
Who are your customers?
RealConnex platform members are investors, lenders, developers, CRE Brokers and service providers to commercial real estate.
Developers - RealConnex will connect you with the right capital, services and partners for the project in the regions you choose.
Lenders - Showcase your lending products and RealConnex will connect you with borrowers that will meet your precise underwriting characteristics.
Investors - RealConnex will connect you with LP, GP or outright purchase opportunities that will meet your precise investment criteria. (Investments at any stage of origination, with sponsors with the right experience and track record.)
Services - Showcase one or more services, set precise engagement requirement and RealConnex will connect you to opportunities as they appear. (Its business development while you sleep.)
What are the core benefits of using your site?
Think LinkedIn meets Match.com for real estate professionals. It's doing for professional real estate what Uber, AirBnb and Facebook have done for the passenger transportation, hospitality and media industries respectively. Members of the RealConnex platform can post a project, investment or lending need as confidentially as needed and an Intelligent Lighthouse Match will connect you to the right opportunity 24 x 7.
Here are some of the key features of the RealConnex platform:
· The Zone Navigation: An artificial Intelligence engine that seamlessly guides professionals to their desired professional outcomes without need of technical knowledge. It's like the "Google Car" for professional real estate.
· Verification & Accreditation: A built in Verification and Accreditation engine, verifies that members are who they say they are and have done what they say they have done. Other tools include peer group ratings.
· Privacy and Confidentiality: Postings and or even an individual data field within a posting can be set private and only visible if you agree to an "apply to view" request. Profiles and postings can also be limited to a specific targeted group within the RealConnex ecosystem.
· Networking: A range of networking tools that broadens and deepens networks by automatically connecting members to each other against their own criteria.
· My Universe: Configure RealConnex to only engage with roles or other professionals that meet your precise engagement characteristics. You will be invisible to anyone else.
· Engagement tools: Up to 10 uniquely configured "Engagement Tools" to facilitate connectivity between members
· CRM: A built in email engine and contact tools allows you to engage within the RealConnex community or externally via one to one tools or email blasts.
· Live Ticker: A live dashboard tracks and reports in real time all activity associated with your postings, profiles and activities; discussions, followers, connections, data rooms or any other configured Activity. Its real time competitive advantage.
· Capital Engines: More ways to connect to capital than any other platform including Reg D self syndicated crowdfunding
How's business?
RealConnex is in major growth mode having received significant investments from several key strategic partners. Membership is now growing exponentially and people have been incredibly enthusiastic about how the site offers solutions that CRE professionals have been looking for, but couldn't find anyplace other than RealConnex. The platform has some of the most elite experts in their fields and this has allowed many people to connect and do business where they otherwise wouldn't have met and connected. If you're having trouble finding the right CRE professional for capital, lending, development, brokerage or CRE services, RealConnex is the solution.
What are your future plans?
Our goal is that RealConnex will emerge as the world's largest network of real estate professionals - aggregating more capital, investments and service on one platform than anyone else. We will continue to add value by innovating new ways to meet the needs of Capital, Investment, Development and CRE Services.
Come meet RealConnex at CRE // Tech New York on December 7th and follow them on twitter @RealConnex and Facebook!
About CRE // TechCRE // Tech is the "Center for Innovation" within the commercial real estate industry. The platform's mission is to connect brokers, owners/developers, investors and service providers with the leading start ups devoted to commercial real estate. CRE // Tech is owned and operated by The News Funnel, the leading content, connectivity and event platform devoted to the commercial real estate industry.To learn more about our upcoming events in Los Angeles on September 28 and New York on December 7, to become an exhibitor or to purchase tickets, visit www.cretech.com.