#CREtech Exhibitors: RealMassive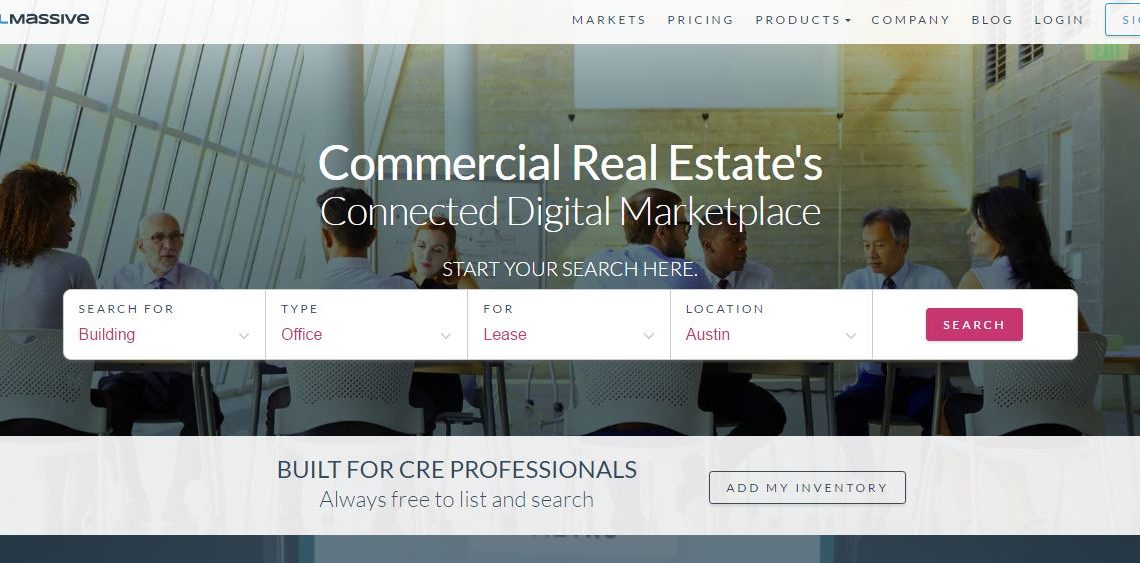 When RealMassive's founder needed to find office space for a previous venture, he was shocked to find zero accurate listings online. Fast forward and RealMassive is now disrupting and modernizing a $15 trillion industry by connecting every person and place in the global commercial real estate (CRE) marketplace. They leverage big data to provide CRE pros with intuitive property list and search tools, digital marketing capabilities, and real-time performance analytics. RealMassive's digital marketplace is the nexus between tenants, investors, owners, properties, and brokers.
Our team at CRE // Tech recently caught up with RealMassive to learn more about their site, strategy and vision.
What does your site do?
RealMassive™ is commercial real estate's open and connected digital marketplace, covering nearly four billion square feet of office, industrial, and retail space. The Austin-based SaaS firm provides CRE professionals with critical insights into the performance of their markets and portfolios while streamlining their marketing efforts. Users can list, search, and share data sets through an intuitive platform optimized for performance analytics, digital marketing, and inventory management.
Who are your customers?
We're a true open marketplace, connecting supply and demand in CRE. That means delivering real-time data to owners, investors, and tenants, ultimately connecting them with properties and industry professionals.
What are the core benefits of using your site?
Our platform removes costly information barriers, saves time, and accelerates deal flow between tenants, investors, and brokers.
How's business?
Fantastic. We've accelerated development on our proprietary tools which will help us further accelerate our ability to ingest and present industry data in real-time. Concurrently, the industry is focused on finding a modern, alternative solution to existing, cost-prohibitive list-and-search offerings. We're at a pivotal moment where end users (tenants, investors, owners) are demanding modern marketing practices, collaboration, mobility, and real-time insights to help them make better, faster decisions…and this is exactly what RealMassive is designed to deliver.
What are your future plans?
Accelerate. The industry needs a better data partner NOW. It's also begging for reduced noise and confusion in the tech space, so we will aggressively explore partnerships with other solution providers which help us augment our value offering and streamline business processes and saves time for brokers.
Come meet RealMassive at CRE // Tech Intersect San Francisco on June 8th and follow them on twitter @RealMassive, Facebook @RealMassive or Instagram @RealMassiveCRE!
About CRE // TechCRE // Tech is the "Center for Innovation" within the commercial real estate industry. The platform's mission is to connect brokers, owners/developers, investors and service providers with the leading start ups devoted to commercial real estate. CRE // Tech is owned and operated by The News Funnel, the leading content, connectivity and event platform devoted to the commercial real estate industry.To learn more about our upcoming San Francisco Intersect on June 8th, to become an exhibitor or to purchase tickets, visit www.cretech.com.