#CREtech Exhibitors: REthink CRM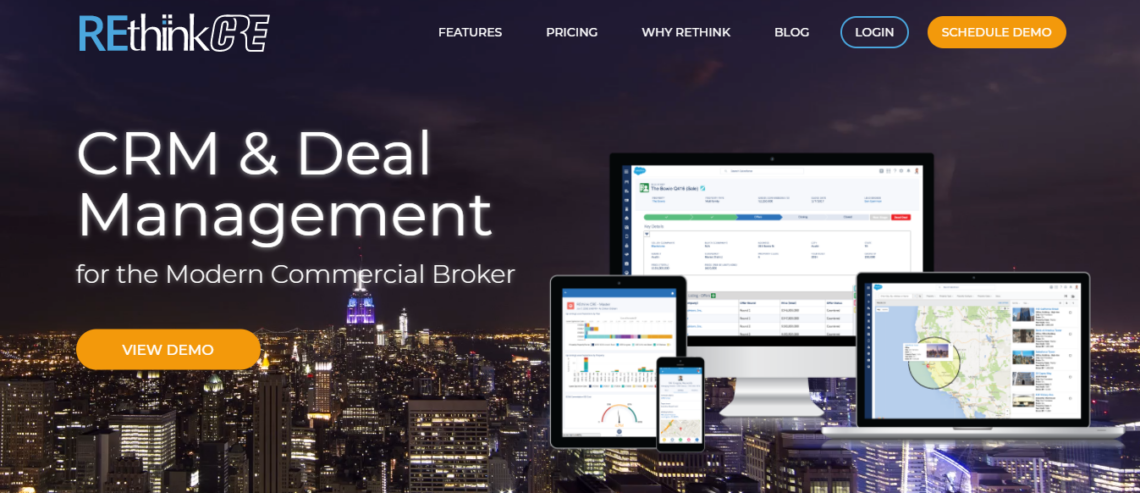 With REthink CRM you can manage prospects, deals and comps all in the cloud. It also offers quick property and comp search, one click marketing, better data and better business insight.
Our team at CRE // Tech recently caught up with REthink to learn more about their site, strategy and vision.
What does your site do?
REthink CRM is a CRM and Deal management software tool, powered by Salesforce.com, built for CRE brokers and agents.
Who are your customers?
Our customers are the leading CRE brokers in the nation.
What are the core benefits of using your site?
For a nominal monthly fee, REthink provides our clients with a flexible, cutting-edge platform that allows our clients to streamline and automate their business, while providing intelligent business insights to grow their business.
How's business?
We are more focused and dedicated than ever. 2017 has been our greatest year so far, with our strongest partnerships and product releases.
What are your future plans?
REthink has several very exciting product updates slated for Q1 2018. We continue to stay dedicated to our clients' success and growth, while continuously improving our product. Our goal is to continue to be the number one commercial real estate platform for the modern CRE broker.
Come meet REthink at CRE // Tech New York on December 7th and follow them on twitter @REthinkCRM, Facebook or LinkedIn!
About CRE // Tech
CRE // Tech is the "Center for Innovation" within the commercial real estate industry. The platform's mission is to connect brokers, owners/developers, investors and service providers with the leading start ups devoted to commercial real estate. CRE // Tech is owned and operated by The News Funnel, the leading content, connectivity and event platform devoted to the commercial real estate industry.
To learn more about our upcoming CRE // Tech New York Event on December 7th, to become an exhibitor or to purchase tickets, visit www.cretech.com.