#CREtech Exhibitors: Stealth Communications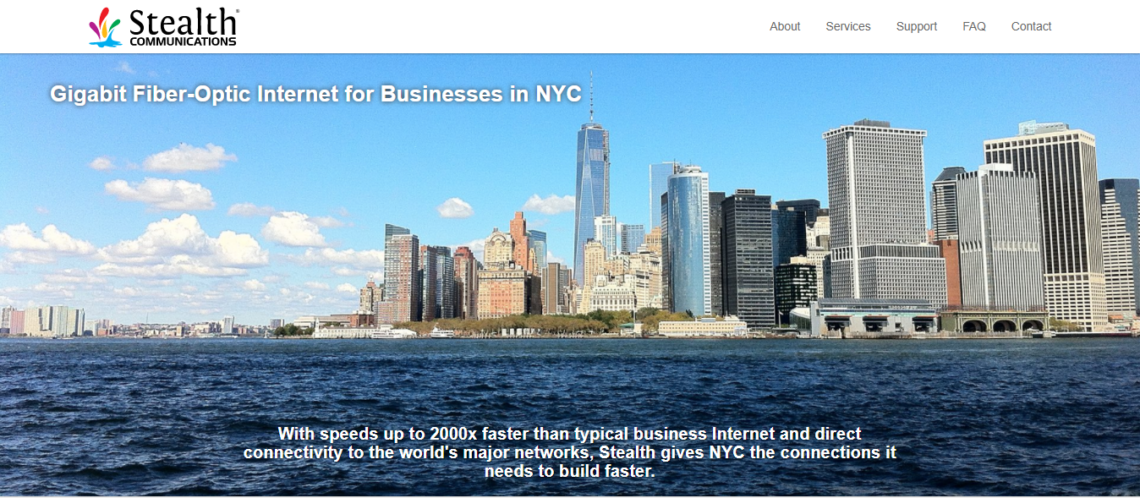 Our team at CRE // Tech recently caught up with Stealth Communications to learn more about their site, strategy and vision.
What does your site do?
Stealth Communications is different than other exhibitors at CRE Tech. We have a fiber optic network that we've built throughout NYC. We provide ultra-high-speed Internet access – 1 Gigabit per second (Gbps) and above – to businesses. Our fiber connections are all provisioned with symmetric bandwidth, meaning the same speed in both directions – enabling cloud applications, remote backups, videoconferencing, and more.
We build infrastructure. Our website merely explains our services and facilitates sales.
Who are your customers?
Our customers are businesses that rely on high-quality, high-capacity symmetric Internet connectivity in order to function. Which is almost every firm, these days. Obviously, these are tenants of commercial offices and industrial spaces, so we have mutual interests with the commercial real estate folks. We have excellent relationships with buildings we've built fiber into – and we're looking to expand and enhance our CRE interactions.
We enjoy long-term relationships with our customers, many have been with us for years. We are especially proud of our reputation among technically demanding networking professionals. We're a pure ISP, which is a key differentiator from cable and telephone companies offerings. We deliver enterprise level connections (up to 100 Gbps) – but still deliver each fiber individually.
What are the core benefits of using your site services?
The core benefit for we bring to building management and landlords is easy availability of fiber Internet is now essential to attract and retain high-value tenants such as TAMI firms. Additionally, Stealth can provide reliable, additional connectivity to building management to enable many of the innovative applications at CRE Tech – IoT, concierge, mechanical systems, solar, wind – all of which require an Internet connection.
How's business?
Exciting! Stealth ranked #1 in the US, in a nationwide research study of broadband speeds, published just this week. Demand has been especially strong this quarter. Recently, we've also seen a spike in demand for our higher speed services like 10 Gbps and above.
What are your future plans?
Extend our existing fiber network into more buildings; expand our fiber footprint geographically; and deepen our relationships within our lit buildings, with building management and tenants alike.
Follow Stealth Communications on twitter @StealthFiber, Facebook and LinkedIn!
About CRE // Tech
CRE // Tech is the "Center for Innovation" within the commercial real estate industry. The platform's mission is to connect brokers, owners/developers, investors and service providers with the leading start ups devoted to commercial real estate. CRE // Tech is owned and operated by The News Funnel, the leading content, connectivity and event platform devoted to the commercial real estate industry.
To learn more about CRE // Tech, upcoming events and 2018 sponsorship opportunities visit www.cretech.com.