#CREtech Exhibitors: Yardi®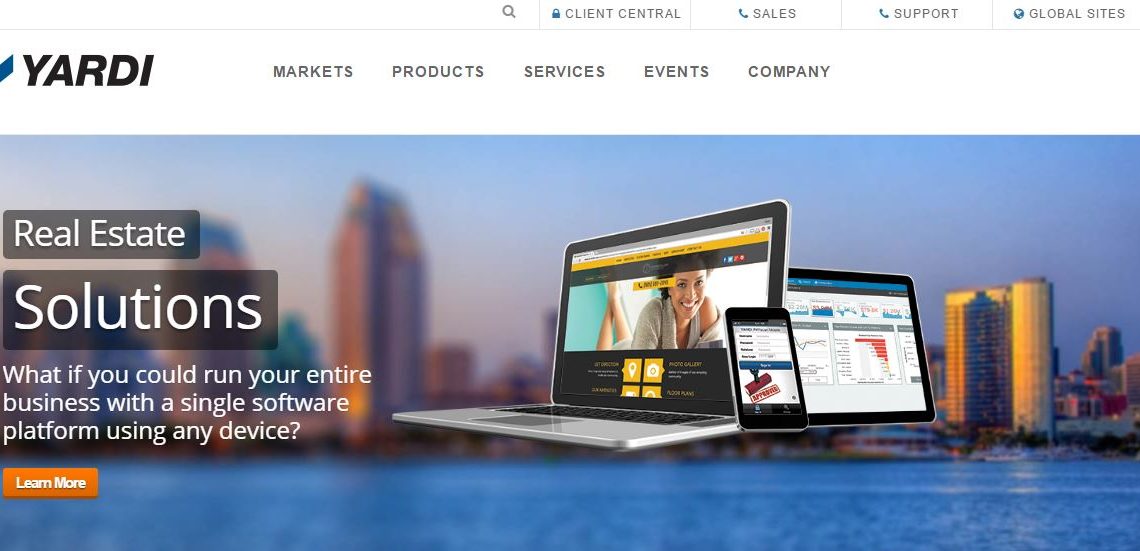 Now in its fourth decade, Yardi® is committed to the design, development and support of software for real estate investment management, property management and energy management. With the Yardi Commercial Suite™, Yardi Multifamily Suite™, Yardi Investment Suite™ and Yardi Orion® Business Intelligence, Yardi Voyager® is a full business real estate management platform that includes portfolio-wide business intelligence and platform-wide mobility. For the energy market, the Yardi® Smart Energy Suite helps manage costs, measure consumption and track sustainability initiatives. Yardi serves clients around the world from offices in North America, Asia, Australia, Europe and the Middle East.
Our team at CRE // Tech recently caught up with Yardi® to learn more about their site, strategy and vision.
What does your site do?
Yardi provides cloud-based real estate software solutions for public, private and nonprofit organizations around the world. We offer a single connected solution that integrates e-commerce, property management, investment management, energy management, tenant services and more on a single platform.
Who are your customers?
Yardi's full business solutions are used in virtually every real estate market, including industrial, office, retail, and multiple residential and specialty markets, around the globe. We work with businesses of all sizes and portfolios that have a need for enterprise real estate management software to enhance their business. Some of our largest commercial clients include CBRE, TIAA, Prologis, Kilroy Realty Corporation and more.
What are the core benefits of using your site?
The Yardi Commercial Suite includes products for both front and back office functions that help our clients automate processes and increase efficiency so they can focus on growing their business. With the Yardi Voyager platform as the property management and accounting foundation, adding integrated value-add products for leasing, tenant services, business intelligence, procurement, maintenance and energy management results in cost savings, deeper insight and better business decisions.
Our clients find that managing several business operations in a single solution is vastly more efficient than maintaining separate databases for finance, maintenance, procurement, energy management and other operations. By automating nearly every business process and enabling mobile access and comprehensive business intelligence, the Yardi platform helps businesses in several ways: marketing and leasing properties more efficiently, serving tenants with superior services, managing the deal pipeline, maintaining facilities, improving cash flow, saving money on materials procurement, generating accurate budgets and monitoring and improving energy performance.
How's business?
Rewarding. Our success is tied to the value our clients gain from our products and services. We can take satisfaction in our work when they report benefits. For example, a vice president at real estate investor, developer and manager Lowe Enterprises shared with us "I love the flexibility, the analytics reports and how far you can drill down with Voyager. It's an amazing amount of information that people can look at and turn into financial sense." A. J. Dwoskin, which has commercial and residential holdings, reports that "Voyager has put [us] ahead of the curve. As a single stack that offers seamless integration, it's the best solution."
And because of our clients' success, we have continued our double-digit growth each year. And we funnel our revenue right back into development and services. We continue to leverage our deep connections with our clients and markets to develop new solutions for investment research, deal management and more.
What are your future plans?
Commercial buildings will increasingly operate with a series of connected smart devices—what's commonly called the Internet of Things (IoT). A principal focus for Yardi is helping businesses use IoT to solve business problems and enhance value, which requires integrating entire projects and systems, not just sensors and control systems. Energy management is one area where we're helping commercial property managers apply IoT principles to generate value and create new best practices, but that's just one example. We also continue to work with clients on other factors that matter most to them, whether it's mobility, security or big data.
Come meet Yardi® at CRE // Tech Intersect San Francisco on June 8th and follow them on twitter @Yardi, Facebook or Instagram!
About CRE // TechCRE // Tech is the "Center for Innovation" within the commercial real estate industry. The platform's mission is to connect brokers, owners/developers, investors and service providers with the leading start ups devoted to commercial real estate. CRE // Tech is owned and operated by The News Funnel, the leading content, connectivity and event platform devoted to the commercial real estate industry.
To learn more about our upcoming San Francisco Intersect on June 8th, to become an exhibitor or to purchase tickets, visit www.cretech.com.