CREtech London Follows Huge Success Of CREtech NYC With Over 2500 Professionals Attending The Conferences Within The Past Two Weeks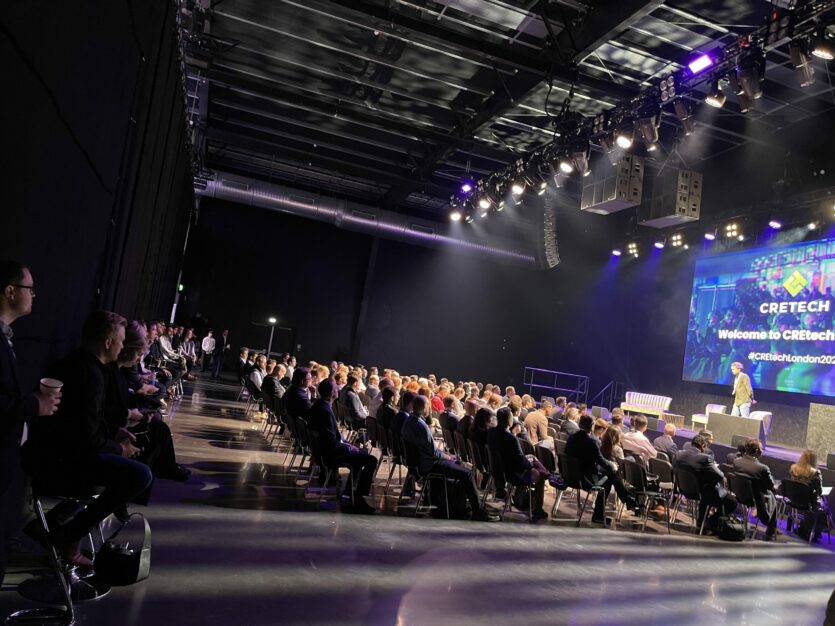 New York (November 2, 2021) — CREtech, the largest international community of professionals devoted to technological innovation in the real estate sector, hosted its debut London conference on the 27th and 28th of October to extraordinary reviews and attendees feedback. This event was the first for CREtech in London since it's acquisition of FUTURE PropTech in 2019.
The successful London event came on the heels of the company's first in person event since 2019 in New York on October 13 and 14. Almost 2,500 professionals attended the two conferences.
Boasting views of Canary Wharf, the two-day CREtech London conference was held at Magazine London and featured extraordinary keynote presentations, panel discussions and an expo hall packed with the industry's most innovative technology providers. Several thousand in-person meetings were held at the conference using CREtech's professional matchmaking app to set up 1:1 meetings in their industry renowned Tech Connect Lounge.
"The outpouring support and positive feedback from our London conference was truly inspiring," stated Michael Beckerman. "While the attendance exceeded our expectations, it was the exceptional caliber of speakers, investors, startups and real estate companies that inspired myself and the team, the innovation is thriving in the BuiltWorld throughout Europe. I can't wait to be back in London early 2022," Beckerman concluded.
During the conference, attendees heard from leading experts in the real estate, tech, and venture capital industries on how the digitalisation of the real estate industry continues to drive innovation for and impact commercial and residential real estate owners, developers, brokers, property managers, tenants, landlords and startups. The 2021 conference also featured the Climate Symposium to raise awareness and drive measurable investment in climate tech, sustainability and ESG in the Built World.
The conference's 70+ expert speakers hailed from global brokerage firms, major development companies, venture firms and leading startups. Keynote speakers on the Main Stage included Theo Blackwell, Chief Digital Officer, Office of the Mayor of London at Greater London Authority, Alexander Gebauer, CEO West Europe at Allianz Real Estate, Richard Croft, Executive Chairman at M7 Real Estate, Guy Grainger, Global Head of Sustainability Services & ESG at JLL, Hilary Reynolds, Global Head of Product Management, Advisory & Transactions and Marketing at CBRE and Mikkel Bülow-Lehnsby, Chairperson of the Board at NREP A/S.

Closing the conference, CREtech announced dates for their upcoming 2022 events which will boast unparalleled networking opportunities, presentations from the leading built work innovation experts, and much more. The conferences will take place in San Diego, 22-23 March, London, 27-28 April and New York, 12-13 October. CREtech Climate also announced their first Conference will be hosted in Copenhagen, 17-18 May.

For more information on CREtech's upcoming conferences in San Diego, London and New York, visit the website here.

For more information on CREtech's Climate Copenhagen, visit the website here.
All content from both conferences will be available to stream on demand on CREtech+ in coming weeks.

About CREtech
CREtech is Reimagining Real Estate. We are the largest international community of professionals devoted to technological innovation in the real estate sector. Our mission is to help the industry embrace, adopt, and future proof businesses. Our streaming, live/virtual events, and consulting platform inspires the next generation of ideas, processes, and people to champion the world's largest asset class.
Learn More: CREtech.com