Custom Spaces Leads Real Estate Tech Industry in Finding Custom Office Solutions for Startups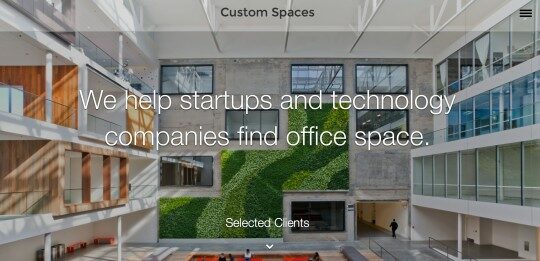 customspaces*
Launching a new business always presents a number of challenges. For most startups, one of the most significant challenges is finding suitable yet affordable office space. Custom Spaces, a leading commercial real estate firm, focuses on startups by providing custom solutions. The firm recognizes that startups often have distinct needs and with this thought in mind works to identify and secure space that matches the culture and personality of each client. While Custom Spaces does focus on startups, it also works with companies of all sizes. Whether it's a three-person team operating from a live/work loft or a multinational firm, Custom Spaces is able to find a custom solution to fit that client's needs.
A Background in Growth
At the helm of Custom Solutions is Jenny Haeg. Over the years, Haeg has developed somewhat of a reputation as being a startup whisperer when it comes to commercial real estate. As a broker, she has accumulated a wealth of experience, including finding space for such well-known tech firms as Dropbox, Uber, Airbnb, Square, and Spotify. While working as a broker, Haeg recognized a gap in the industry in which startups had no access to a platform that would allow them to view pictures of office spaces or information for the designers and architects who created the offices.
In a quest to rectify the problem, Haeg launched her own startup: Custom Spaces. Along with serving as a marketplace, Custom Spaces is an inspiration board where users can view pictures of offices housed by such tech giants as Google, Airbnb, Twitter, and others. If a user wants to find the contractors or architects who designed those spaces, Custom Spaces offers the opportunity to make contact directly through the site.
Finding Custom Spaces for Small Startups
The ability to maintain a unique culture is often key for many tech firms, and the ability to maintain that culture usually begins with the right space. An increasing number of firms, especially tech startups, are focusing on the creation of open environments in which multiple workspace options are available. Unfortunately, most firms also find that competition for space is fierce. More startups come online every day, and many of them are looking for the same size space.
While many brokers are quick to turn away the small startup that needs space for 10 or fewer people, Haeg is all too happy to work with them. This is because she is all too well aware that a small startup can grow and grow big. When she first began working with social media giant Twitter back in 2006, the then-startup had fewer than five employees. Haeg later found a 60,000-square-foot space for the firm.
Custom Spaces generates commissions from sales and leases but remains completely free for anyone who wishes to use it. Vendor listings and images are added on a continual basis. Custom Spaces also features designs for small startups.