Dallas Tanner, President & CEO of Invitation Homes and Travis Putnam, Co-Founder & Managing Partner of Navitas Capital Added to the CREtech San Diego 2022 Lineup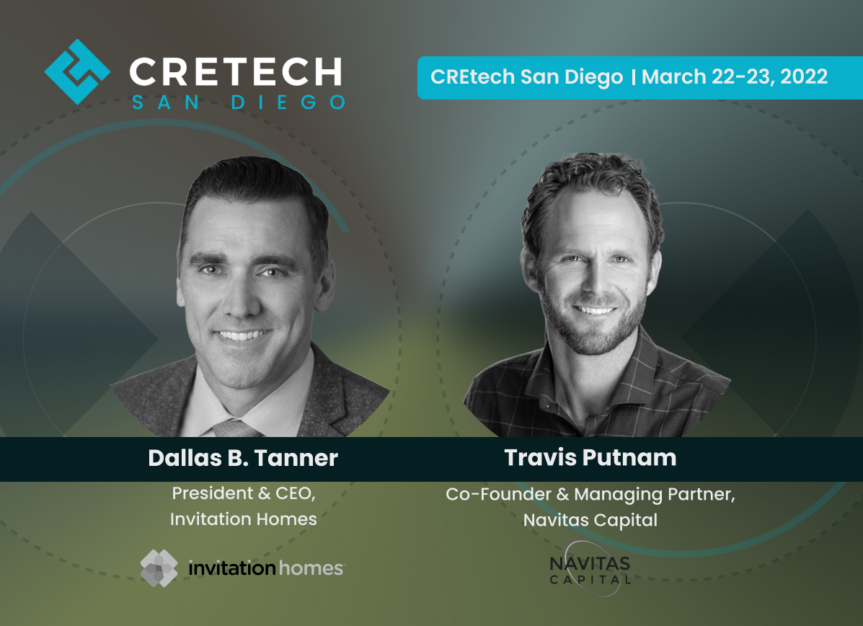 March 22 and 23rd In-Person Conference Will Be CREtech's Sole West Coast Conference In 2022
New York, NY (February 7, 2022) — CREtech, the largest international community of professionals devoted to technological innovation in the real estate sector, has announced that Dallas Tanner, President & CEO of Invitation Homes and Travis Putnam, Co-Founder & Managing Partner of Navitas Capital, will take the stage at CREtech San Diego, this March 22-23  to discuss how they are reshaping the future of single home living.

Invitation Homes is the nation's premier single-family home leasing company, offering more than 80,000 high-quality, updated homes with valued features such as proximity to jobs and access to good schools. As a founding member of Invitation Homes' business, Dallas Tanner was at the forefront of creating the single-family rental industry.

Since the founding of Invitation Homes in April 2012, Dallas has served as Executive Vice President and Chief Investment Officer, as well as Interim President. Prior to the initial public offering of Invitation Homes in February 2017, he served on the boards of the company's predecessor entities. Dallas has nearly 20 years of real estate experience through the establishment of numerous real estate platforms. In 2005, he founded Treehouse Group, for which he privately sourced funds for platform investments, including single family homes, multifamily properties, manufactured housing, residential land, bridge financing and property  management. Mr. Tanner continues to represent Treehouse Group's interest in Pathfinder Ventures, a Southwest-focused commercial real estate fund. In addition, he was a partner in a successful acquisition of First Scottsdale Bank of Arizona.
Travis Putnam is a Co-Founder & Managing Partner at Navitas Capital, a PropTech focused VC fund investing in technology solutions for the built world. Some of his investments and board roles include Matterport, HqO, Bowery, Orchard, OpenSpace, Gridium, and PlanGrid. In addition to his work in the technology space, Travis is a Co-Founder of Frontline Holdings, an owner, operator and property manager of value-add multifamily and industrial properties with a current portfolio of approximately 8,000 units.
CREtech's debut West Coast conference of the year in San Diego will bring together the most prestigious real estate tech professionals from around the world to network, uncover new investment opportunities and acquire leading-edge products and services. Attendees will get front row seats to exclusive keynote presentations and panels featuring the biggest names in the industry, the ability to schedule 1:1 in-person meetings through their event matchmaking app and an all-access pass to the expo hall packed with the latest real estate technology solutions. 
To register and learn more about #CREtechSanDiego2022, click here.

To learn more about partnerships and sponsorships, click here.
 About CREtech

CREtech is Reimagining Real Estate. We are the largest international community of professionals devoted to technological innovation in the real estate sector. Our mission is to help the industry embrace, adopt, and future-proof its businesses. Our streaming, live/virtual events, and consulting platform inspires the next generation of ideas, processes, and people to champion the world's largest asset class. Learn More: cretech.com