Deep Dive: Space as a Service for Office Landlords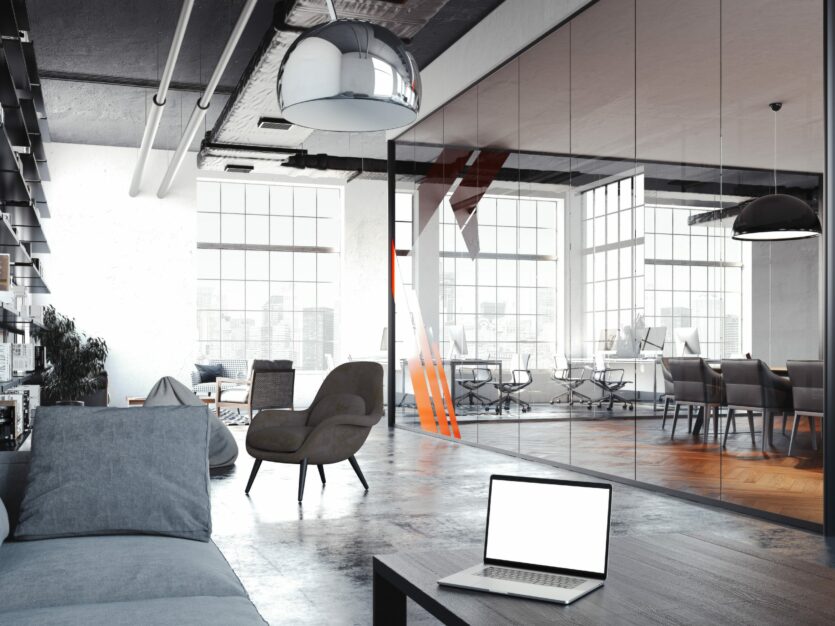 Technology has allowed Space as a Service (SPaaS) providers to turn how space is marketed, leased, and operated on its head. It's the single most transformational change to take hold in CRE in the past 30 years.
It's no secret incumbent landlords were historically not keen to spend time on smaller tenants and leases, or use technology to efficiently service them. WeWork, Knotel, and Industrious—among other coworking space operators such as Impact Hub, Riveter, Your Alley, Techspace, and a wide range of boutique establishments—saw and capitalized on opportunities to better service those customers by meeting them on their terms. Now there's even Spacious, a platform turning restaurants into co-working spaces. The capital flowing into co-working is staggering. WeWork seems to raise increasingly more (and large) rounds of capital—$4.4 billion from SoftBank a year ago, and another $500 million for WeWork China this year. Industrious took an $80 million round of capital last year, led by our friends over at Fifth Wall, while Knotel recently added another $60 million to its warchest.
These new flexible workspace providers prove it's possible to extract from tenants more than historical rates. With a goal to increase asset value, landlords are now taking note of the rent premiums smaller tenants will pay in return for:
More flexible lease terms.

A high level of finish, experience, and service.
Tishman Speyer, one of the largest landlords in the country, believes so much in the future of co-working it went so far as to invest in and launch its own coworking brand, Studio, at 600 Fifth Avenue. CBRE recently joined the fray with the announcement of Hana.
By leveraging the right technology and/or strategic partnerships, office landlords can now efficiently lease to smaller tenants and provide a higher level experience that more closely fulfills demand for "Space as a Service"—all with the goal of attracting and retaining the best tenants, and owning customer relationships.
We'll lay out the technology landscape in terms of the leading vendors helping landlords address the technology required to operate, and succeed with, SPaaS businesses. For each, we summarize its product and brand positioning, as well as outline its strategic differentiator.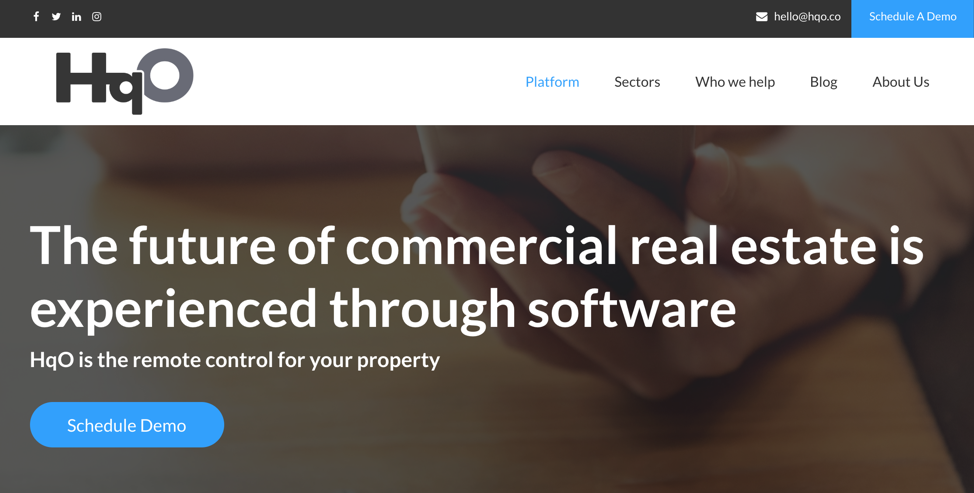 A tenant experience platform (TeX) for commercial real estate, HqO smartly positions itself as "a remote control for your property." It focuses on four core features in its quest to create places people love: transportation; smart building (IoT) access; amenities and commerce (such as ability to place group orders for lunch take-out and corporate catering); and communication (property notifications, concierge messaging functionality, and custom content). Access to offices is a critical hook for tenant adoption and HqO simplifies how tenants and their guests enter your property.
In September, HqO raised a seed round of $6.6 million to continue building software to activate properties. In addition to its use in office spaces, HqO can also work as a key access point for multi-family residential spaces. Its long feature set makes it one of the most advanced product offerings on the market.
Strategic advantage: Transportation. HqO syncs with third party systems to surface data that impacts tenants and their daily commutes: traffic conditions, shuttle times, public transportation, and even ride and bike shares. That's on top of features allowing landlords to streamline mobile access to a building and its parking garages. With commute/transit accessibility such a critical part of tenant happiness, making that functionality a major focus is smart.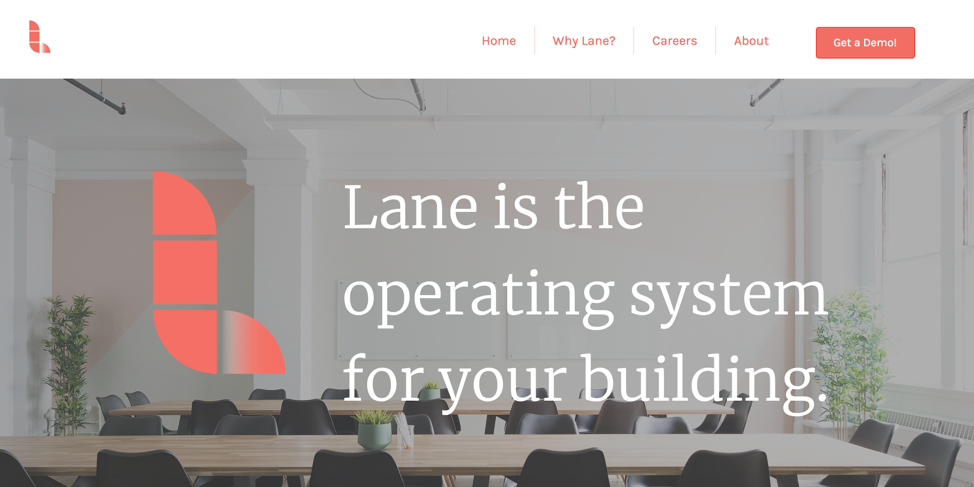 Positioning itself as "the operating system for your building" alludes to a massively ambitious long-term vision for the product. Lane streamlines building operations on a cloud-based platform, and its initial focal point is communications—everything from maintenance alerts to happy hours to delivering tenant handbooks. Landlords save time and tenants get a mobile passport to everything their office offers. Lane offers a white-label, fully customizable app that allows landlords to create a branded experience from the building's lobby directly to a tenant's screen.
Strategic advantage: Going deep, rather than broad. No one else is going as deep as it is on communications—it even includes features such as an event invitations and a content calendar to help with editorial.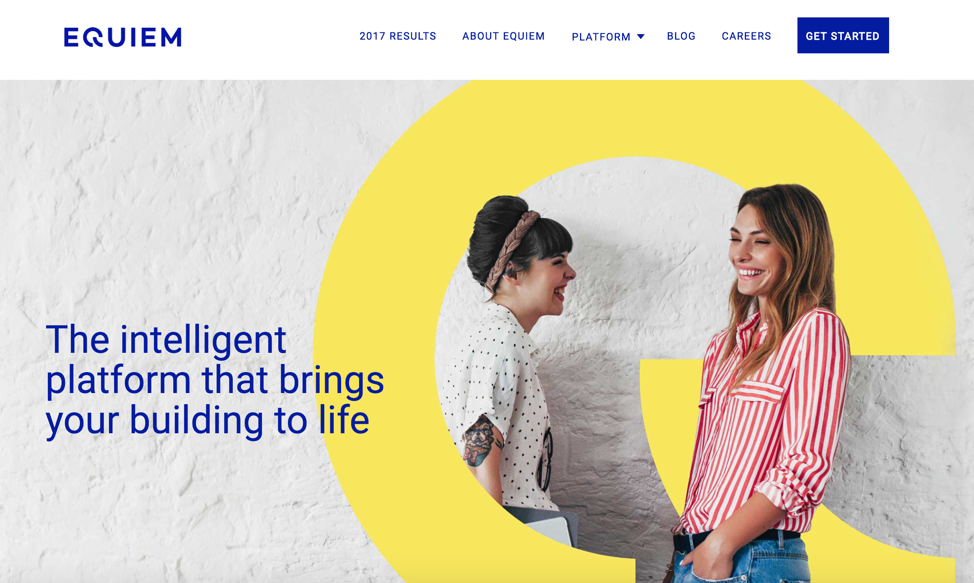 Positioned as "the intelligent platform that brings your building to life," Equiem—which consists of three products: Portal, Onsite, and Engage—helps landlords easily reach tenants, connect with them, and facilitate community. Equiem Portal essentially acts as the Operating System for your building. It allows for publication of news and events, online bookings, reservations, and access to support. Further, it features polls, surveys, and analytics. Portals typically capture 60 to 90% of the entire building's tenants, providing the ability to communicate with—and gain insights from—a previously unattainable number of occupants. Through Portal, occupants can also access "bag and forget" drycleaning, easy locker subscriptions, health and wellness classes, and an online marketplace linked to local retailers. The offering includes "Linkedin for buildings," which is a different and unique feature of the software.
The Equiem Engage program is executed by a dedicated team of expert content writers, event managers, designers, and project managers. It uses tenant and local data to foster better connections through content (articles), events, competitions, and activations. This is a curation engine offering customizable and truly unique engagement programs.
Strategic advantage: Equiem Onsite's next generation concierge capabilities. Using the powerful data and access provided by Portal and Engage, Onsite takes a customer-first approach to staffing commercial and retail properties—it provides highly-trained Community Managers, as well as concierge and other specialist roles. Traditional office tower security and concierge models are not enough in competitive leasing environments, and Onsite has created a strong model that relies on using real connections to building a sense of community.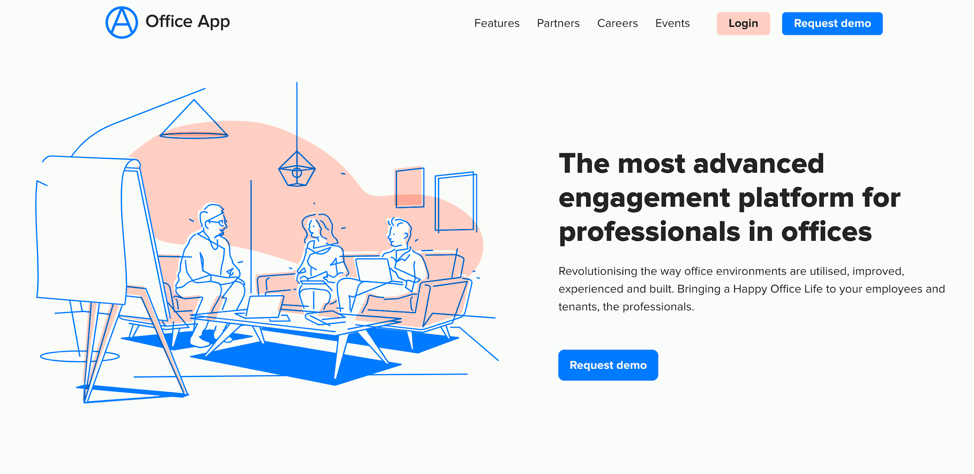 This robust engagement platform seeks to completely upend offices environments' utilization, improvement, and experience. The product offers all the expected features, including maintenance requests, access control, and parking and meeting room booking. Additional functionalities inside the app allow deeper control over the office experience. Community features enable occupants to build active and engaged professional, personal, and general office groups. And a retail section connects tenants to the best local retail stores offering high quality products and services. The feature list is quite long, you can find a full list here.
Strategic advantage: Ecosystem of partners. From Lone Rooftop (realtime occupancy platform) to HID (access control with trusted identities) to Zen Car (car sharing to optimize use of company vehicles) to LumiGuide (sensoring with focus on parking and guidance systems), Office App works with a wide range of strategic partners and is constantly growing its moat.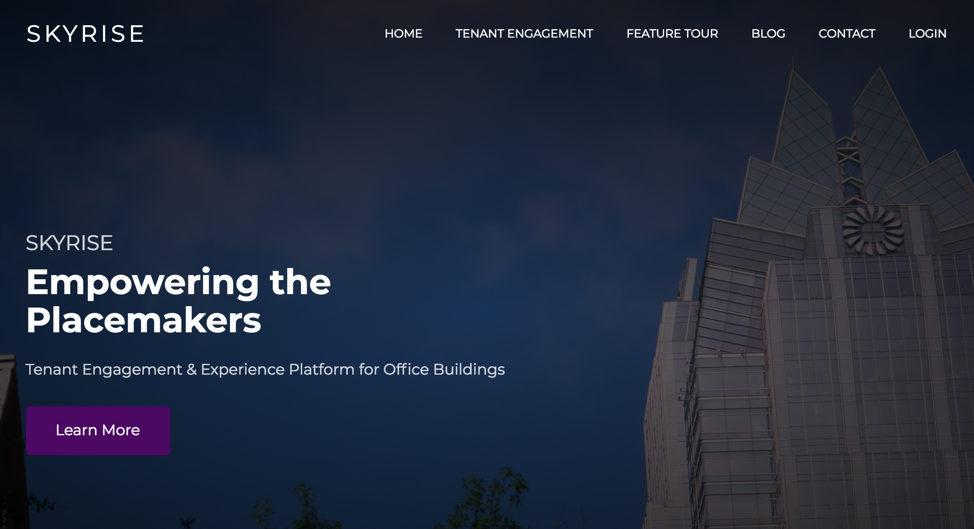 Positioned as a "tenant engagement and experience platform for office buildings," its specialty lies around maintenance requests. The platform supports broadcast notifications in the event of a fire drill, emergency, news of a building closure, or even to pass along a "Happy Holidays" type message. Other features include a digital bulletin board for community news and booking capabilities for on-site amenities in a trackable way. Skyrise allows buildings to add amenities without the cost, or loss of space, of new physical amenities. Occupants also receive access to great deals in Skyrise-powered buildings (think: Handwritten thank you cards sent to clients in a wax-sealed envelope. On-demand office happy hour. Discounts on great products and services.). With printed newsletters on the verge of obsolescence, this mobile app enables tenants to easily discover both on- and off-site events.
Strategic advantage: Strong focus on maintenance requests. Skyrise creates a direct link between the building administration and all tenants of the building, enabling efficient communication (private messages with tenants) with less friction while bringing additional transparency to work requests.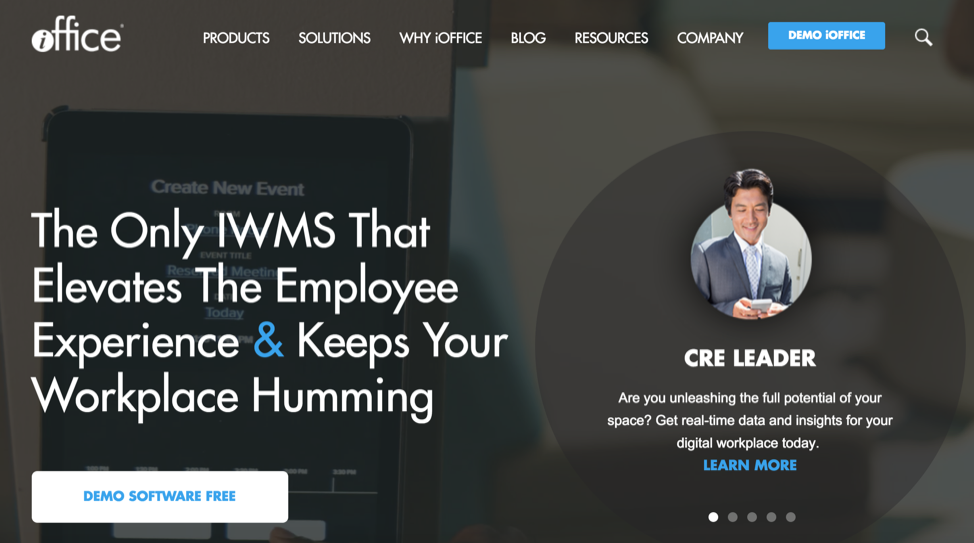 iOffice is an Integrated Workplace Management Systems (IWMS) that offers a vast range of products and services. From a marketing perspective, that makes its primary value proposition unclear. In short, it helps employees find people, places, and information with workplace solutions that meet them wherever they are. By consulting interactive digital displays, visitors and employees can easily navigate workspaces and find what they need—this makes iOffice a great fit for extremely large landlords managing a massive amount of square footage. It additionally takes the headache out of resource scheduling since employees can easily reserve rooms and equipment.
For landlords, the real-time insights into how your organization uses your real estate offers a better way to make decisions that optimize space utilization. Through iOffice technology, your team can streamline service requests and sort by type, location, due date, and more. This is also the only product reviewed here that offers mailroom management.
Strategic advantage: Mailroom management. With no one else offering it, the ability to make mailroom management easier and mobile-friendly is a real boon to landlords. iOffice offers the ability to scan and track packages, notify recipients, and even obtain signatures. Beyond that, 2.4 million employees worldwide use iOffice, giving it a massive data advantage.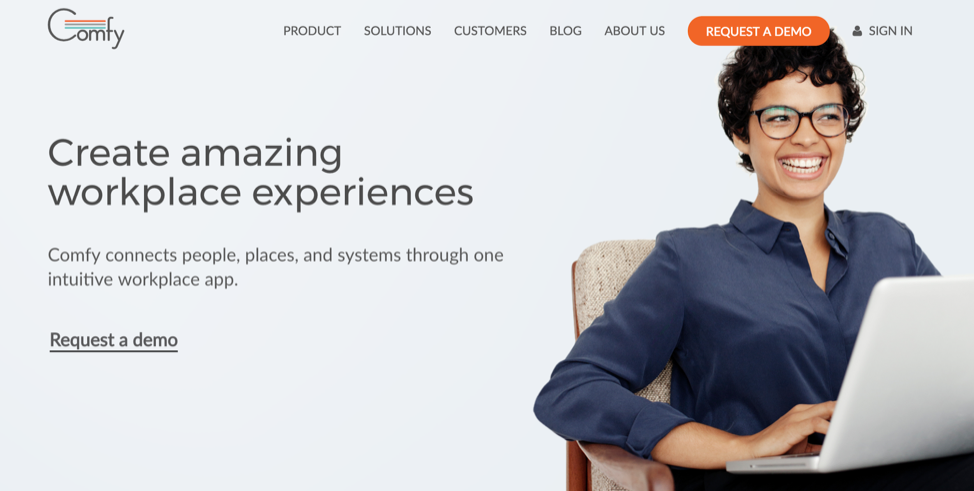 By connecting to existing workplace systems, the Comfy app provides on-demand, real-time comfort and control for employees in the workplace. Beyond full temperature and lighting control, occupants can find and book desks on-the-go and auto-cancel ones that are "booked" but unused, submit work requests when and where they arise, and locate the nearest amenities on any floor.
[embed]https://www.youtube.com/watch?v=Hr9i-kCSyys[/embed]
This platform reduces hot/cold calls, saving time for facilities teams, and using Comfy can lead to up to 20% reduction in HVAC energy use, as well as increased visibility into, and faster resolution of, workplace and building issues.
Strategic advantage: Personalized comfortability that includes both lighting and temperature. Warm or cool your workspaces on-demand, and have preferences automatically applied over time. Change light levels in open spaces or meeting rooms, and adjust the schedule when working late. Comfy is truly putting the occupants first, and feeding all that data into a dashboard for landlords. It's also worth calling out its modern design and branding, which is top notch.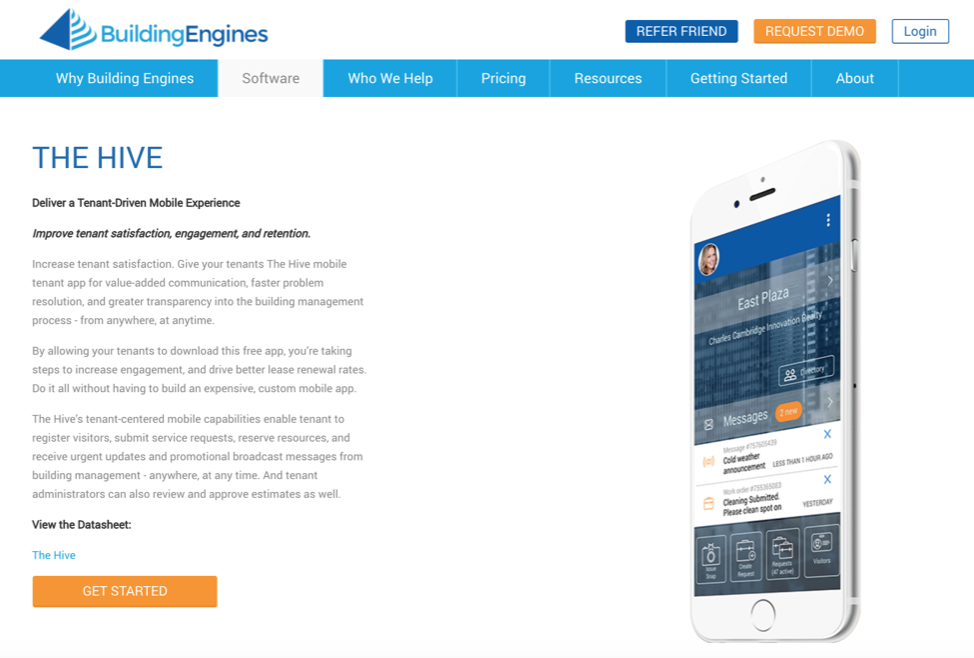 The Hive is Building Engine's tenant-driven mobile experience. The app provides landlords faster problem resolution, greater transparency into the building management process, and the capability to send and save important daily communications. Landlords can also access key tenant information (COIs, work order details, leases, etc.) instantly from any mobile device. The Hive's tenant-centered mobile capabilities enable tenants to register visitors, submit service requests, reserve resources, and receive urgent updates and promotional broadcast messages from building management.
Strategic advantage: Websites that act as a tenant service portal, a property website, and a employee/tenant handbook. Serving as a one-stop service center for tenants, prospects, and staff, this is the only software reviewed that handles the online property showcase component for landlords. Further, the Hive is part of Building Engine's unified platform of property management tools that has been deployed across many properties, meaning it's tried, tested, and proven.
Common Themes/Threads
Feature wise, communication with tenants is a central function of most leading SPaaS technology products, with security and building access a close second. Several software providers also offer access to unique amenities—only Comfy offers automatic lighting and temperature changes personalized to employees. All providers give tenants control from their mobile phones.
From a marketing position, the majority of solutions focus on improving tenant satisfaction, engagement, and retention. As "the remote control for your building" and "the operating system for your building," both HqO and Lane seem to have the largest platform/ecosystem visions behind their respective companies.
Buy or Build
Smaller tenants expect experiences that differentiate their work space and consumer expectations are sky high. How can landlords create a brand with technology and experiences that live up to tenants' expectations without resorting to third party co-working or flex space providers? The buy versus build discussion likely comes up in many boardrooms right now as landlords debate the answer to that question.
Building the equivalent of a tool that provides building access and push-button flexible communication would cost well into the hundreds of thousands. Cutting-edge software providers, however, already offer transit integration, amenity marketplaces, retailer discounts, and more, making the decision clear. To deliver a seamless building and office experience that tenants will use, buying is likely the better route for all except for the largest landlords in the country. Afterall, landlords' core competency lies in building operations rather than designing consumer-facing technology and optimizing the user experience.
Landlords Need Tech to Deliver "Space as a Service"
Leveraging emerging technology that can handle all aspects of the landlord-tenant relationship empowers landlords and operators to more effectively use the the "Space as a Service" strategy to position and monetize their square footage. Only cutting-edge technology will allow  landlords to broadcast on their terms food deals, yoga classes, and even emergencies to relevant tenants. Only through tech-enabled building management can landlords grant building access with the touch of a button, without the headache of managing keyfobs and RFID cards. With technology, it's possible to provide tenants with special discounts to nearby retailers. And only with technology are tenants able to access personalized transit and traffic information from a central location—all from the tenant's phone.
There is no doubt that a significant percentage of commercial revenue will come from flexible SPaaS in the future. Real estate owners and operators must emphasize hospitality first and "must fundamentally shift the way [they] run, operate, and grow [their] spaces." Landlords should position their business for SPaaS with strategic technology investments, and prepare for all that is changing in commercial real estate.