Digsy Closes Deals: The Power of Artificial Intelligence for CRE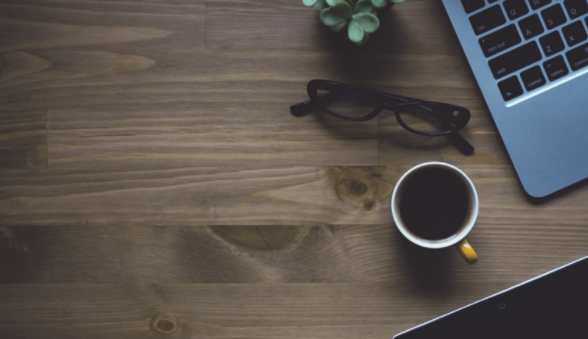 Real estate success boils down to numbers: leads generated, contacts made and deals closed. Imagine knowing how to ensure an agent`s success by with hard data on what actionable steps close qualified leads. Digsy AI removes the guesswork from managing commercial real estate agents using the power of performance metrics and data science. The Digsy AI:
Quickly identifies the best practices that yield the most impact towards revenue and deal completion
Identifies things not to do when closing deals
Provides insight into what the customer wants and helps agents exploit that to take over the market.
This intelligent behavioral science helps brokerages train agents to close more deals. After all, numbers don`t lie.
About Digsy
Digsy is a personal commercial real estate space concierge co-founded by CEO Andrew Bermudez, a CRE professional with over 15 years of brokerage experience. Digsy helps business owners find commercial real estate space, whether office, industrial or retail. The product further offers a tenant representative service that generates leads on qualified tenants and buyers. The creation of the company`s latest product, Digsy AI, grew from working with agents in the concierge service and using data science to make discoveries about the deal-making process.
"If you zoom out, they tie in well together. In order to provide an AI product that makes a salesperson successful, we have to know the funnel and know the customer. The agent should be our closer," Bermudez said. "Through process automation and education of agents, we know if you perform these things you will be rewarded with more deals."
How It Works
Digsy has taken what they`re learned from CRE agents about delighting customers combined with extensive data loading to pinpoint what works. This information is packaged and shared to CRE brokerages with a suite of tools to help them succeed.
Through machine learning and the Digsy-bot, the company`s artificial intelligence robot, Digsy identified agent best practices. For example, Digsy knows that when an agent starts working with a new client, if agents e-mail a list of potential properties, their likelihood of closing the deal is only 3.6%. For an agent that meets a client face to face, that potential triples. The Digsy AI calculates the success and failure rate of every action in the deal-making process all the way through the offer and lease contracts stage.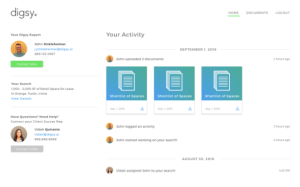 The software only uses data for people that have been admitted to the system. It records an agent`s actions and the results of those actions without any additional data entry. Digsy automates the process so no data activity falls through the cracks. Through predictive analytics, Digsy outlines the success rate of every step in the selling process all the way through the offer phase, detailing the next steps required to deliver a signed contract.
Digsy AI Benefits
Digsy AI empowers commercial real estate brokers to attract, train and incentivize great agents. With Digsy`s intelligence, brokers provide predictability to the commercial real estate process. Brokers can educate agents on the exact steps required to close a deal with a new prospect.
"Our platform becomes an AI assistant that walks the agent through the process and automates manual steps to help them make more money. Just imagine if you do XYZ, you can get a pile of gold. That`s what we`re doing with Digsy AI," said Bermudez.
Digsy AI can be incentivised. Instead of just providing a commission on closed deals, program the AI to provide commission bonuses for agents using best practices toward securing a deal. Brokers monitor deal progress by viewing an agent`s calendar appointments, tour schedule, communication with potential clients, and where each deal stands. The reporting dashboard helps brokers see aggregate and granular agents to understand the "why" behind each agent`s performance. The intelligence monitoring identifies who are the top performing agents in real time and what practices they are using to find success. Digsy AI can incoming route deals to agents accordingly.
Using Digsy AI
Bermudez believes Digsy AI is at the forefront of the big data revolution in the CRE industry. "Predictive analytics, data intelligence, and data science is something not a lot of companies are looking at, but it is something that can enhance your company as a whole."
Digsy AI is best for mid-to large-sized commercial brokerage firms seeking to help agents predictively generate more clients through intelligence automated prospecting, thereby improving their close rate and revenue stream. The intelligence platform is now available as a subscription service. To learn more or sign up for the pilot program, visit www.digsy.ai