Directory Spotlight: Buildout, Awesome Marketing for CRE Brokerages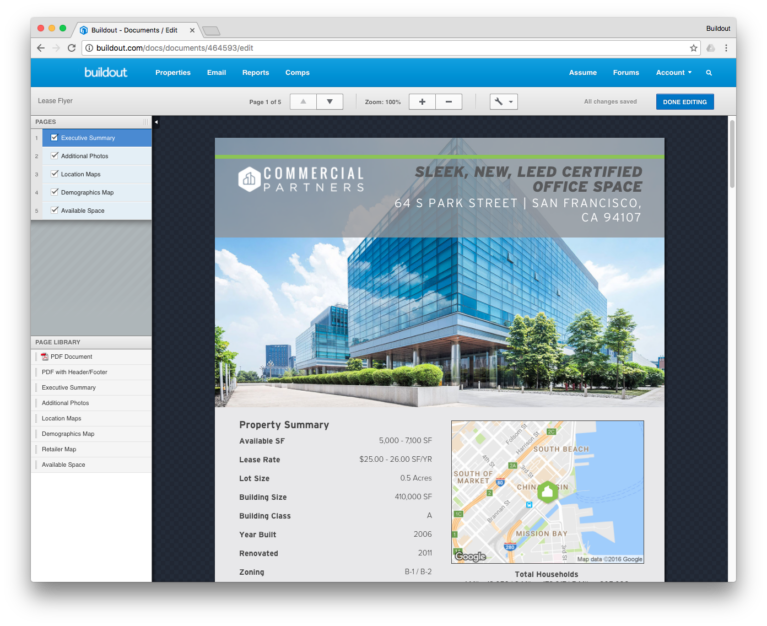 Buildout is an end-to-end marketing solution that automates the document creation process in a brokerages specific brand, and streamlines all marketing activities. With Buildout brokerages can market and manage all of their CRE listings from one centralized place, saving time and guaranteeing brand consistency.
Product or Services
Buildout produces and publishes materials for marketing CRE listings. It eliminates duplicate data entry by utilizing a single source of data that populates all its features. After inputting property information, Buildout creates custom documents, email campaigns, complex maps, and property websites used to market listing all within a brokerages brand. This online marketing management tool was built specifically to help commercial real estate businesses simplify their marketing efforts.
Buildout Customer Benefits
Commercial real estate brokers, agents, and marketers save time when using Buildout software. Buildout's syndication feature updates all third-party listing websites with a single click and integrates listings with the brokerage's website. Buildout creates value for brokerages by eliminating time wasted on repetitive tasks associated with marketing a listing.
Ways to Engage
Visit Buildout.com to request a demonstration. Visit Buildout's blog for the latest in industry trends. Buildout announces product updates on its social networks: