evest technology disrupts the multi-trillion dollar real estate market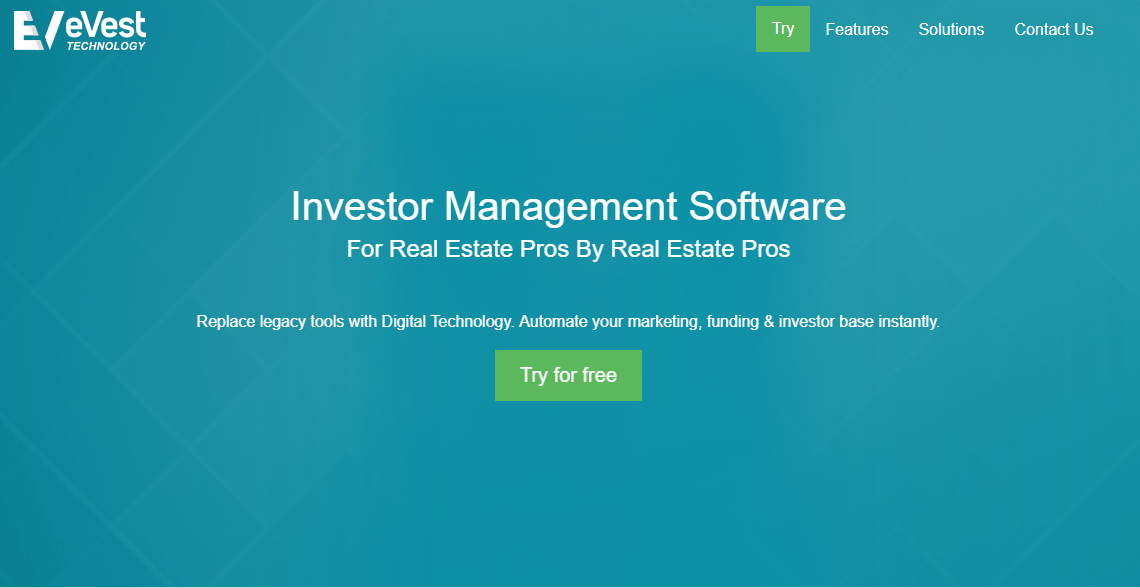 In an age where FANG technology (Facebook, Amazon, Netflix, and Google) runs the world, most real estate professionals are in the Stone Age. This is the only industry where Excel sheets are still considered to be on the bleeding edge of innovation.
eVest Technology has rejected this. For real estate, the future is now. Any real estate agency that does not adopt and use the latest in technology will be left by the wayside.
Their software will allow professionals to manage real estate investment offerings like never before. Investors and real estate agents alike have demanded the ability to handle potential investment opportunities at a granular level, and eVest Tech is meeting this demand. The back-end control panel allows clients access to an unprecedented level of real-time data, including financial and predictive models, digital marketing interface, a host of Automated Tools, and even an investor database of 15,000.
In 1921, the Czech playwright Karel Čapek's play R.U.R. premiered in Prague. The word robot entered our speech for the first time. In the play, artificial beings with human characteristics could perform two and half times the work of a person at a fraction of the cost. What was once science fiction is now an economic fact.
Automation has already changed the world. According to the International Federation of Robotics, automation led to increased annual growth in GDP and labor productivity of .37% and .36% respectively. While that may not seem like a lot, that number represents 10% of total GDP growth in the countries they studied between 1993 and 2007. Automation and artificial intelligence is predicted to provide an economic boost of $14 trillion in additional gross value added, according to Accenture.
The automation of the calculation and distribution of monthly dividends, sending K-1s, and advanced reporting could free up time for everyone to pursue more profitable opportunities. Only 29% of realtors use a CRM.
Companies as diverse as Walmart and Facebook are using artificial intelligence for a whole host of business applications. Neither real estate sponsors nor professionals have incorporated artificial intelligence or automation as much as they could. eVest Technology is filling this massive gap in the market.
Slightly more than three-quarters of all Americans have a smartphone, and 84% of American homes have a computer. Staying connected is imperative to succeeding in today's day and age. Investor relations is vital for both investors and professionals.
eVest Technology is making it seamless and transparent. The software not only provides a platform to oversee offerings, but users can track investor status, customize their private label, and peruse the tens of thousands of potential investors. The results are virtual, aggregated and instant. Offerings are digitally sent to the right people in the right format.
The real estate industry is irrational. The real estate industry is inefficient. The real estate industry is slow. It is an industrial-era culture that needs to be brought in sync with our digital economy. The future of this industry will be decided by those who dare to try new things and expand the horizon. Real estate is ready for disruption. eVest Technology is here to revolutionize the market.
One of the reasons that eVest Technology is so confident in their product is because they have a team of rock star developers, helmed by a CEO with over 30 years of experience in high-end real estate syndications. eVest Technology is based in Jacksonville, Florida.