Exclusive Feature With Buildout, the Leading End-to-end Solution for Marketing Commercial Real Estate Listings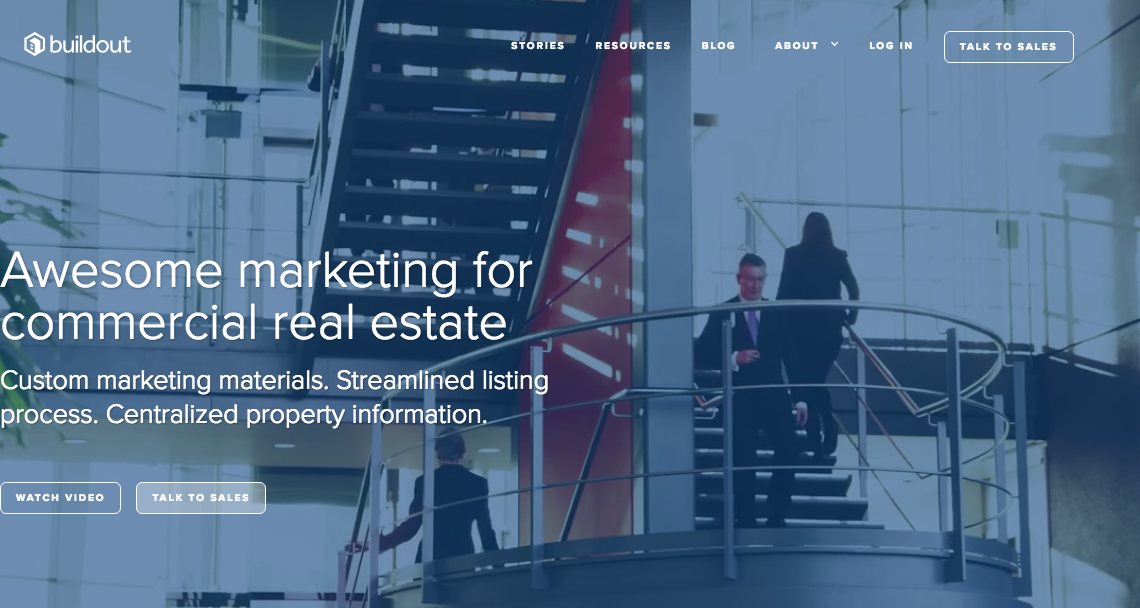 Buildout is the nation's leading commercial real estate marketing software. Since launching in 2010, Buildout has revolutionized the entire listing process for brokerages around the country. Buildout's marketing tool allows brokerages to produce beautiful, brand-consistent marketing instantly, save time by eliminating tedious tasks and focus on what's most important: closing more deals and growing their business.
Our team at CREtech recently caught up with the team at Buildout to learn more about their site, strategy and vision.
What does your site do?
Buildout brings technology to the people of CRE by streamlining every aspect of property marketing, from housing property data, to instantly creating marketing documents, to creating emails and websites, to syndicating listings across online marketplaces, to gathering buyer leads.
After a property's information is in Buildout's database, CRE brokers and marketers can instantly create documents like brochures, flyers, OMs and proposals that look custom-designed, complete with a brokerage's branding. Every property receives a website, and marketing materials can include detailed maps and site plans. Brokers and marketers can also create single-listing or multi-property emails directly in Buildout to send to their buyer lists, and gather leads through document sharing.
What problems are you solving for commercial real estate professionals?
Before Buildout, much of the CRE marketing process was tedious and time-consuming. By automating tasks like entering property data, designing individual marketing materials and developing websites, brokers and marketers can save time promoting properties. This allows brokers to spend their time building relationships and marketers to be more strategic about their work.
What is the latest news?
Last year, Buildout received an $8 million investment from Susquehanna Growth Equity and has been able to grow significantly ever since. The Buildout team grew from three people in 2013 to more than 30 people in June 2017, and is now over 75. Buildout continues to partner with property marketplaces and expand integrations with companies like RealConnex, QuantumListings, Spacelist, Harken CRE, Brevitas and 42 floors. Buildout has been named in the top 1000 of the Inc. 5000 list for two years in a row (2017: #576, 2018: #658), and CEO Vishu Ramanathan was the 2017 Real Estate Tech Award winner for #1 Most Influential Real Estate Tech Thought Leader.
What are your views on the current real estate tech sector?
Until recently, the narrative has been that CRE is behind in technology –– that changes were coming in the future. But the "future of CRE tech" is happening now — from new web and data services, to tech-enabled brokers all the way to developments in artificial intelligence, virtual reality and driverless cars. With all of these advancements, the potential of tech in the next iterations of CRE is limitless.
Today, CRE professionals should embrace the latest tech advancements and use them to their advantage. For developers creating tools for brokerages to use every day, the conversation now must shift from adopting technology in the first place to finding more value in the tools brokerages use. Developers can add more value by taking tech to the next level through integration with other tools, or working alongside CRE professionals to adapt their products based on real needs.
What are your future plans?
Buildout is committed to growing their team to meet the ever-evolving needs of the CRE industry. The company plans to continue its mission of bringing technology to the people of commercial real estate that solves the challenges they face every day.
About CREtech
Our mission at CREtech is to connect the commercial real estate and tech sectors, bringing a new age of innovation, investment and growth to the industry. The platform features the largest events, most comprehensive aggregated news database and company directory in the sector. CREtech is owned and operated by The News Funnel, the leading content, connectivity and event platform devoted to the commercial real estate industry.
To learn more about becoming a sponsor, a list of upcoming events and other exciting news, please click here or email Cali@cretech.com.