Final Agenda Announced for Largest Real Estate Tech Conference, CREtech New York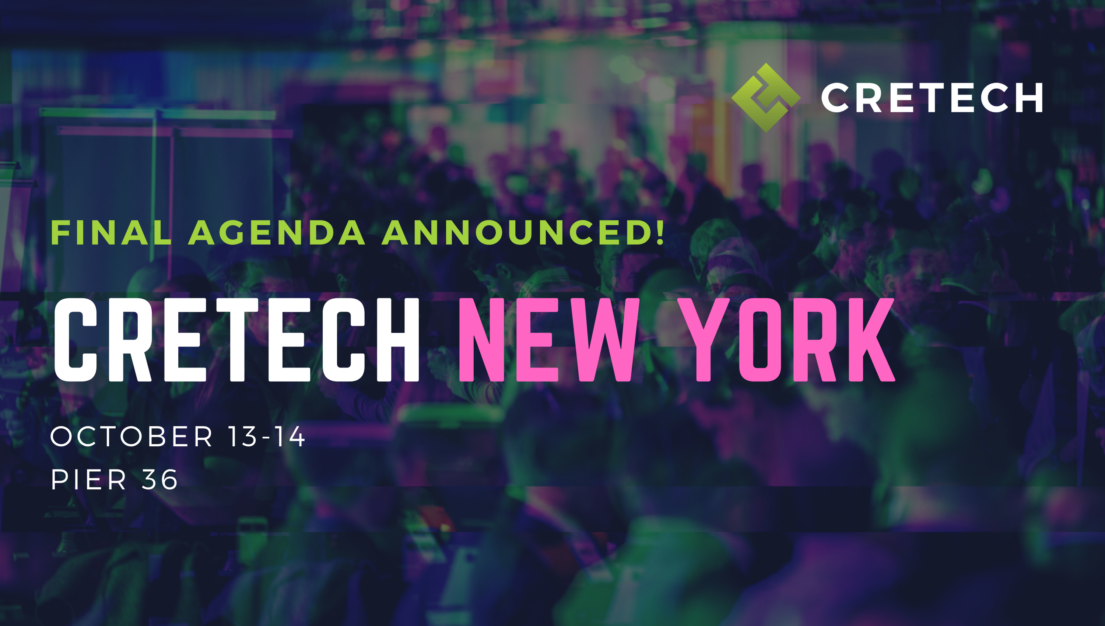 New York, NY (October 7, 2021) — CREtech, the largest international community of professionals devoted to technological innovation in the real estate sector, has released the final agenda for CREtech's flagship conference, CREtech New York, October 13-14. The 2021 conference will feature two stages full of cutting-edge content, a packed expo hall featuring real estate technology providers and CREtech's renowned Tech Connect Lounge which will host 1:1 meetings scheduled through the official event matchmaking app.

Over two stages, the Main Stage and the Innovation Stage, CREtech New York provides attendees with a curated experience designed to present the future of the Built World.
Main Stage Final Agenda

Day 1, October 13

10:05 am: Keynote: Andrew C. Florance, Founder and Chief Executive Officer, CoStar Group, Inc
10:40 am: Gaining the Competitive Edge with Data
11:25 am: Fireside Chat with Chad Tredway, JPMorgan Chase & Co.
1:05 pm: The Reimagined Office: From Experience to Operations
1:50 pm: The PropTech Landscape: The Future of Investments and Growth In Real Estate
2:25 pm: How Leading Real Estate Companies are Embracing Technology
3:10 pm: The Housing Crisis: Tech Solutions to Create Affordable Housing
3:55 pm: Keynote: Peter Scialla, President and Chief Operating Officer, Delos

Day 2, October 14

10:05 am: Keynote: John Fitzpatrick, Blackstone and Brad Greiwe, Fifth Wall
10:40 am: Fireside Chat with Mark Schwartz, Former Vice Chairman, Goldman Sachs
11:15 am: Leveraging Technology To Create Multifamily Experience of the Future
12:30 pm: RETAS (Real Estate Tech Awards) Presentations
2:05 pm: CREtech Climate Welcome
2:20 pm: How CRE Professionals Can Manage the Impacts of Climate Change
2:55 pm: Act Now - We Must Decarbonize
3:40 pm: Climate Keynote: Anthony E. Malkin, Chairman, President and Chief Executive Officer, Empire State Realty Trust
Innovation Stage Final Agenda

Day 1, October 13
10:30 am: Latch - The Ever Evolving and Future of Access Control
11:00 am: Cherre - Cherre's Knowledge Graph: Current State and Future Direction
11:30 am: Brivo - Security Technology is the Foundation of PropTech in the Post-Covid World
1:00 pm: essensys - Flexibility at Scale: How Landlords are Unlocking the Campus Experience
1:30 pm: ThoughtWire - Realizing Advanced Use Cases in a HighIQ Built Environment
2:00 pm: Colliers - Details to come
2:30 pm: MRI Software - Using Data to Drive Impactful Innovation
3:00 pm: Openpath - Enabling Smarter, More Flexible Security (and Spaces!)
3:30 pm: Valley Bank - Building for Innovation: How Banks are Embracing CRETech
Day 2, October 14

10:30 am: JLLT - Introducing JLL Azara: The first purpose-built CRE data & insights platform
11:00 am: NAR Reach - Meet the Hottest New Tech Companies of 2021
11:30 am: Navigator CRE - The Power of Integration
1:00 pm: Lane - Why Tenant Experience Isn't Enough for the Future of Work
1:30 pm: Reonomy - Innovation, Data and the Future of RE Intelligence
2:00 pm: TermSheet - Discover how a passion for investing in mobile home parks turned into a leading PropTech company
2:30 pm: HqO - How Technology is Shaping the Future of the Workplace- With Cousins & Columbia
3:00 pm: The CXApp, An Inpixon Company - The Reimagined Workplace: Mobile Apps & Employee Experience
3:30 pm: Prescriptive Data - Details to come
CREtech New York attendees will be able to connect in-person with the most prestigious group of real estate tech professionals in the world while enjoying the Pier 36 venue, a state of the art sports and entertainment facility located on South Street in Manhattan. Real estate executives from around the world will attend the conference to network, uncover new investment opportunities, and acquire cutting-edge products and services that are at the forefront of the industry's digital transformation.

To register and learn more about the event, click here.
About CREtech
CREtech is Reimagining Real Estate. We are the largest international community of professionals devoted to technological innovation in the real estate sector. Our mission is to help the industry embrace, adopt, and future-proof its businesses. Our streaming, live/virtual events, and consulting platform inspires the next generation of ideas, processes, and people to champion the world's largest asset class.
Learn More: CREtech.com