Goodbye Silicon Valley: The Geography of Proptech Startups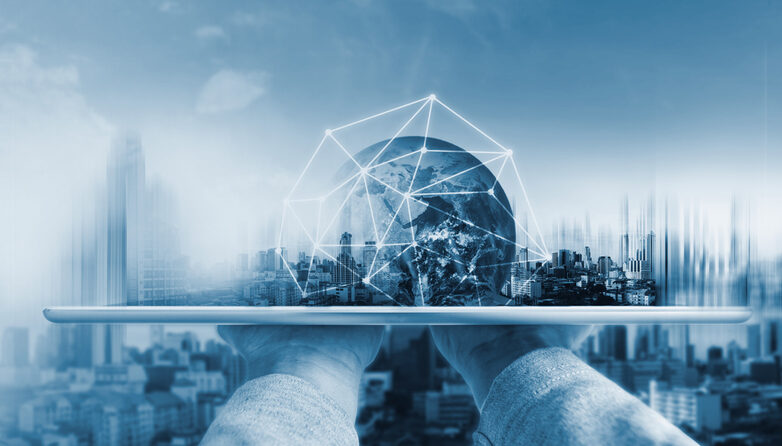 It's no secret that funding for startups is through the roof right now. As the summer months heat up, so has venture capital activity. Since June 2019, total dollar volume invested in private real estate tech companies has reached an estimated $3.6 billion, a 126.1 percent month-to-month growth in funding. Startup funding increases are happening across the board: Overall venture funding is up, and "the biggest funds continue to capture much of the upside as more capital flows into private technology company equity." While only a small percentage of total deal volume, super giant rounds are not slowing down, "accounting for 56 percent of the total dollar volume."
These trends have created a trove of opportunity for the proptech sector, which is benefitting from this growth. Proptech encompasses anything related to real estate—residential and commercial real estate, as well as property management, smart cities, urban mobility, and fintech. Basically, anything that touches and impacts physical buildings and houses can be categorized within the proptech sector. 
Crunchbase reports that up rounds are on the up and up—up rounds "exceeded down rounds 86% to 6%, with 8% flat in Q2 2019, an increase from Q1 2019 when up rounds exceeded down rounds 81% to 11%, with 8% flat." This influx of cash means founders far and wide have a vested interest in proceeding strategically in the coming months in order to continue the equity gains—location plays an outsized role in the success of a proptech company.  Whereas many stories focus on companies and funding rounds, behind the scenes is another key area of proptech's growth that's mostly undiscussed: Proptech founders are strategically locating their unicorns-in-the-wings to better access capital, customers, and talent—i.e. the lifeblood of every technology company. 
While some VCs will traverse the globe, many prefer investing locally where they can have more outsized impact mentoring, attending board meetings, and lending a hand in moments of crisis. Given that, the where might surprise you—in CRETech, it's far from all about Silicon Valley (no disrespect of course:), which has been historically hard to unseat as the heartbeat of many other tech industries. 
Instead, proptech trends point to other strategic hubs in places as diverse as New York, Seattle, and London. Founders disrupting the status quo face an uncharted landscape and are left wondering which locations give their companies the best chance to reach product market fit, gain distribution, recruit, and ultimately, scale to greatness. 
The Where of Proptech Startups
Where are these companies founded? Where are those HQ's? And is Silicon Alley (New York City) now the favorite over Silicon Valley (San Francisco/Mountain View)?
Consider this: Of all proptech companies founded in 2018, 114 received venture funding. Here's a geographical breakdown according to CREtech's internal analysis.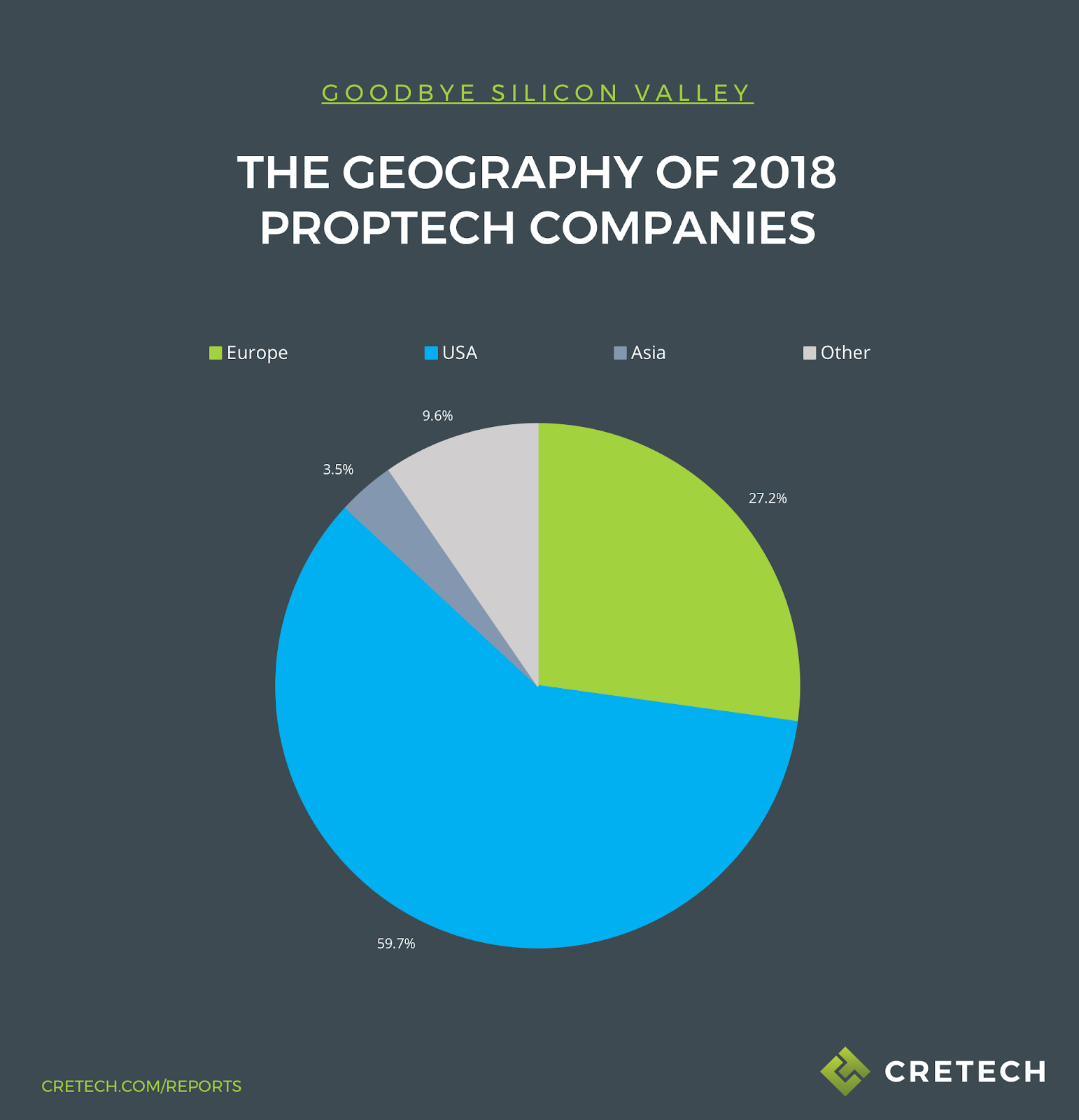 The major tech cities winning the lion's share of startup locations include:  
New York City Metro: 12

San Francisco/Mountain View: 6

London Metro: 13
The "where" indicates a solid trend, but just to drive home our point, note that proptech startups are choosing NYC over San Francisco. Companies that have relocated—SquareFoot, Kwant.ai, and Okapi, to name a few—have chosen the East over West.
Julie Samuels, founder and executive director of Tech:NYC, homes in on the two types of expertise needed for a proptech company: technical expertise and expertise in the real estate sector. She explains that proptech companies are "probably going to have better luck getting capital, expertise and potentially mentorship from the real estate sector in New York as all of those things are uniquely [there]." She goes on to explain that "access to potential customers abound in the city, which is another big draw. And let's not forget that New York is one of the nation's largest, if not the largest, metropolitan real estate markets."
Though founded in Prague, tenant experience platform Spaceflow spun up an office in New York to help them serve their "footprint on both sides of the pond," according to Techcrunch as part of their recent $1.8 million funding announcement led by Credo Ventures.
Some people might say there have been just as many announcements and articles on West Coast startups in the past year. It begs the question: Are these examples outliers, or leading indicators of a geographic trend among the proptech community?
Let's dive a bit deeper into each major proptech market.
New York
Customers are king. With more office space than virtually any other city in the world, it makes sense that New York is home to many major owners and operators, all of whom need technology. Major landlords in the city include Tishman Speyer, RXR Realty, Brookfield Property Partners, The Blackstone Group, and Rudin Management Company. There's no replacement for the face-to-face relationship dynamics available as a result of so many major industry players converging in one location.
Bankrolled with more than $12 billion, co-working giant WeWork's global headquarters are located in NYC. With an influx of $6 billion from SoftBank's Vision Fund back in January and a valuation of $47 billion, WeWork is plotting a September IPO. Its largest competitors—Industrious ($142 million) and Knotel ($160 million)—are right in their backyard.
WeWork is not the only unicorn in town: 
It may have taken a while, but NYC's longtime position as a global financial center is starting to pay off in the proptech arena. There is a growing force of technology skills of all types in the New York metro area. As the intersection of finance and real estate continues to grow in significance, companies such as Ribbon ($225 million from NFX), Knock (over $400 million in funding), and EasyKnock ($215 million Series A for home-sale leasebacks) have chosen the Big Apple as home.
Why are so many companies eschewing the more traditional location options? According to Bloomberg, New York gets top marks for both work-life balance and transportation: "It's the first time in the report's three iterations that New York came out on top. Austin, Texas, and San Francisco took the No. 1 and 2 spots, respectively, in both the 2015 and 2017 studies."
With a wealth of customers next door, no matter where in the city you are, the CRE ecosystem will continue to feed itself. Customers will attract tech, founders will tell other founders of their successes, and VC's will continue to urge founders to bring their companies to their doorstep. Every year, there's more and more momentum to be close in proximity to the proptech experience to feed and grow businesses.
Silicon Valley / San Francisco
If there's one place with extraordinary talent, unlimited capital, and customers—the Bay area is it. Trulia, the real estate portal started in 2005, was founded and headquartered in San Francisco, and exited to Zillow back in 2015 for $2.5 billion. As one of the first proptech plays to take hold in the dawn of the online real estate revolution, Trulia put the city on the radar for the real estate sector. Since then, even as some companies choose NYC, Silicon Valley's appeal remains strong. 
There are other unicorns founded and/or headquartered in the region: 
Opendoor

, the leader in the iBuyer movement, has

raised $1.5 billion

from the likes of Fifth Wall, NEA, and Khosla Ventures.

Katerra

, which is based in Menlo Park, transforms construction through technology with end-to-end services. It has

raised $1.2 billion

.

Sonder

, the apartment/hotel hybrid,

recently raised a $210 million round

that propelled it into the unicorn club.

Airbnb

, though not known as a "real estate" play, the reality is that it's a home rental startup with unparalleled reach/engagement with homeowners that has even

started designing and building housing prototypes

. With a

valuation north of $35 billion, Airbnb is plotting its IPO

.
Capital has never been a question for Silicon Valley. A few of the bigger names in a real estate context:
Andreessen Horowitz

has invested in proptech players such as Airbnb, Divvy Homes, FlyHomes, and Point. 

NFX

, where Trulia co-founder Pete Flint is a partner, specializes in network effect models and has a portfolio that includes Ribbon, Setter, and Zeus, and Lyric.

Thomvest Ventures

is a $300 million fund that has invested in proptech companies such as Blend, SoFi, and Glide.
One drawback is that office density in San Francisco isn't near what it is in New York due to how spread out the region is, which makes it less appealing for customers. In residential, housing prices (and commissions) are sky high, but without the nuances of NYC's dense urban core that operates in a world of its own and i ground zero for many innovative models being tried.
London
This longtime global financial center gives proptech tentacles to the rest of Europe. Further, its proximity to New York is a vital benefit as companies aim to cross the Atlantic. For startups to scale in Europe, they need to cover multiple languages, culture, and local economic conditions. Where as if a UK startups comes to America/NYC, they only need to talk to one asset manager to scale their technology across a company's portfolio with little to no cultural or economic nuances.
A few notables:
The Collective

, a coliving giant with global ambitions, has

raised over $400 million of debt and equity for expansion

. Beyond the flagship 550-apartment complex in

Old Oak

, they have projects in

Long Island

,

Brooklyn

, and

Miami

.

LandBay

, which

enables mortgage lenders to use peer-to-peer technology to fund loans, has

$1.6 billion in its coffers

.

Nested

, the data-driven estate agency,

has raised £165.2M

since being founded in 2015. 

AppearHere

, a marketplace for retail space, has a major presence in London. Another Fifth Wall portfolio company that

has raised north of $20 million

,

it is transforming pop-up retail in a world

"where leases become shorter, where brick-and-mortar assumes new marketing value, and where location decisions becomes newly testable."
Los Angeles (Southern California)
Capital is the name of the game for those choosing Southern California. Already a leader in media, the region is home to venture capital firm Fifth Wall and is poised to be a central point of proptech in the future. With the biggest proptech focused VC fund in history—$503 million— Fifth Wall is based in Santa Monica and has strategic anchors that are among the largest real estate owners and operators in every asset class. 
A few other notable companies:
REX

(Real Estate Exchange): Woodland Hills is home for the digital platform for real estate services that has raised 

$76 million to date

.

Guesty

: Located in Walnut, CA, this  property management software for short-term rentals has $59.35 million to date.

Procore

: The construction management giant is based in Carpinteria, CA, and to date has raised $306.5 million.
Being located near the industry's largest capital source (Fifth Wall) can only be a boon for Southern California. Already a major hotbed for tech talent, it seems inevitable that a stronger real estate tech ecosystem will arise. It's an engineering meca for space and self driving, so hardware startups would be wise to consider the upside of talent in their location decisions.
Seattle
Talent reigns supreme in this city. With two of the three largest residential real estate portals in the world headquartered in Seattle, it's hard—if not impossible—to leave the Emerald City out of the picture. Zillow Group, with its market cap of $10 billion and thousands of employees, was founded in Seattle back in 2005 by Rich Barton and Lloyd Frink.
Founded in 2004, Redfin went public in 2017 and is leading the way of the tech enabled brokerage space taking on the likes of legacy giants Realogy, RE/MAX, and Keller Williams. With a market cap of $1.8 billion, it is not to be taken lightly.
Although more known for its residential ecosystem, CRE is alive and well in Seattle as well. One of the earliest was Hightower, founded in Seattle before relocating to New York in 2013—later merged with VTS. CBRE Build has an office in downtown. Leasable recently came out of stealth mode with a $3.5 million seed round, and Remarkably is off to the races with a $4.1 million round led by Wildcat Venture Partners. 
Proptech companies choosing Seattle have a clear advantage as they are able to recruit from a rich ecosystem of talent that includes employees of Amazon, Microsoft, Expedia, Starbucks, Boeing, and others.
Scaling in Europe Versus the United States
Proptech companies in Europe looking to scale within Europe itself have unique challenges—they have to connect with the head of real estate in each new country and solve for the needs, wants, and challenges in specific markets. And despite the existence of the EU umbrella, London, Madrid, Paris, Berlin, Rome, etc present their own languages, cultures, and local barriers to entry. To top it off, each locale represents a relatively small market size.
In contrast, if a European or UK-based proptech company wants to scale across the entire U.S., it merely needs to contact the head of real estate at, for example, UDR, Avalon, Blackstone, or JP Morgan. Better yet, the company can contact one of the other 140 VC funds that might be willing to invest only $10-20 million, but would still be welcomed by these startups with open arms. 
A recent example is the Vista Equity Partners Fund II. Unlike the first Vista fund, this specifically targets "firms with between $10 and $30 million in ARR (annual recurring revenue), at a price range of '$30 million and $100 million.'" And Vista is already in the proptech game in a big way with its investment in Lone Wolf Real Estate technologies. It's also worth noting that Lone Wolf is headquartered in Ontario, Canada.
At a high level, "the prevailing trend in global venture funding has been the movement of more capital to tech hubs outside the United States, to China in particular." However, that's changing. Up 37 percent over 2018, in the first two quarters of 2019, "North American startups* pulled in 49 percent of total global venture investment."
Using Location to Disrupt the Status Quo
The "where" of proptech has become obvious—New York is winning the race, but it's not without a fight. And the "why" becomes more apparent with each passing year—perhaps it's less about the "prop" and more about the "tech." 
The right location unlocks experienced talent inaccessible otherwise. That's why the big continue to get bigger; it's a self-reinforcing cycle. While no one can downplay that access to capital is important, proximity to customers is equally as important since it infuses the company with sales and scale. Hence, the reason New York has a leg up talent and capital can be had elsewhere, but nowhere else can match the density and prestige of its urban core.
The boom in venture funding sets the stage for unique opportunities for proptech startups thinking outside the box. Sure, Silicon Valley was once the golden child for any tech startup worth its salt—a mecca of opportunity, funding, growth, and talent. However, proptech lives within its own niche. Location matters. Industry relationships matter. Proximity to top talent matters. Access to hands-on VCs matters. Companies willing to disrupt the status quo from within the raft of emerging proptech destinations will see outsized benefits.
Disclosures:
*Crunchbase tracks data for North America (U.S. and Canada) together. However, the vast majority of the funding goes to U.S. companies, with Canada's share in the single digit percentage.