Google Becomes Licensed Mortgage Broker and Launches Home Shopping Tool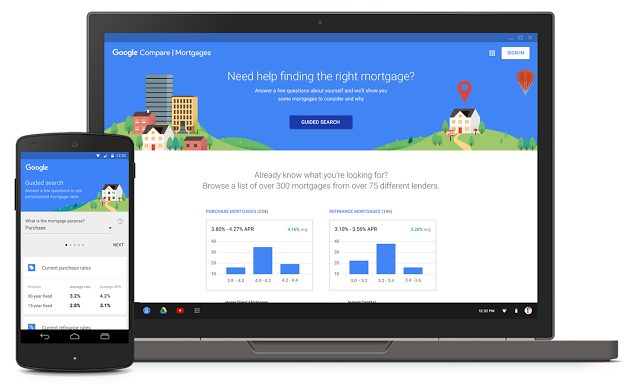 There seems to be virtually no end to the number of sectors in which Google wants to become involved. The search engine giant recently announced that it has launched a Google Compare for mortgages after having become a licensed mortgage broker in the state of California. The mortgage comparison tool is currently only available for homebuyers in the Golden State, but more states are expected to be added soon.
How the New Tool Works
While on the surface, the new tool might seem like a public service made available by Google, it is designed to function as a commercial product. With the new tool, homebuyers will be able to check and compare home loans. As more financial experts are encouraging buyers to shop around in order to find the best terms for their mortgage, the tool provides the ability to do just that. Users begin by entering personal information, including the size of their down payment, property value, and an approximate credit score to receive individualized results. Additionally, users will be able to view the rating and reviews provided for lenders displayed. Along with obtaining mortgages for new properties, homeowners can also take advantage of the tool to refinance existing mortgages. The information provided to users will be presented in an easy-to-read comparison chart, making it possible for users to identify the best lenders based on their specific needs.
Given that a mortgage is usually one of the biggest and most expensive financial decisions that consumers will make in their lifetimes, the ability to make the most informed decision possible is critical. According to Google, almost one out of every two borrowers do not shop around for a mortgage and often feel as though they do not have sufficient information to make an educated decision when choosing a mortgage. Google Compare was introduced to help consumers feel more confident and make more informed financial decisions.
Google is certainly not the first company to release a mortgage comparison tool, but the fact that the search engine company is wading into this territory underscores just how important online shopping and comparison has become, even in the real estate industry.
Commercialized Nature of the Comparison Tool
While Google has registered as a licensed mortgage broker, the search engine tycoon will not be financing mortgages for homebuyers. Instead, the company will aggregate lending quotes from lenders with whom it has partnered. Among those lenders are Lending Tree. Zillow has also partnered with Google. Lender participation is based on a cost-per-lead basis, meaning Google will actually be paid by mortgage lenders for the services provided.
Whether or not Google will eventually take full advantage of its licensure as a mortgage broker and wade further into the real estate industry remains to be seen. As technology becomes more and more entrenched into the industry, it certainly seems as though anything is possible.