Got Questions About AI? Buildout Has Answers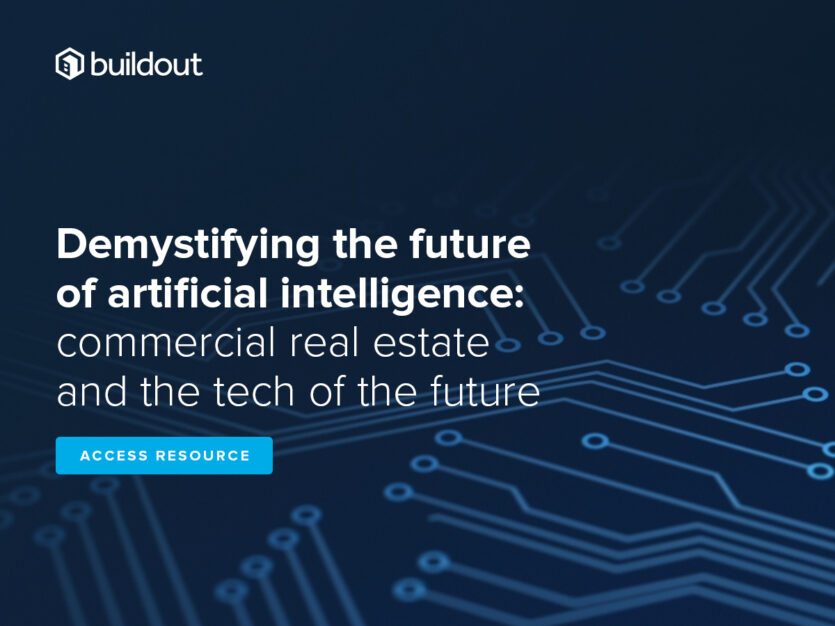 Ask any commercial real estate professional what top three tech trends will revolutionize the industry. Chances are one of the three will be artificial intelligence. If you're using predictive analytics, chatbots, or any software with machine learning, congratulations! You're using AI. Expect more service providers to offer expanded AI applications in the next decade. Be prepared for the future of commercial real estate with Demystifying the Future of Artificial Intelligence: Commercial Real Estate and the Tech of the Future, an ebook by Buildout.
Designed for commercial real estate professionals, Demystifying the Future of Artificial Intelligence readers will learn why AI matters for the future of CRE. Buildout's report breaks down what CRE pros need to know about artificial intelligence, like the difference between artificial general intelligence (AGI) and applied AI. The report clarifies that AI will never replace a CRE professional, but rather will inform how the industry makes crucial decisions on everything from an investor's portfolio to identifying better prospects.
Until more recently, the CRE industry was behind in developing technologies that solved some CRE's most pressing problems. Now, CRE embraces the cloud, big data processing, and other softwares and technologies that make their jobs more efficient. Artificial intelligence is simply the next wave of transformation.
Use this emerging tech to your advantage. Right now, early tech adopters are harnessing the power of AI to transform how CRE professionals perform their jobs. With machine learning, you can discover trends you could have never identified without wasting hours crunching numbers. The computing power behind AI will identify real estate investment trends, the best practices that close real estate deals, and monitor properties for inefficiencies.
In many ways, artificial intelligence is already integrating into our everyday lives through natural language processing and machine perception. It's no surprise that it continues to progress into relevant industries like commercial real estate. CRE professionals, be ready for AI to disrupt how you are currently doing business. Read Buildout's Demystifying the Future of Artificial Intelligence, and embrace the future of artificial intelligence in CRE.
DON'T MISS OUR UPCOMING CRE // TECH EVENTS IN LOS ANGELES ON SEPTEMBER 28TH AND NEW YORK ON DECEMBER 7TH! TICKETS ARE ON SALE NOW!