Groundbreaking New Lead Conversion Technology Released for Real Estate Professionals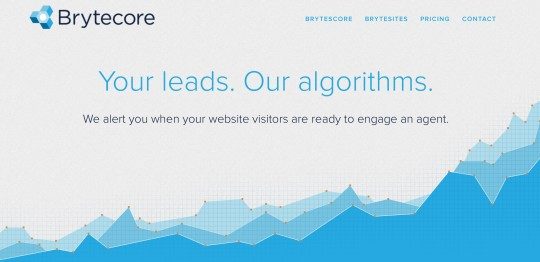 brytecore*
In an industry that has become increasingly competitive, it is imperative for real estate professionals to be able to gain critical insight and identify targeted leads. This is precisely what a groundbreaking new lead conversion technology is providing. Brytecore recently unveiled a revolutionary new lead conversion technology specifically for real estate professionals. The new technology delivers vital behavioral insight that assists real estate professionals in identifying prospects at precisely the right moment of contact. As a result, real estate agents and brokers are able to increase their online lead conversion rates significantly.
How the New Technology Works
One of the most significant challenges that real estate professionals face is the ability to convert prospects into profit-generating clients. Brytecore is designed to help agents and brokers convert prospects into actual closings with enhanced predictability. According to the firm, it has been able to assist brokers in locating homebuyers an average of 450 days prior to their eventual purchase of a property.
While most companies typically convert an extremely small percentage of online leads, Brytecore assists real estate firms in capturing lose opportunities. One of the ways the firm is able to do this is by providing brokers and agents with real-time observations of which prospects may be shopping for real estate. Brytecore also goes a step further by providing firms with information regarding what is motivating consumer decisions as well as when that consumer may be ready to engage a real estate agent.
Brytecore utilizes a unique blend of user behavior profiling and predictive lead analysis based on machine-learning algorithms in order to deliver such groundbreaking insight. In addition, users of Brytecore will find it incredibly easy to implement the API into any website. Results are produced almost instantly.
Saving Effort and Resources While Focusing on Improved Customer Service
Ultimately, many real estate professionals end up wasting a tremendous amount of resources and effort as a result of missed timing. When an agent reaches out to a lead, in many instances, that buyer simply may not be ready to have a conversation with an agent. The machine learning utilized by Brytecore helps agents connect with buyers at the precise right moment, helping reduce wasted effort while also eliminating missed opportunities.
Users will find that the Brytecore user experience is easy to navigate thanks to an intuitive dashboard that contains a host of helpful tools and features. By using the software, users can track a visitor's movements and pinpoint the right time to connect with that visitor. Not only does this help save the agent from wasted effort, but it also helps save consumers from the frustration of being contacted when they are not yet ready to having a conversation about buying. Overall, this gives real estate professionals the ability to focus on their core business while providing customers with the best service possible.
[embed]https://www.youtube.com/watch?v=svAQYW4SqMk[/embed]