Hightower Strengthens Position as CRE Tech Leader with Strategic Funding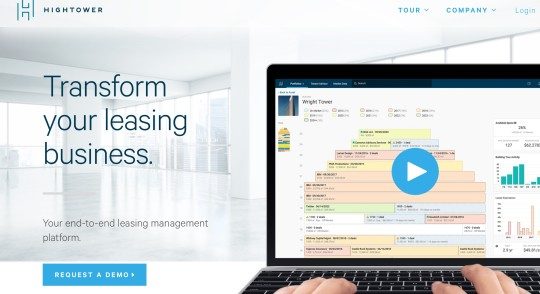 hightower*
Hightower, known as a leading leasing management platform catering to the commercial real estate industry, has recently announced partnering with several new investors to strengthen their market position. Among the investors partnering with Hightower are Barry Sternlicht, CEO of Starwood Capital; Newmark Grubb Knight Frank Corp.; and Bill Rudin, CEO of Rudin Management Company.
With a total of $22 million in funding, Hightower has been able to strengthen its position as a commercial real estate tech leader. By building a platform that makes it possible for users to make the most of commercial leasing, Hightower is changing the way in which real estate professionals do business. The fact that Hightower was able to pull in such strategic funding underscores the impact the firm is having on the market.
In the last few years, technology in the real estate industry has evolved at lightning speed, and in many ways, Hightower is leading the charge in that area. One of the reasons that Hightower has become such a leader in the commercial leasing field is the firm's commitment to delivering the latest solutions.
While the company has only been in operation since 2013, Hightower has come a long way in providing web-based software to assist commercial real estate owners and brokers with the ability to manage end-to-end leasing in a more effective manner. This is made possible by reaching prospects more efficiently and then converting those prospects to tenants. Hightower recognizes that the leasing process does not end when a tenant signs on the dotted line, however. Hightower also provides the opportunity for owners and brokers to manage their overall portfolio performance.
Thanks to Hightower's powerful platform, users are able to benefit from access to a broad array of data in a single collaborative interface. Since owners and brokers are often on the go, it is vital that they be able to access that data from any location. With Hightower, data can be accessed from any device.
How the Funding Will Be Put to Use
Because of the new funding, the firm will be able to significantly increase the adoption and development of its already powerful platform. While the commercial real estate industry might have had to simply make do with outdated tools in the past for managing commercial leasing, that is no longer the case. With a rapidly evolving rate of adoption, Hightower is working to bridge the gap between the real estate industry and technology.
The cloud-based platform used by Hightower has grown tremendously over the last year and now encompasses thousands of commercial real estate owners and brokers throughout every major market in the United States. With funding in place, Hightower has stated it plans to move forward with growing its team and accelerating product development. In addition, the firm has plans to develop an international presence that will allow brokers from around the world to make use of its platform.