HiRise: The Airbnb of Office Space?
Backed by Jones Lang LaSalle, HiRise is gaining somewhat of an Airbnb of office space reputation in the commercial real estate industry.
Repping the Little Guys
One element that sets HiRise apart from other similar companies is the way that it tends to focus on smaller companies seeking leasing situations that do not lock them into long term leases. In the past, this has proven to be particularly difficult for small firms and startups that do not have a solid idea of what the future may hold for their organization. If things take off, the company could need a much larger space in just a short time. On the other hand, if things do not progress as expected, the firm could face financial difficulties if they are locked into a long-term contract.
Just how big of a market is out there for small space leases? Quite a bit, actually. JLL reports that across the country, approximately half a million tenants occupy spaces that are less than 5,000 square feet. This comprises 80 percent of the total number of office tenants in the entire nation. Given that tremendous market size, one might naturally assume that brokers would focus a significant portion of their time and efforts on small leases, but that is hardly the case. In fact, brokers tend to focus the lion's share of their attention on searching out larger spaces because those are the spaces that pay out the largest commissions. Upon its launch, HiRise has exclusive coverage of the Washington, DC area with 25,000 leases. Each of those leases encompasses less than 5,000 square feet of space.
How HiRise Works
The new platform works by giving companies the ability to research various listings according to price and size in order to locate the deal that is best for them. Once a user has found the listing that is right for his or her needs, they can even complete the lease online in order to save time.
Since everything can be completed online, there is no need for landlords or brokers to become involved in deals completed through HiRise. In the past, small companies have often found that landlords can actually prove to be a challenge to finding the ideal office space. This is largely due to the fact that landlords typically seek out tenants that are willing to sign leases of at least five years. Since most startups usually have no idea how much space they will need or for how long, signing a five-year lease can be a significant obstacle. HiRise offers a much more flexible approach to finding the right size office space. The listings presented on HiRise are often simply a fraction of a larger deal; basically the leftovers that are too small for the big guys but just right for the new kids on the block.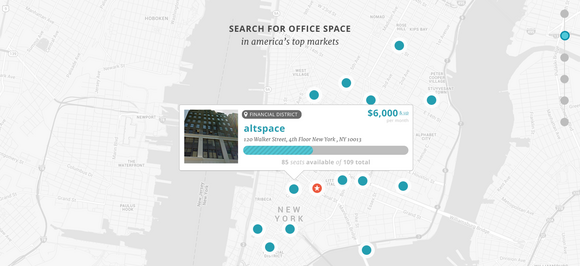 Compared to brokerage, HiRise is certainly a competitive alternative. If HiRise should truly take off, it could prove to be quite competitive, given that both experienced and newbie brokers have a lot at stake when it comes to smaller transactions.