How CRE is Preparing for Sea Level Rise
Under the sea is a great place to be unless you're a office building. The commercial real estate loss potential from projected sea level rise in the coming decades is significant.
Lloyd's City Risk Index
projected major cities billion-dollar economic impacts from sea level flooding, like Los Angeles with an estimated $13.3 GDP risk. Right now the CRE industry is preparing for the threat on a regional basis.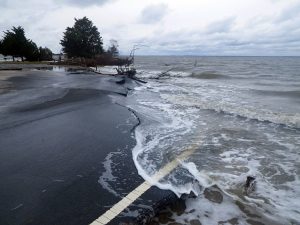 Photo Credit: https://www.flickr.com/photos/npsclimatechange/
Keeping Out the Sea in Miami
Take the mixed-use Magic City development in Miami for example. Developer Tony Cho told the Miami Herald one of the reasons they chose the location was because it is 18 feet above sea level. Miami Beach, which has experienced a 200% increase in flooding in the last ten years, proposed a $400 million dollar infrastructure plan to build stormwater solutions using pumps, raised roads, and elevated sea walls. Currently amongst the most radical proposals nationwide, the expensive proposal is not without controversy.
Florida is particularly vulnerable to sea level rise thanks to its low elevation and extensive coastline, but by no means is it the only state threatened by ocean incursion. In low-lying Louisiana, the latest study predicted New Orleans could experience 14.5 inches of sea level rise by 2040. The city's Lafayette Greenway is an example of incorporating green space as a measure of protecting against climate change. The 2.5-mile long park includes two residential buildings.
New York City began addressing sea level rise following the devastating flooding from Hurricane Sandy with a $332 million berm to shield 10 miles of Manhattan coastline. Sea level projections were incorporated into New York's Community Risk and Resiliency Act of 2014 that required official projections on sea level rise by 2100. Measures drafted in 2015 require developers along the Hudson River to prepare for sea level rise. Building permit applications require future flooding risk consideration. Further discussion of raising sidewalks and other vital infrastructure hasn't materialized in concrete action.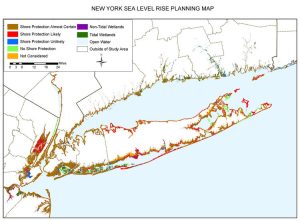 Photo Credit: J. Albert Bowden II
Legislative measures addressing climate change are just in their infancy right now, as are the technologies blending design and managing risk. What is clear is developers in coastal locations are factoring the growing concerns of sea level rise impacts when tackling new projects. Expect to hear an increasing number of CRE professionals discussing the impact of sea level rise in the years to come.