Ideum Offers Innovative Sales Gallery for Viewing New Units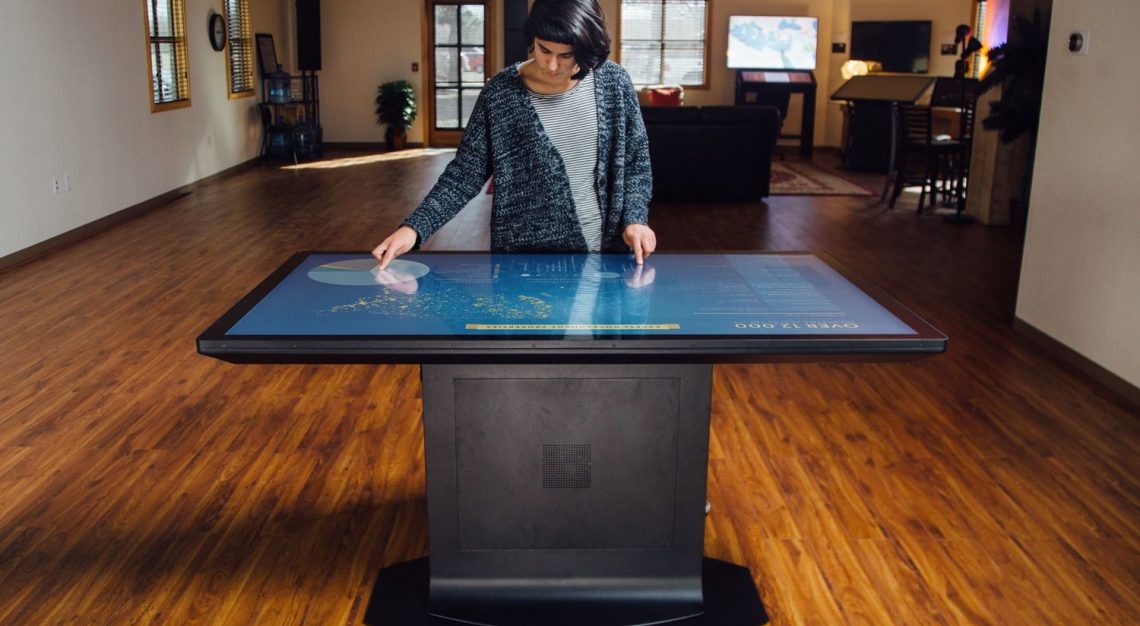 The process of viewing new condo units for sale has become even more integrative, thanks to an innovative sales gallery offered by Ideum. Visitors to Austin Proper are able to take advantage of the opportunity to view units via two ultra-high definition Ideum Presenter 55 multi-touch walls. The sales gallery features a revolving 3D depiction of the 32-story tower. Once visitors engage the screen, they can opt to spin the building around in 3D while viewing available floor plans and exploring each of the floors using drag, pinch-and-zoom, and tap gestures.
Using an Immersive Experience to Display Amenities
Visitors can even search based on orientation, square footage, or number of bedrooms. Once a visitor finds a unit of interest, he or she can zoom in on that particular unit while learning about available amenities as well as other relevant details. There is also no need to wonder what the view outside a window might be like. The sales gallery offers a representative panorama of views thanks to ultra high-definition panoramic images shown via aerial drones.
A Bird's Eye View of the City and Neighborhood
The tower is still under construction, but thanks to the innovative sales gallery, visitors can get a true sense of what the view from a particular unit will look like. Ideum even went so far as to extend beyond the tower by recreating the surrounding neighborhood in 3D. Through the creation of an interface, the revolutionary platform gives users the opportunity to navigate the neighborhood to locate dining, shopping, and entertainment venues. Given the importance that buyers are now placing on amenities available in the local neighborhood, this feature could prove to be vital to closing sales. Along with aerial drones, Ideum also used Unity, a gaming engine, in addition to architectural quality models of Austin and the tower itself to create a completely immersive environment.
The new sales gallery can prove to be invaluable in terms of helping prospective buyers view what the property will look like when completed, thus helping to boost pre-construction sales. Buyers frequently have a difficult time envisioning how a unit will look upon completion, and may wish to wait before making a buying decision. With revolutionary 3D depiction now available, buyers have the ability to feel as though they are actually touring a property. As a result, prospective buyers never have to guess or wonder what the unit they purchase will look like or what kind of view they can anticipate. Real estate professionals who once had a difficult time conveying the look and feel of a property still under construction can now take advantage of the opportunity to make a more compelling sales presentation.
A Groundbreaking Experience in the Real Estate Industry
Ideum partnered with KOR Group and Taysha Real Estate Partners to create what is one of the most innovative and interactive home buying experiences currently available in the market.