Ignoring Business Intelligence in Your Budget Will Cost You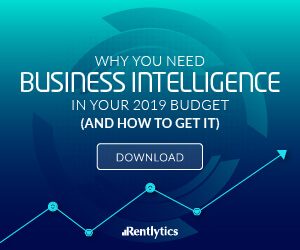 Every person on the planet will create 1.7 megabytes of information every second by 2020. Failure to capture this data and transform it into actionable intelligence will cost every industry millions of dollars. Commercial real estate and multifamily properties are not an exception. Rentlytics' recent ebook, Why You Need Business Intelligence in Your 2019 Budget, demonstrates why CRE professionals must grab BI solutions by the horns and adopt now, not later.
Understanding Business Intelligence
Business intelligence isn't one software or a set of platforms running analytics. The umbrella term covers best business practices that optimize the tools used in decision-making and operational enhancement. It could include a range of technologies that use internal and external data, like internal maintenance reports or external neighborhood demographic data.
The multifamily budgeting process is complicated. Forecasting vacancy rates, concessions, rents, loss to lease, and more, presents challenges. Business intelligence solutions shed light on future trends, which is crucial  to accurately project costs for the next fiscal year. The technology takes data from a variety of sources and presents it in an easy-to-read format for better decision-making.
Why you need Business Intelligence
Assets of all sizes draw benefits from BI. The research included inside Rentlytics' Why You Need Business Intelligence in Your 2019 Budget found that every dollar spent on BI solutions had an average ROI of $13.01.
How exactly does a BI solution lead to such a positive return? Simple:
Business intelligence increases productivity.

When you can pull data in real-time and create accurate reports with a few clicks, employees are more productive at their tasks. In one example from the ebook, a portfolio with over 200 properties saved $500,000 a year automating tasks with BI solutions!

Improve your return on investment.

Faster reporting creates more awareness among owners, asset managers, and property managers regarding operating costs. Furthermore, this information improves the property's ROI. A Rentlytics case study shows how Goodman Real Estate saved almost $300,000 in delinquency costs nine months after purchasing BI.

Data becomes action.

Access to vital operational data helps spot issues before they become a real problem. Find key trends and patterns in the data to start making proactive decisions that will drive your business forward.
Plan for Business Intelligence today
Adopting a BI solution isn't an overnight task. Conducting research and vetting vendors takes time and isn't easy when faced with the daily tasks of running a multifamily portfolio. Even after selection, there are several preparatory steps to adoption. For instance, Rentlytics points out you'll need to work with your vendor to create a scalable training program as part of adoption management.  
That's why it's essential to plan today to incorporate these solutions into your budget. Why You Need Business Intelligence in Your 2019 Budget outlines the steps needed to win over stakeholders and prepare for BI adoption. The ebook guides real estate professionals in demonstrating business intelligence's value to the whole team. Walk away with insights like:
Why leading organizations include BI in their budget

5 actionable tips you can use to get BI into your company's budget

How to show the value of BI to your team

How to make room for BI within your existing budget

What to look for when choosing a BI vendor
Even if it's not possible to incorporate BI into this upcoming fiscal year, use these strategies to prime your team for its 2020 budget. Each year without it could be costing your property management thousands in unrealized revenue.