Is Google Trying to Gain a Stronghold in the Real Estate Industry?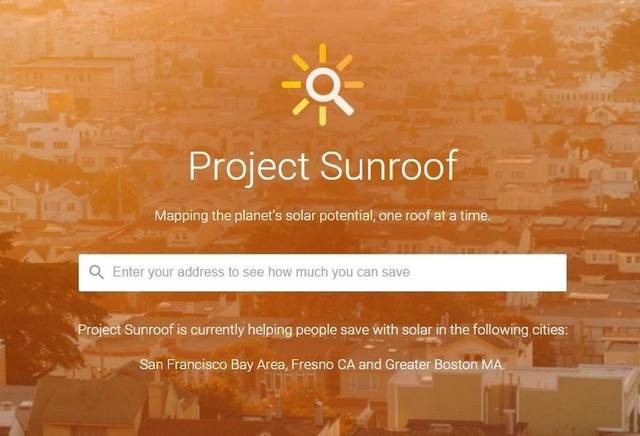 project-sunroof-960x667
These days, it seems as though Google is getting its fingers into every other pie, so why not real estate? Given the nature of the search engine giant's latest tool, it would certainly seem as though the company has set its sights on the real estate industry. Project Sunroof, which is designed to assist homeowners in determining whether solar panels might be a good fit for their home, takes a direct aim at the residential real estate industry. The tool works by using Google Earth data to calculate a roof's solar potential based on the amount of usable sunlight per year. In addition, the tool provides homeowners with an energy savings estimate. Currently, the tool is only available in the San Francisco Bay area, central California, and Boston.
By entering their address into the tool, homeowners can quickly receive information regarding the number of hours of usable sunlight their home receives. Project Sunroof utilizes a wealth of information from Google Earth, including weather patterns and a 3-D modeling of the homeowner's roof as well as nearby trees. Sponsored providers offer information regarding estimated net savings. Homeowners can even take advantage of the opportunity to fine-tune their estimates by entering information regarding their average monthly electric bills.
Ultimately, the new tool from Google could help educate homeowners about the solar potential of their homes. Many consumers often believe their roof simply does not receive enough sunshine to go solar. In other cases, homeowners may believe that going solar is simply too expensive. With Google's Project Sunroof, homeowners can now find out exactly how much potential their home has for going solar and what the total cost might be, as well what the return for such an investment could be in terms of savings.
While Google has not necessarily made a move to enter the real estate industry, the search engine giant has provided real estate professionals with a number of helpful tools. Among them is Google Street View, introduced in 2007. When it was first introduced, Google Street View was relatively simple; however, the introduction of Google Earth changed all of that. Google ultimately provided even more detail by strapping 360-degree cameras to vehicles and having them travel through streets in major metro areas.
As a result, real estate professionals can view properties and even entire neighborhoods without the need to ever step foot outside their office. This has proven to be an extremely beneficial and productive tool. Most recently, Google has announced the introduction of Street View Trusted, which gives users a view inside businesses that have signed up for the service. After working to expand that initial concept, Google began training independent photographers and rebranded the platform, thus placing all virtual tour platforms on a single consolidated platform. While the move is intended to give consumers the option to view the interior of businesses, particularly those involved in the travel industry, it could also have an important impact on the real estate industry.