Juggle Your Commercial Real Estate Information Like a Pro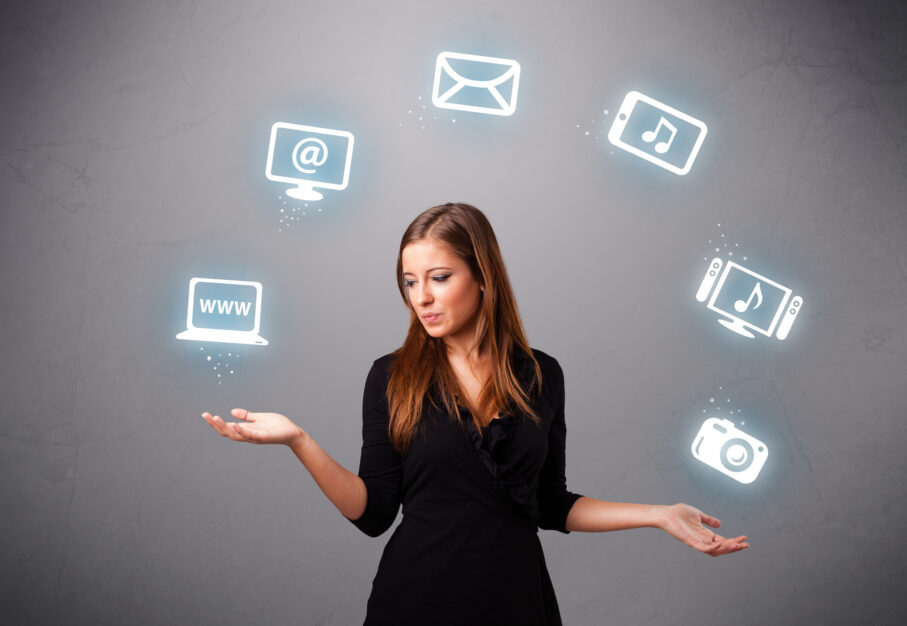 All new innovations bring advantages and disadvantages. Automation technology has streamlined many aspects of our daily lives, but that same tech filled the freed time with information: mountains of statistical data, market reports, blogs, emails, and more. The struggle against information overload is real. How can commercial real estate professionals leverage technology solutions to better handle the information stream?
#1. Customize our dashboards
The latest Software-as-a-Service (SaaS) platforms use visual dashboards to deliver timely updates upon user login. Customizable dashboards allow clients to see the most pertinent real-time information first. Unless your brand is working toward a specific goal, consider setting your dashboard to present big picture information: vacancy rates, rent data, energy usage, etc. You can dive deeper if necessary.
Additionally, select the data presentation format that makes the best sense for the figures and for you. Some information is better suited to a pie chart, like breaking down monthly operating expenses, while comparing quarter-to-quarter or year-over-year data is better suited to a bar graph.
#2. Use in-platform communications vs email
Email revolutionized communication, but there are clear drawbacks. First, we receive too many messages. The quantity of emails and number of users complicates searching for the right information. It's easy to miss adding a relevant stakeholder to an email chain, or inboxes drown in "thank you!" response emails.
The solution? Use in-platform communication tools. This keeps all the relevant information about the project accessible in one place. Whether it's a solution like Slack or something built into a CRE-focused platform, the tools allow users to add relevant attachments like permit approvals or floor plans. Loop all people in and out of the conversation as necessary, and keep a running record of all information. Stop wasting time hunting for answers and documents through email.
#3. Explore open ecosystems
"Open ecosystem" in the technical sense means multiple applications that communicate with each other. This allows for access to a larger network. Essentially, we're talking about integrations. When two programs talk to each other, the work is streamlined. Think of CRMs that sync with an email marketing program, or a prospect database that integrates directly into a CRM. The integrate eliminates the import/export of data or manual entry. What integrations exist within your current SaaS platforms that you are not utilizing?
#4. Embrace AI systems
Artificial intelligence automates much of the daily office busy work. For commercial real estate agents and brokers, chatbots can field generic property queries. For service providers, chatbots answer basic customer service questions. AI does more, too. It's auto-scheduling client meetings in calendars and sending task reminders. With predictive analytics, AI is crunching the numbers to find relevant market trends. It's the reason why we can predict hot markets or new office leasing trends.
#5. Smart email
Remember we mentioned the overwhelming amount of email? A smart inbox does more than sort junk from real people. These AI-enabled platforms, like the Spark Mail App, categorize your incoming messages and highlight the most relevant emails first. For the busy professional, this can be a huge time-saver.
It's important to stay current on the latest developments in commercial real estate and technology. Sorting through the relevant information is easier by leveraging the latest tools. See what matters most every time you log on to your dashboard or your inbox. Let AI help identify the relevant information and spend less time sorting your information stream.