Michael Schall, CEO of Essex Property Trust and John Helm, Managing Director of RET Ventures Announced as First Speakers for CREtech San Diego Conference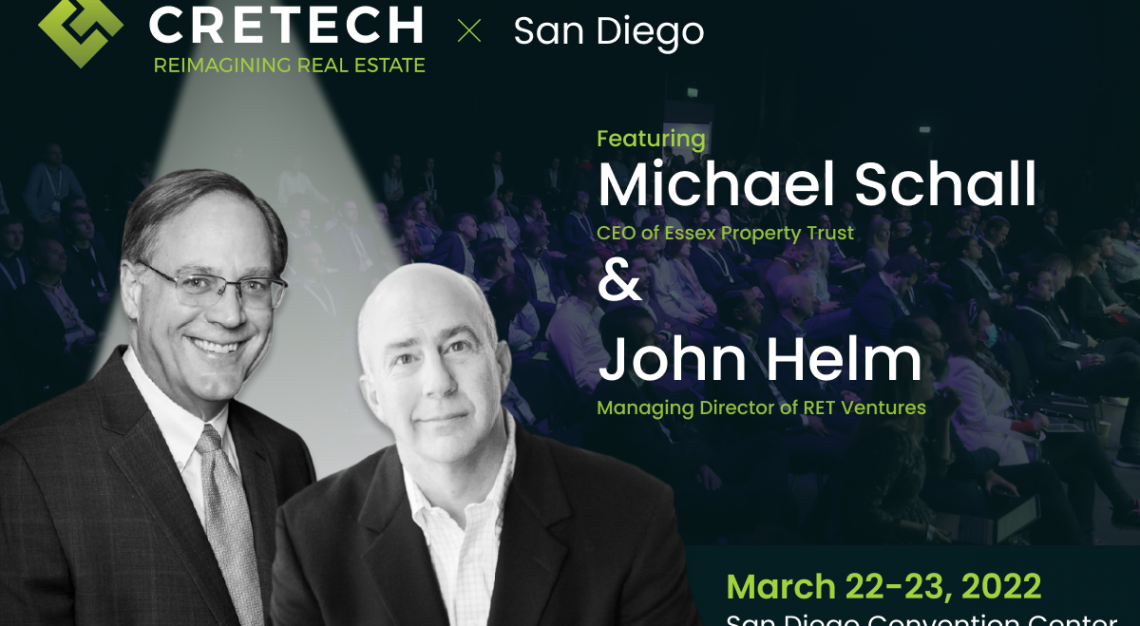 March 22 and 23rd In-Person Conference Will Be CREtech's Sole West Coast Conference In 2022
New York, NY (December 7, 2021) — CREtech, the largest international community of professionals devoted to technological innovation in the real estate sector, has announced President and CEO of Essex Property Trust, Inc, Michael Schall, and Managing Director of RET Ventures, John Helm, as the first speakers confirmed for their debut conference hosted in San Diego on March 22-23, 2022.
In the 30 minute session, Michael and John will take a deep dive into how a leading REIT is deploying the latest 'Rent Tech' technology to improve operations and deliver efficiencies. 

Essex Property Trust, Inc., an S&P 500 company, is a fully integrated real estate investment trust (REIT) that acquires, develops, redevelops, and manages multifamily residential properties in selected West Coast markets. Essex currently has ownership interests in 247 apartment communities comprising approximately 60,000 apartment homes with an additional 3 properties in various stages of active development.
Prior to Michael's current position as President and CEO of Essex Property Trust, he served as the Senior Executive Vice President and Chief Operating Officer from 2005 to 2010 where he was responsible for the strategic planning and management of the Company's property operations, redevelopment and co-investment programs. Michael currently serves as a member of the Board of Trustees of Pebblebrook Hotel Trust, Inc, and is a member of the NAREIT Executive Board of Governors.

A leading real estate technology investment firm, RET Ventures is the first industry-backed early-stage venture fund to strategically focus on helping build cutting-edge "rent tech" — technology for multifamily and single-family rental real estate. RET's base of Strategic Investors includes some of the largest REITs and private real estate owner-operators and managers, who control approximately 2.4 million rental units.
Before founding RET Ventures in 2017, John was a Venture Partner with DN Capital in Munich, Germany. Prior to that, John ran and successfully exited two venture-backed real estate tech startups, was CFO of Marcus & Millichap, and a consultant at McKinsey & Company.

Attendees of CREtech's debut in San Diego will experience the largest trade show, world-class content and the most strategic networking opportunities in the world of real estate technology and innovation. The conference will bring together over 2,000 real estate executives including landlords, asset managers, brokerages, construction companies, tech startups and VC's under one massive roof.

To purchase super early bird conference tickets, click here.

To learn more about partnerships and sponsorships, click here.
About CREtech

CREtech is Reimagining Real Estate. We are the largest international community of professionals devoted to technological innovation in the real estate sector. Our mission is to help the industry embrace, adopt, and future proof its businesses. Our streaming, live/virtual events, and consulting platform inspires the next generation of ideas, processes, and people to champion the world's largest asset class.
Learn more: cretech.com