Office Space Goes Prefab with altSpace by LiquidSpace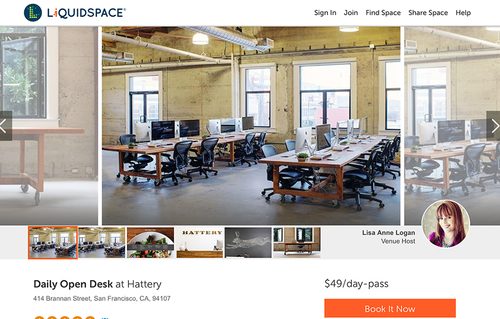 Finding a furnished space with adaptable terms has been a challenge for larger teams. LiquidSpace tackled this problem and recently announced a solution with altSpace, an option to outfit office spaces quickly and flexibly.
AltSpace reinvents how office spaces are designed, setup and occupied. Tenants with growing teams of 10-200 employees start by selecting an altSpace-certified curated location. Next, tenants chose from one of three adaptable altSpace designs and book the package. Office furniture is delivered and assembled, allowing the tenant to move in within days. Terms run month-to-month using LiquidSpace's no lease, no hassle platform. After piloting the program in San Francisco, and LiquidSpace is rolling out altSpace in New York City, Chicago, Boston, Los Angeles, Dallas, and Washington DC.
"We recognized that growing companies often don't have the time or the capital to commit to expensive fit-outs or long term leases, but still want a cool place to work with the flexibility to move on when they grow," said Mark Gilbreath, founder and CEO of LiquidSpace. "We also realized that landlords and building owners are often in the same boat – with the need to fill empty offices, but without the expense and risk of speculative fit-outs. After proving out the model with both startup and large enterprise customers and with multiple landlord partners, we are excited today to expand the altSpace program into major markets across the country."
LiquidSpace partnered with BVN Architecture to adapt designs to a variety of working styles and space sizes. Furniture partner Allsteel provides contemporary furnishings that are both utilitarian and adaptive. Additional altSpace partners include The Swig Company, Tidal Living, FME Architects, and Izzy+.
No lengthy, custom design is required. The prefabricated designs were made with modern office priorities in mind. The altSpace's tailored configurations apply to spaces from 1,000-20,000 square feet and can scale up as the office grows. Traditional build office space outs are expensive and time-consuming for the landlords and tenants. LiquidSpace addressed this pain time with altSpace's SpecZero™ TI. The standard minimizes construction costs, environmental waste, permit and build out time, helping companies start working in spaces within sixty days.
"Our focus is to leverage innovative technology solutions that increase our visibility and convert our vacancies more effectively", said Chad Cook, Founder of Quadrant Investment Properties. "Working with LiquidSpace and the altSpace program, we landed a world-class technology company as a tenant, faster and with less overhead than a traditional leasing model."
LiquidSpace simplifies the workplace leasing process. The real-time network connects real estate owners with vacancies to interested start-ups, growing teams, and service providers seeking flexible arrangements.